Celebrate the holidays in style with this incredible Christmas Gingerbread Cake. Three layers of moist gingerbread are covered with a cream cheese frosting for an amazing Christmas dessert that will impress everyone!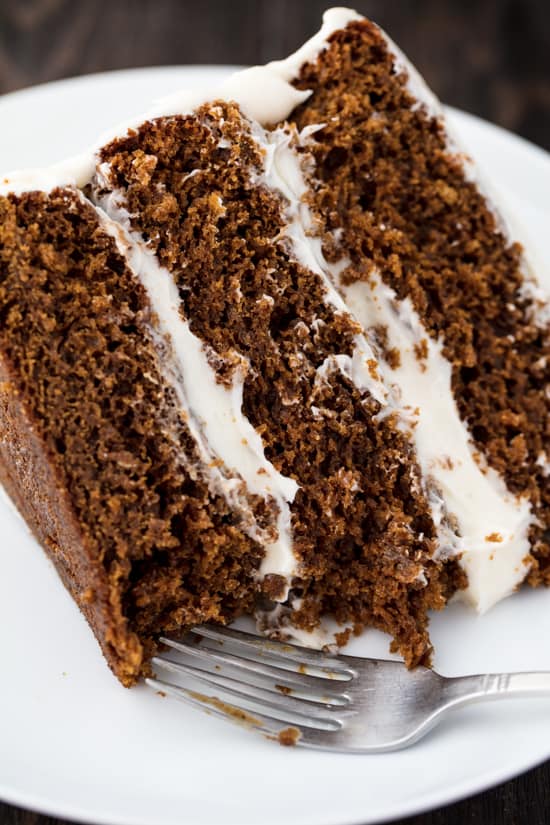 Do you love gingerbread? I know I do! This gingerbread cake has the most amazing gingerbread flavor. The combination of ginger, cinnamon, and cloves will leave you salivating! It's all topped off with a cream cheese frosting to make the ultimate Christmas cake. This stuff is what Christmas dreams are made of!
This batter for this cake calls for buttermilk. The acid in the buttermilk will react with the baking soda and baking powder to help this cake rise, creating a fluffy crumb. If you don't have buttermilk, be sure to read my article on Buttermilk Substitutes to pick something that works for you. Please don't just use milk or water. It will impact the results of the cake.
This cake will need to be stored in the refrigerator due to the cream cheese frosting. If you don't have refrigerator space or don't like cream cheese frosting, you can always use a regular buttercream. However, I strongly prefer the flavor of the cream cheese frosting when it comes to pairing with gingerbread. It provides the perfect balance!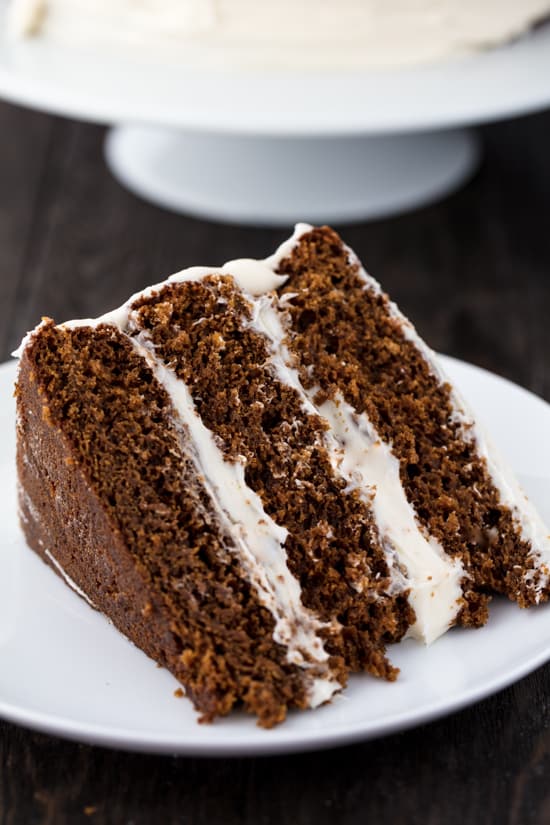 FREQUENTLY ASKED QUESTIONS
Q: Can this recipe be made into cupcakes?
A: Why yes it can! They are baked at 325 degrees for 20-22 minutes and this recipe makes about 36 cupcakes.
Q: Can I make this recipe into only two layers?
A: Yes you can, you'll need to divide the recipe by 2/3rds.
Q: Do I have to use buttermilk? What is buttermilk? Is there a buttermilk substitute?
A: Yes, buttermilk is necessary for this recipe. It has to do with the way it interacts with other ingredients. Buttermilk is the liquid leftover after churning butter.  Check out my more in depth post about how to make buttermilk substitute.
Q: Do you have a substitute for eggs?
A: There are numerous options for substituting eggs in baking recipes. You can always try using one of those.
Q: Can I use a different pan size?
A: You are certainly welcome to try, but you'll need to adjust cooking times and be careful as to how much you fill the pan. This recipe is written for 9-inch round pans, which is a standard size and is meant to be eaten as a 3 layer cake.
Q: Can I make this recipe gluten free?
A: Use gluten free flours at your own risk. Not all gluten free flours are equal and most don't work as a straight forward substitute for all-purpose flour. I have not tested any gluten free flours in this recipe as I do not have Celiac's disease.
Don't forget to watch the video below where I walk you through every step of this recipe. Sometimes it helps to have a visual demonstration and I've always got you covered. I have my own cooking show where I show you how to make all of my recipes over on YouTube. Be sure to check it out!