Steak bites and potatoes are the perfect comfort food meal. Tender steak bites are marinated and sautéed to perfection, then paired with crispy potatoes that have been par-baked for the ideal texture. This hearty and satisfying meal is perfect for any day of the week.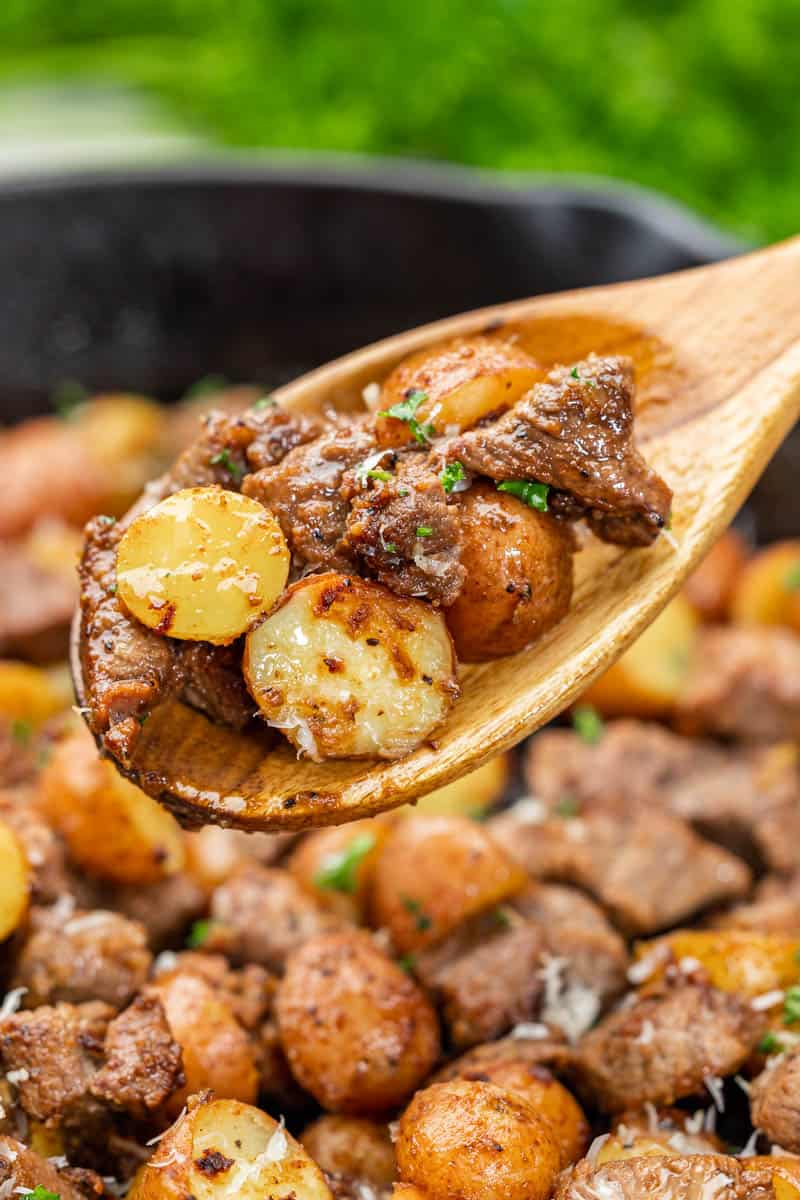 There's nothing quite like a hearty and satisfying meal, and these steak bites and potatoes hit the spot in all the right ways. From the tender and flavorful steak bites to the crispy and golden-brown potatoes, this dish is the ultimate comfort food. Whether you're in the mood for something quick and easy for a weeknight dinner or you want to impress your guests with a delicious and impressive meal, these steak bites and potatoes are the perfect choice. The best part? They're incredibly simple to make, with just a handful of ingredients and easy-to-follow instructions. So, put on your apron, fire up your skillet, and get ready to indulge in the ultimate meat and potato dish that will satisfy your cravings and leave your taste buds wanting more.
Marinating
Marinating the steak bites is an important step in this recipe that shouldn't be skipped. The marinade helps to infuse the meat with flavor and tenderize it, resulting in juicy and delicious steak bites. If you have the time, it's best to marinate the steak for the full 8 hours to allow the flavors to fully penetrate the meat. This will give you the best possible flavor and texture. However, if you're short on time, even a one-hour marinade can make a big difference in the flavor of your dish.
Potato Options
You have a lot of flexibility in terms of what type of potato to use in this recipe:
Waxy potatoes: (New potatoes, French fingerling, Red Bliss, baby potatoes) These potatoes hold up better during cooking and will retain their shape better.
Russet potatoes: These potatoes have a higher starch content, resulting in a crispy and golden-brown exterior.
At the end of the day, it all comes down to personal preference. Whether you choose waxy or russet potatoes, the key is to cut them into bite-sized pieces. This will ensure that they cook evenly and are the perfect size to pair with the steak bites. So, feel free to experiment and find your own favorite potato variety.
Serving Suggestions
These steak bites and potatoes are the perfect main dish and can be served on their own. You could also pair them with a fresh green salad for a complete meal. Add a drizzle of sriracha or a side of garlic bread for an extra kick of flavor.
Tips & Tricks
Remove any excess fat or sinew from the steak before cooking for the best texture.
Don't overcrowd the skillet when cooking the steak bites to ensure they get evenly browned.
Toss your potatoes with your favorite herbs or spices before par-baking to add more flavor.
Let the steak bites marinate for at least an hour to get the best flavor.
Can I use a different cut of steak?
Yes, you can use any cut of steak you prefer, but keep in mind that cooking times may vary.
Can I use frozen potatoes?
Yes, you can use frozen cubed potatoes, but keep in mind that they may have a different texture than fresh potatoes.
Can I cook the potatoes in a different way?
Yes, you can par-bake the potatoes in the microwave for 4-5 minutes or in the oven at 400 degrees Fahrenheit for 10-15 minutes.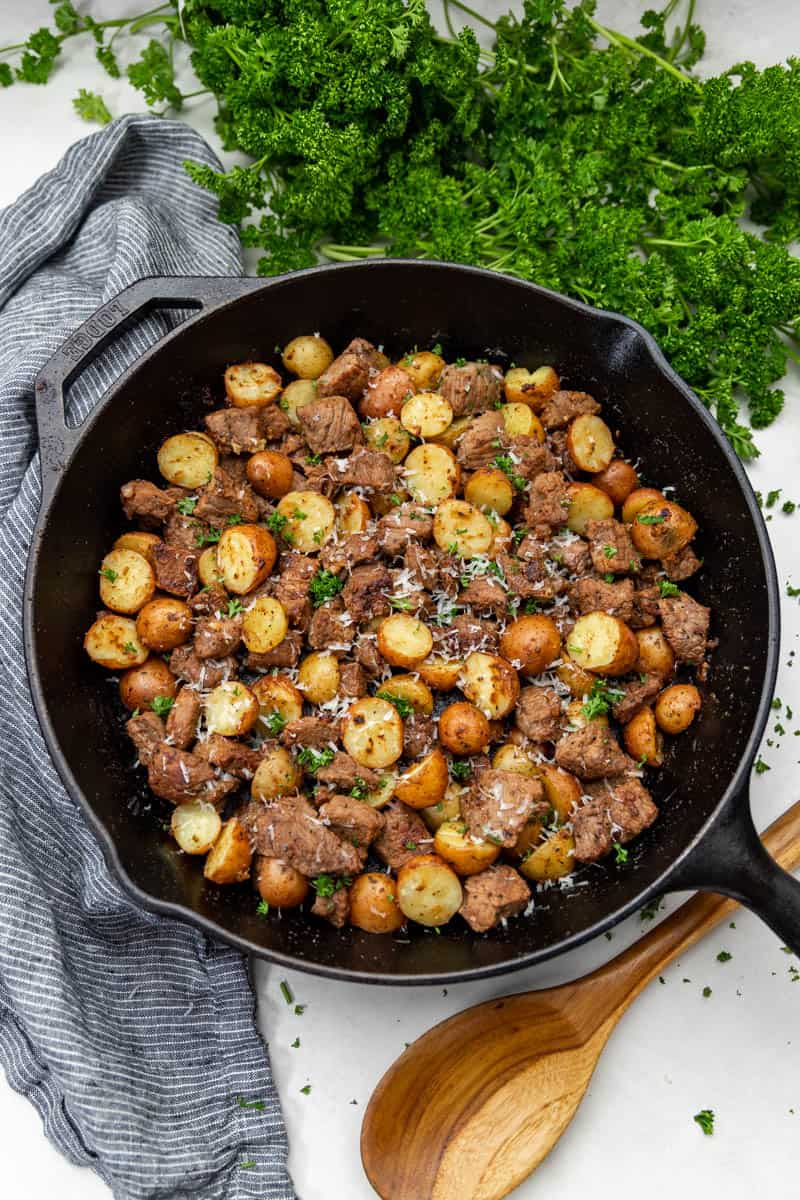 Storage & Reheating Instructions
Store any leftovers in an airtight container in the refrigerator for up to 3 days. Reheat in a skillet or in the oven at 350 degrees Fahrenheit until warmed through.
If you like this recipe, you may be interested in these other delicious steak recipes: