Spatchcock turkey is a cooking method that will give you the most flavorful and delicious turkey every time. With a lot more surface area to work with, your turkey will crisp up wonderfully — and stay perfectly juicy on the inside!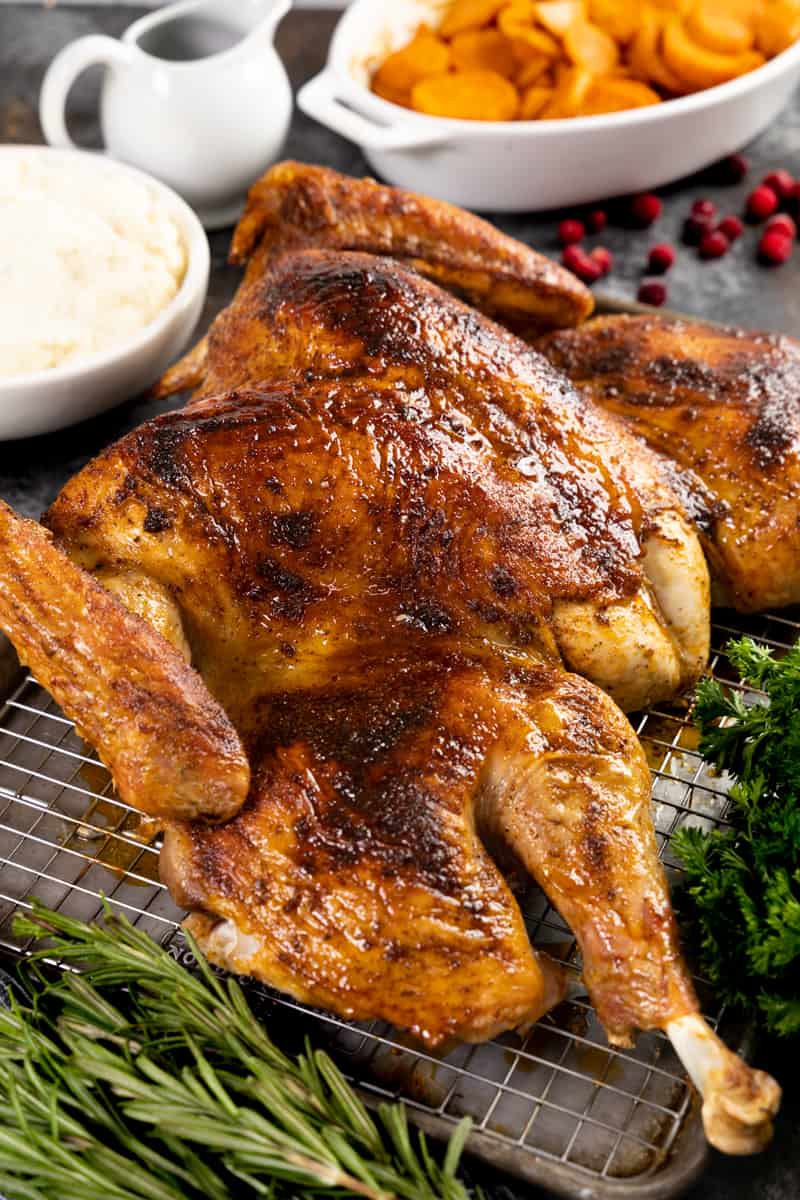 The best part of the holidays is those moments spent around the table with friends and family. Not only is it a time to reconnect with those we love, but it's also a time to try out new recipes — or put a twist on some tried and true meals. One of the most intimidating dishes to cook is the iconic turkey. Traditional turkey recipes can take hours upon hours to roast. That's where this spatchcock turkey recipe really comes in handy! By essentially flattening the bird, it will cook up a lot quicker and more evenly. Plus, as mentioned, more surface area means a crispier finish — who doesn't like a crunchy and golden-brown end result? You just may have to draw straws to avoid fighting over who gets the first choice at the best pieces of turkey!
What Is Spatchcock Cooking?
Spatchcock cooking is a cooking method used on poultry such as chicken, turkey, or duck. It requires you to remove the spine so that it lays flat in your roasting pan. It ensures even cooking, a crispier outside, and a juicier inside. It's a great way to whip up a Thanksgiving meal — when you use this cooking method you don't have to worry about roasting it for hours on end!
What's The Best Tool To Spatchcock A Turkey?
The best way to spatchcock is with a pair of quality kitchen scissors. That said, you can also use a sharp serrated knife as well. Remember, the larger the bird, the bigger the bone. Watch your fingers and be careful!
What Size Turkey Should I Use?
To make spatchcock turkey you should ideally use a 14-pound or smaller-sized turkey. Anything larger won't fit on a roasting pan!
Seasoning Options:
We use a basic seasoning mix for our spatchcock turkey recipe, which includes salt, pepper, paprika, garlic, and onion powder. Don't underestimate the power of mixing it with butter and then placing that mixture under the skin — it can really make a difference in terms of flavor and juiciness. Here are some other extras that you can add to your seasoning blend:
Cayenne pepper
Thyme
Rosemary
Oregano
Sage
Parsley
Cooking Time:
It's hard to determine exactly how long this recipe will take to cook, as so much depends on the size of the turkey. You want the internal temperature to reach 155 degrees F on the breast, and the dark meat can be up to 175 degrees F for the juiciest results. Use a food-safe thermometer to check on yours after about 2 hours — it may take up to 3 hours if you're working with a large bird!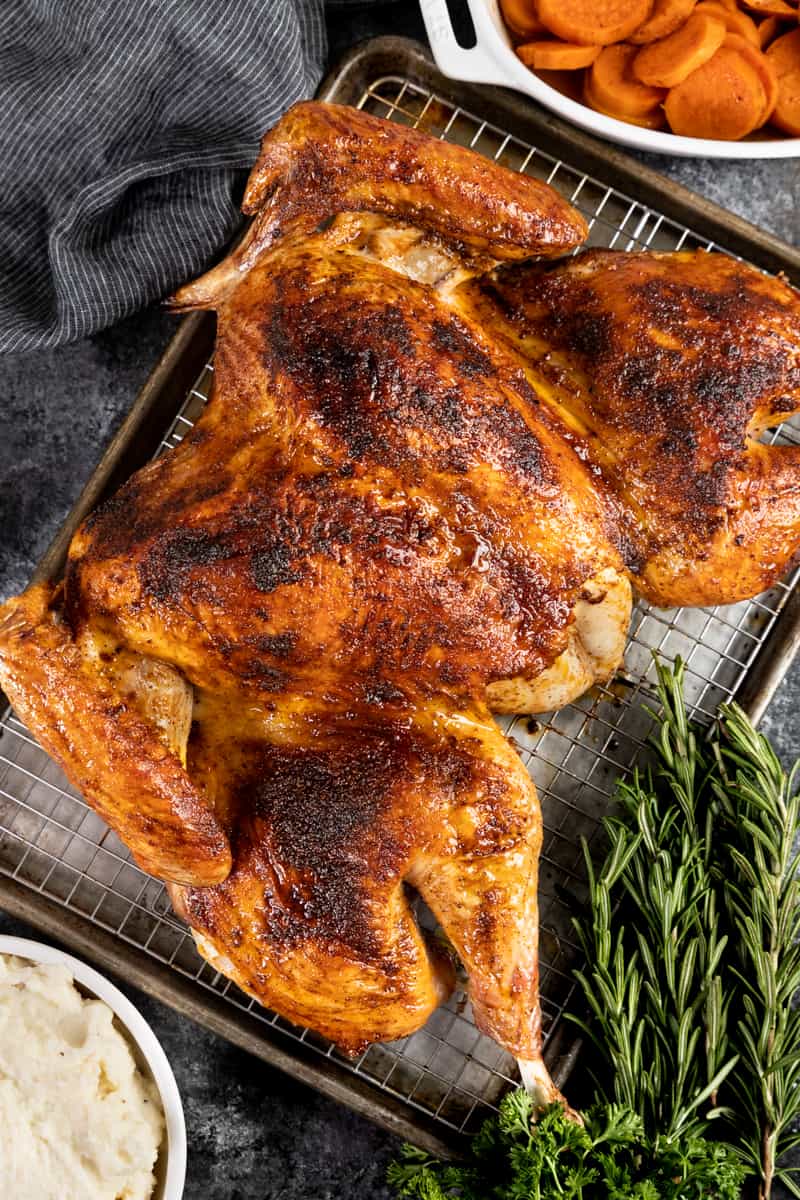 Storage and Reheating Instructions:
You can store any leftover turkey in an airtight container in the fridge for up to four days. Reheat single serving portions in the microwave in 30-second increments until warmed through. Reheat larger portions in a roasting pan in the oven, low and slow, at 300 degrees until warmed through, about 20-30 minutes. Make sure to cover it with foil to keep all of those delicious juices intact. You could also add a bit of broth or butter to the pan as it heats.
If you like this recipe, you may be interested in these other delicious Thanksgiving recipes: