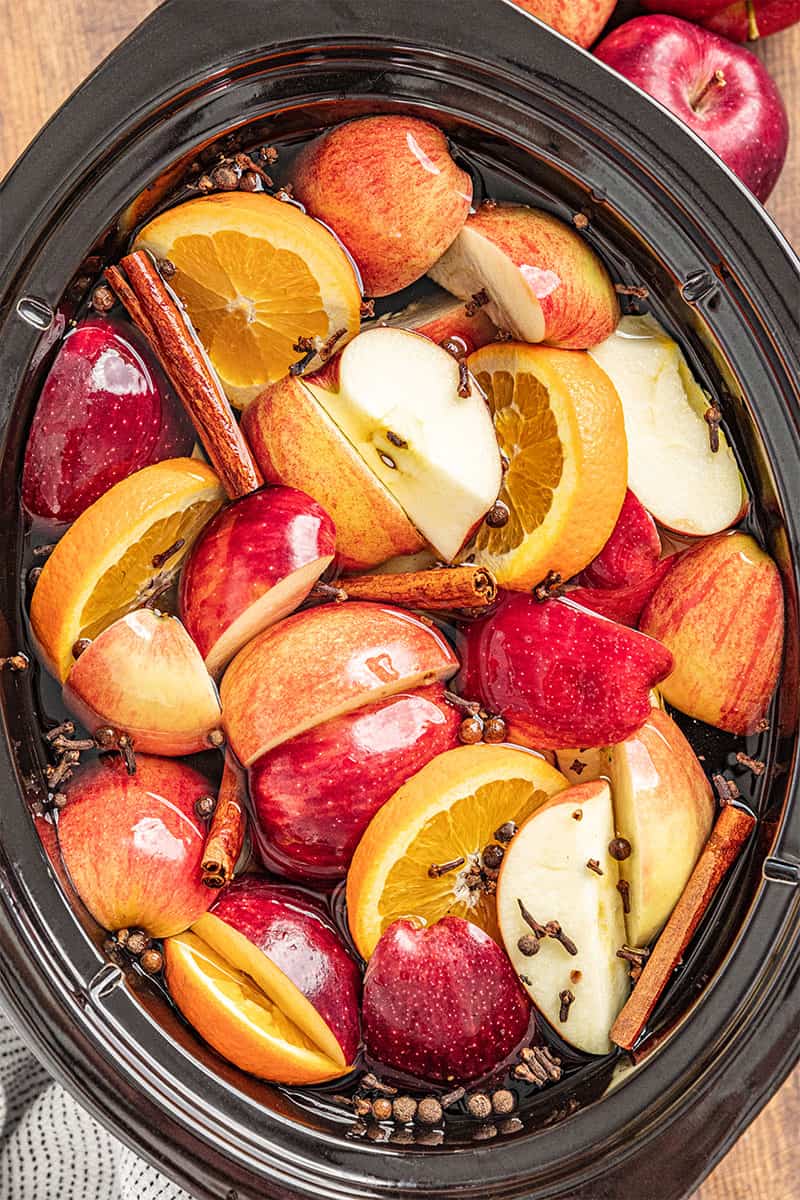 Cuddle up and stay warm with a mug of spiced apple cider. This slow cooker apple cider is made from scratch and can be frozen to enjoy all winter long!
Fall and winter and apple season are upon us! Fall and winter are our favorite seasons when it comes to food and drinks. Apple sales are starting up which means you can get killer deals, so now is the time to stock up on your freezer supply of homemade apple cider. Throw it in the crockpot now, and enjoy it all the way through Christmas.
It is super easy to make a base apple cider and we love how you can alter it slightly for different occasions. Throw in a splash of orange and cuddle up for your first fireplace start-up of the winter. Add some caramel and whipped cream for a dessert drink. Whatever you decide to do, you've got to start with your base apple cider and this stuff is amazing. It is super easy and way better than that expensive jug you buy at the store. Go buy your apples by the bushel while the season is in full swing!
Frequently Asked Questions
What's the difference between apple cider and apple juice?
Apple cider is typically less filtered than apple juice, resulting in a cloudier appearance and a more robust apple flavor.
Is there a brown sugar substitute?
Maple syrup or honey can serve as sweet alternatives. Both of these options are sweeter than brown sugar, so you will want to start out with only adding half of the amount called for, and then taste as you go.
How should I strain out the spices?
Once your cider is finished, you can simply pour through a fine-mesh strainer or even cheesecloth. For an easier experience, we recommend placing the cloves and allspice into a small piece of cheesecloth, folded up and tied together with kitchen twine. When your cider is ready, simply remove the cinnamon sticks and cheesecloth bag with a spoon and you are ready to drink!
Is the orange slice essential?
The orange slice is optional but adds a refreshing citrus undertone to the cider.
Can I add alcohol to homemade apple cider?
Yes, you can add alcohol to apple cider for a spiked adult beverage. Popular choices for spiked apple cider are rum, bourbon, and whiskey. Feel free to spike with your preferred liquor. As always, drink responsibly.
Apple Choices
We love a sweeter cider, so we use a mix of Gala and Red Delicious apples in this recipe. However, it is all up to your personal taste preferences. If you prefer a more tart cider, Pink Lady or Braeburn would be fantastic. You can also experiment with a blend of a few different varieties such as:
Pink Lady
Braeburn
Fuji
Jonagold
Golden Delicious
Jonathon
McIntosh
Cortland
Tips From the Chef
No slow cooker? No problem! Use your stovetop by simply combining all ingredients in a large pot, bring to a gentle boil, then reduce to a simmer. Cover and let it simmer for about 2-4 hours, following the rest of the steps as described.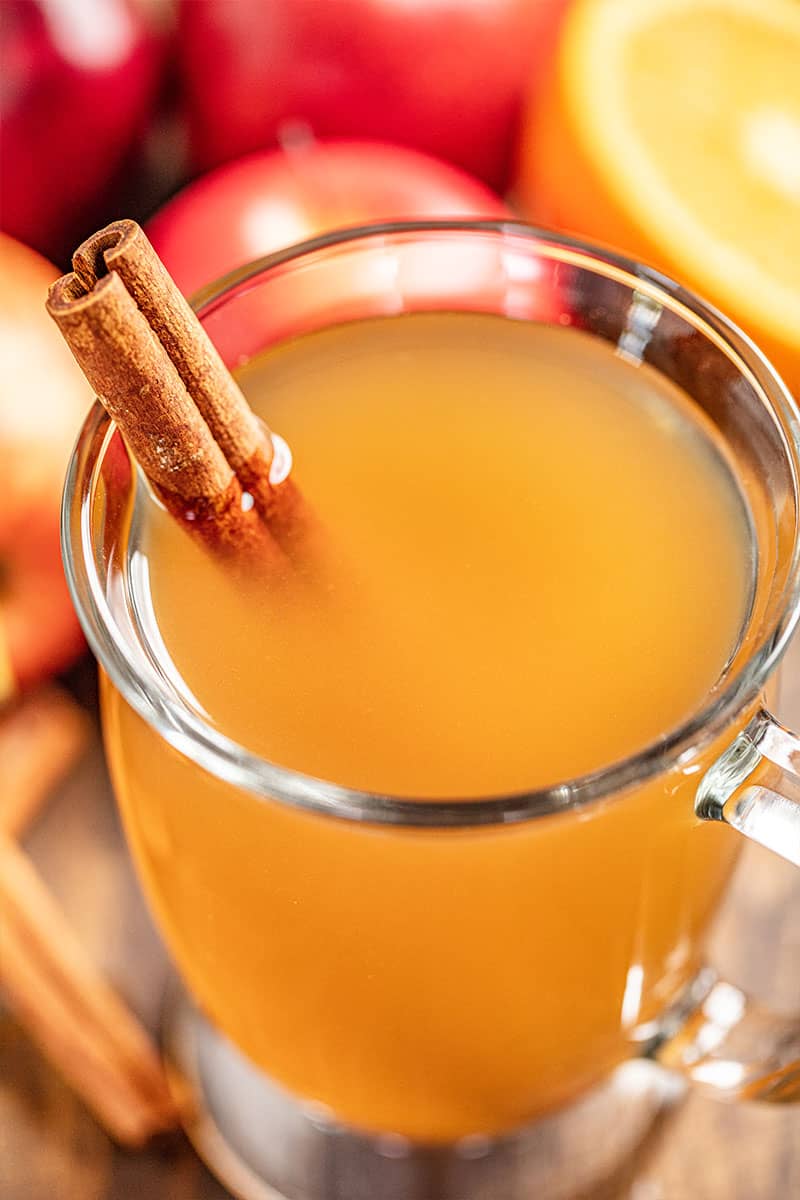 Freezer Instructions
We love to make a large batch and freeze the leftovers to drink all fall and winter long. Simply let your apple cider cool completely and then pour into a freezer-safe gallon-size zippered bag. Lay flat in your freezer for easy storing and stacking. Thaw overnight in the fridge when ready to use and drink within 8-12 months.
Storage Instructions
Store apple cider in an airtight container in the refrigerator for up to 1 week.
Watch the video below where Rachel will walk you through every step of this recipe. Sometimes it helps to have a visual, and we've always got you covered with our cooking show. You can find the complete collection of recipes on YouTube, Facebook Watch, or our Facebook Page, or right here on our website with their corresponding recipes.