Skillet Chicken Thighs are moist on the inside with the most crispy, flavorful skin and a zing of lemon. We love this 30 minute meal!
Do any of you watch Top Chef? On the episode a couple of weeks ago a chef got kicked off because he used boneless skinless chicken breasts. Tom Colicchio (the head judge) said something along the lines of, "the chef in me just can't get over the fact that he used boneless skinless chicken breasts." We watched at home laughing because it is just so true. For those of you unfamiliar with the culinary/chef world, boneless skinless chicken breast is probably the least desirable cut of meat out there. That should blow the minds of most home cooks. Isn't that the cut that everyone buys? They've marketed the heck out of that stuff and now they charge you extra for it.
But those bone-in, skin-on thighs, wings, breasts, and drumsticks? You can usually get a good bargain on those. Those in the know realize that those are the cuts with the most flavor. If you've been following this blog for a while then you know that we have a fondness for chicken thighs. They are just so dang delicious and versatile, we can't get enough of them! They are a go-to cut for easy meals on busy weeknights, or when cooking for a crowd. We know it can be scary to venture away from the boneless skinless chicken you are used to, but we promise that once you taste a good crispy skin, and the moist and tender meat you get from these other cuts…you too might just fall in love.
Lemon Optional:

If you don't love lemon, or it is hard to come by, you can always omit the lemon in this recipe. It will still be amazingly delicious!

Chicken Cuts:

We prefer this recipe with bone in, skin on chicken thighs. You can always use this same method with different cuts of chicken, but for the most flavor you want to still use bone in and skin on. Cooking time for different cuts of chicken can vary depending on its size and thickness. Always cook to 165 degrees Fahrenheit.

Cooking Time:

This recipe takes about 30 minutes to cook, but cooking times can vary depending on the size and thickness of your chicken thighs. To ensure accuracy, we recommend using a meat thermometer. Chicken thighs are ready once they reach an internal temperature of 165 degrees Fahrenheit, however we prefer to let chicken thighs cook until 172 degrees Fahrenheit for maximum flavor and juiciness.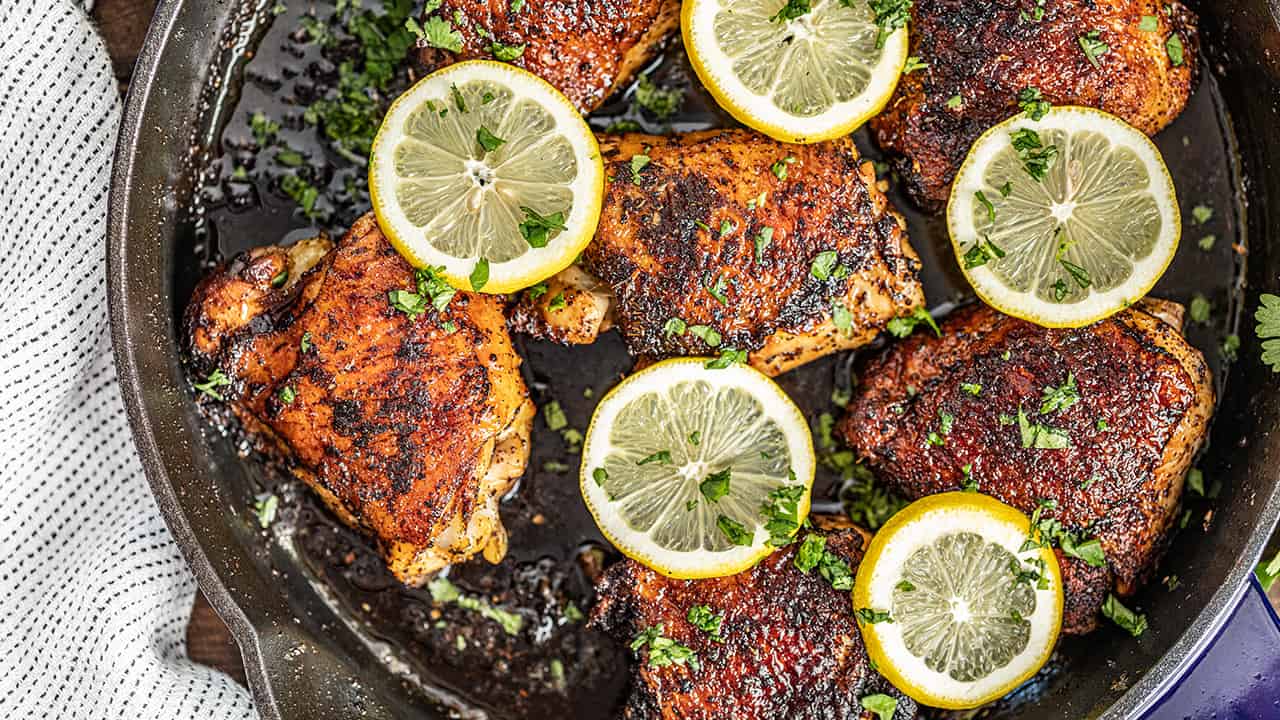 If you like this recipe, you may be interested in these other delicious chicken recipes: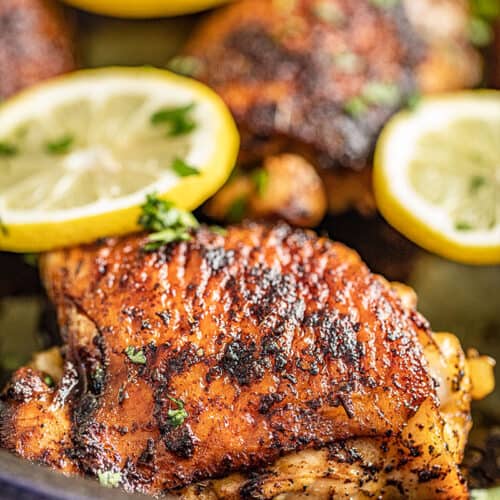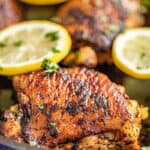 Ingredients
8

bone in, skin on chicken thighs

1

teaspoon

ground paprika

1

teaspoon

dried basil

1

teaspoon

dried oregano

1/2

teaspoon

salt

1/2

teaspoon

garlic powder

1/2

teaspoon

onion powder

1/4

teaspoon

black pepper

2

tablespoons

butter

1

lemon

sliced
Instructions
Heat a skillet over high heat.

While the skillet is heating, get out a small bowl and mix together paprika, basil, oregano, salt, garlic powder, onion powder, and pepper. Sprinkle the seasoning over the chicken thighs.

Put the butter in the hot pan and let it sizzle, and let it spread out in the pan. Sear the chicken thighs for 2 minutes per side.

Cover, reduce heat to medium, and cook 10 minutes, skin side down. Flip, skin side up, and cook covered 10 minutes more.

Increase the heat to high and make sure the skin side gets one last sear (about 2 minutes). Add in the lemon slices for a little citrus zing. Serve skin side up with lemon slices. Garnish with a little chopped flat leaf parsley.