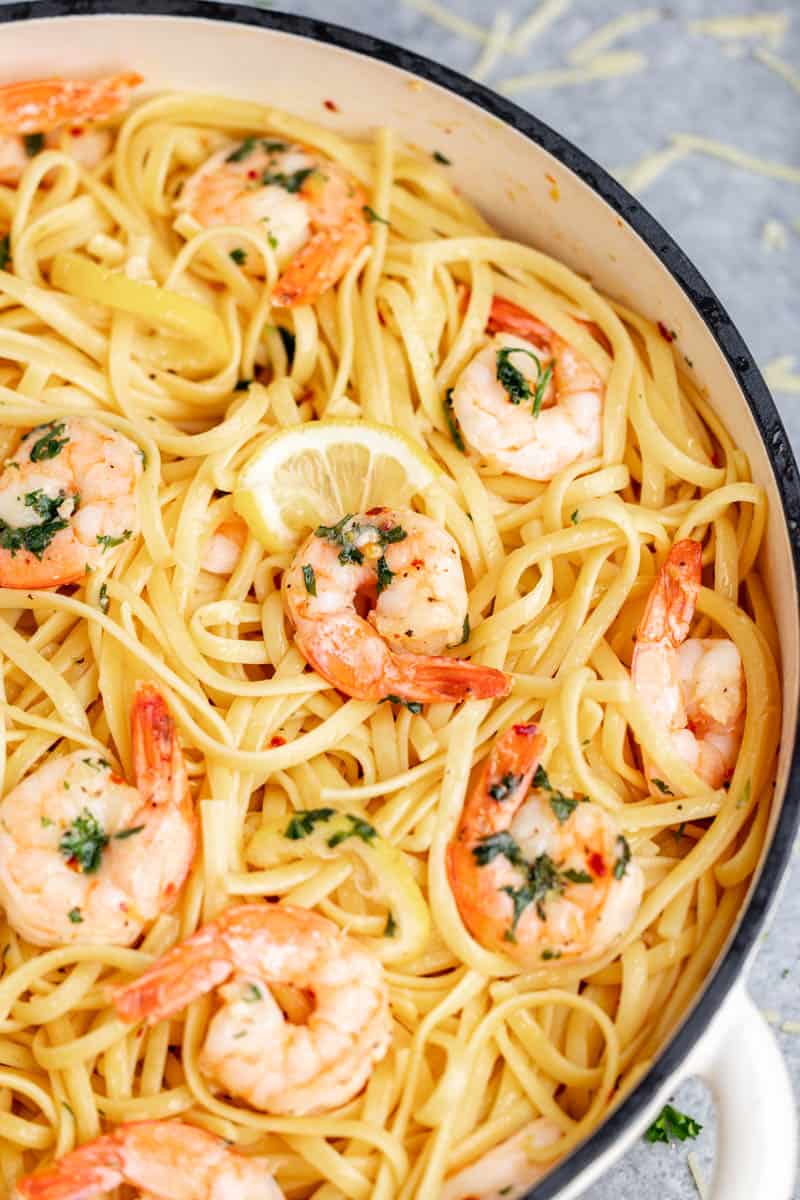 Impress your family and friends with this mouthwatering Shrimp Linguine recipe that brings restaurant-quality taste and the flavors of Italy to your dinner table.
Looking for a delightful and easy Italian seafood dish to prepare at home? Look no further than our Shrimp Linguine recipe. This flavorful classic combines tender shrimp, tangy lemon, and a hint of spice, all tossed together with perfectly cooked linguine. Not only is this dish quick to prepare, but it's also sure to impress your family and friends with its restaurant-quality taste. So, grab your apron and let's dive into the world of Italian cuisine with this delectable recipe.
Shrimp Linguine vs. Traditional Shrimp Scampi
Shrimp Linguine vs. Traditional Shrimp Scampi
While both Shrimp Linguine and traditional Shrimp Scampi feature succulent shrimp cooked in a rich, garlicky sauce, there are some key differences between the two dishes. Shrimp Linguine incorporates the zesty flavors of lemon juice and lemon zest, as well as a hint of spice from chili flakes, and is typically served with linguine pasta. On the other hand, Shrimp Scampi is a more straightforward dish, often prepared with a white wine and butter sauce, and can be served over a variety of pastas, rice, or even with crusty bread to soak up the flavorful sauce. The addition of grated parmesan cheese and fresh parsley in Shrimp Linguine lends it an Italian flair, setting it apart from the classic Shrimp Scampi that many people know and love.
Frequently Asked Questions
Can I use frozen shrimp?
Yes, you can use frozen shrimp. Thaw the shrimp in the refrigerator or under cold running water before cooking.
Can I substitute another type of pasta?
Absolutely. You can substitute spaghetti, fettuccine, or any other long pasta that you prefer.
What is the purpose of the reserved pasta water?
As pasta cooks it releases starch into the water. The starchy pasta water helps thicken the sauce and allows it to adhere better to the pasta.
Can I use bottled lemon juice instead of fresh?
Fresh lemon juice is always best as it has the brightest citrus flavor, but you can use bottled lemon juice if fresh is not available.
Is this spicy? Do I have to add the chili flakes?
The chili flakes in this recipe produce a mild heat to this pasta dish. The chili flakes can be omitted if you prefer less heat.
Can I make this dairy-free?
If you're looking for a dairy-free option, you can substitute the butter with vegan butter or simply use additional olive oil. You can also replace the parmesan cheese with a dairy-free parmesan alternative, or omit it altogether.
Serving Suggestions
Shrimp Linguine can be served as a main course alongside a fresh green salad and crusty bread to soak up the delicious sauce. Alternatively, pair it with steamed or roasted vegetables for a more substantial meal. A crisp white wine, such as a Sauvignon Blanc or Pinot Grigio, will complement the flavors of the dish perfectly.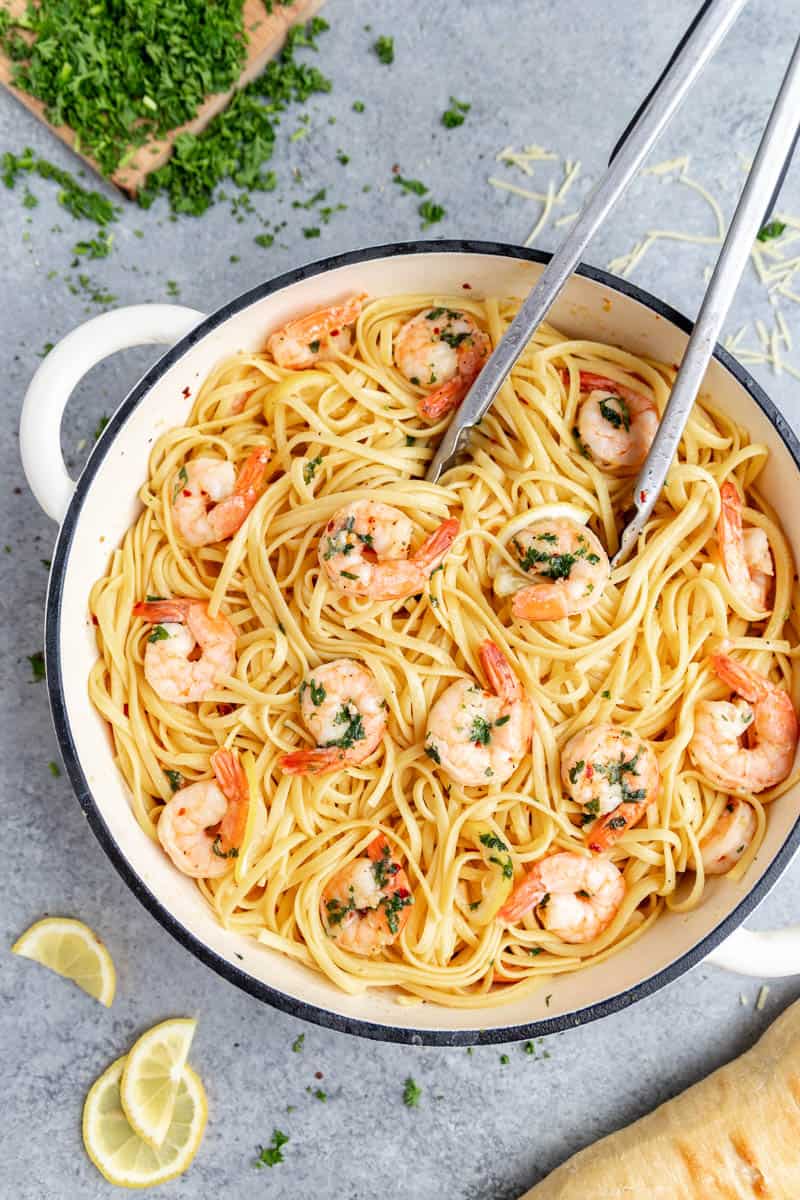 Storage & Reheating Instructions
To store leftovers, place them in an airtight container and refrigerate for up to 3 days. To reheat, warm the dish in a saucepan over low heat, stirring gently to prevent the pasta from sticking together. Add a splash of water or broth if needed to loosen the sauce.
More Shrimp Pasta Recipes
If you like this recipe, you may be interested in these other delicious shrimp recipes:
Watch the Video
Watch the video below where Caytlin will walk you through every step of this recipe. Sometimes it helps to have a visual, and we've always got you covered with our cooking show. You can find the complete collection of recipes on YouTube, Facebook Watch, or our Facebook Page, or right here on our website with their corresponding recipes.