Creamy Cajun Shrimp Pasta is a seafood delight packed with all of that delicious Cajun flavor! The best part: this family favorite meal is ready to eat in just 30 minutes!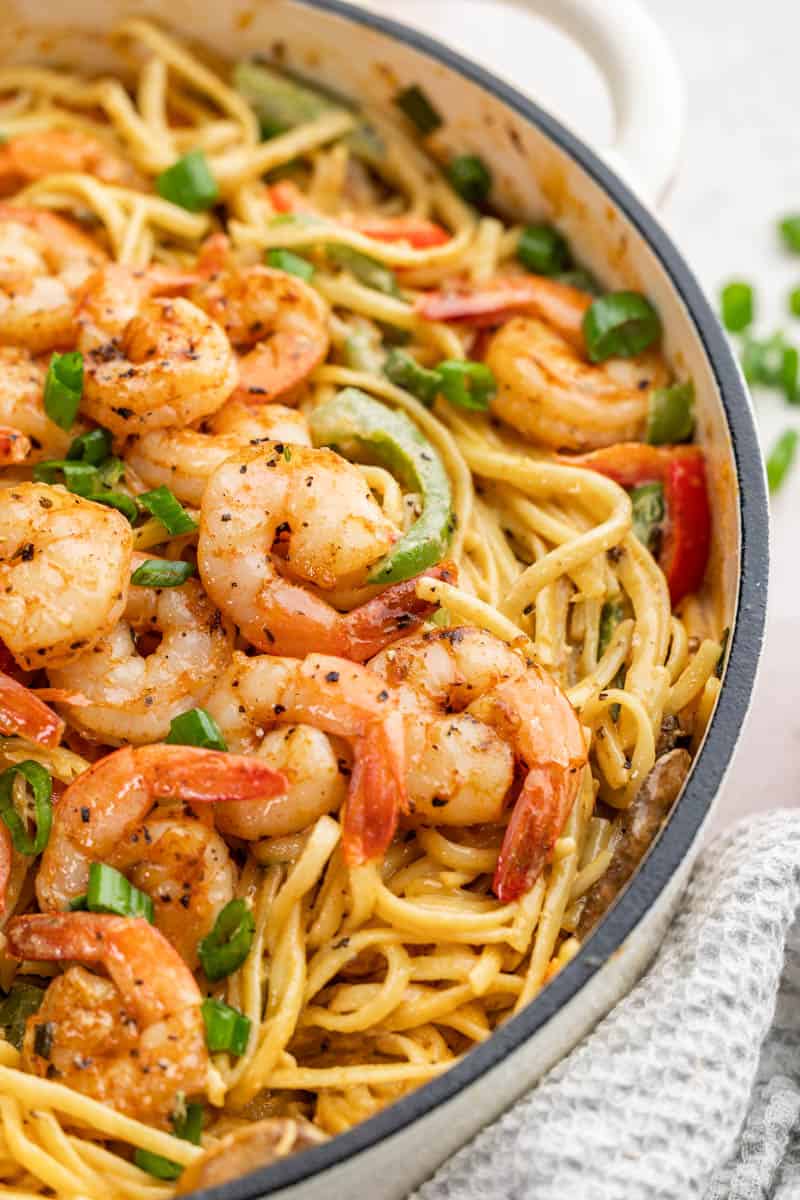 Creamy Cajun Shrimp pasta is one of our favorite ways to eat shrimp! The creaminess mixed with the linguine and shrimp and veggies is simply perfection, and we know you'll agree! Weeknights are often busy around here, and we love how easily this meal comes together. It is a no stress, time saving delicious meal that we keep coming back to time and time again.
Homemade Cajun Seasoning
Homemade cajun seasoning tastes so much better than store-bought! We always make it from scratch just to have total control over the flavor. By making your own cajun seasoning you can also control the amount of spice. Simply reduce or omit the cayenne pepper in the cajun seasoning to make this recipe more mild.
2 teaspoons paprika
1 teaspoon salt
1 teaspoon onion powder
1 teaspoon garlic powder
1 teaspoon dried oregano
1 teaspoon dried basil
1/2 teaspoon black pepper
1/2 teaspoon white pepper
1/2 teaspoon cayenne pepper
Budget Saving Tips
Bell peppers last a long time in the freezer. Buy your bell peppers whenever they're on sale, and slice and freeze in a single layer on a baking sheet. Once frozen, move to a freezer safe bag. Never buy full price bell peppers again!
Spices can be really expensive, especially spice blends. Save a ton by shopping from bulk spice bins where locally available.
Mushrooms spoil so quickly. Use frozen or canned mushrooms to prevent any waste.
Fresh vs. Frozen Shrimp
You can use either fresh or frozen shrimp in this recipe. If you decide to use frozen, make sure you thaw completely before cooking. Whether using fresh or frozen, make sure to remove the tail before eating!
Vegetable Options For Creamy Cajun Shrimp Pasta
We are keeping this cajun shrimp pasta classic with bell peppers, mushrooms, and green onions. However, you are always welcome to omit and substitute where needed.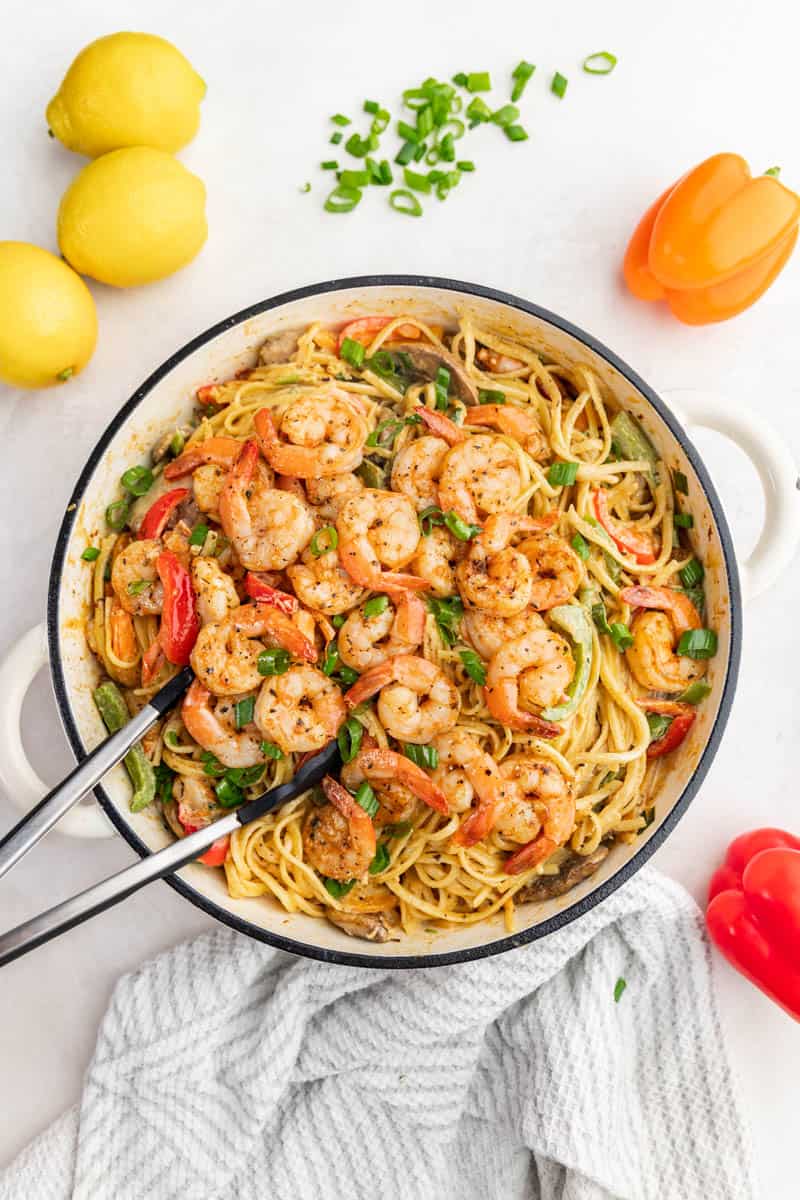 Make Ahead Instructions
If you would like to save some time and make this dish ahead, there are a couple of things you can do, though you really don't want to make the whole meal ahead of time as it is best fresh: To save some time, you can make your cajun seasoning as early as you like! Also, if you buy peeled and deveined shrimp, that will save you a step.
Storage & Reheating Instructions
Store any leftovers in an airtight container in the fridge for up to 3 days. Reheat in a skillet on the stovetop over medium-low heat until warmed through.
If you like this recipe, you may be interested in these other delicious recipes full of Cajun flavor: