This Sea Bass with Avocado Salsa recipe is light and delicious. Sea Bass is a mild fish but boasts a buttery and meaty texture. Served with this rich avocado salsa, you have a colorful, flavorful dish that always delights!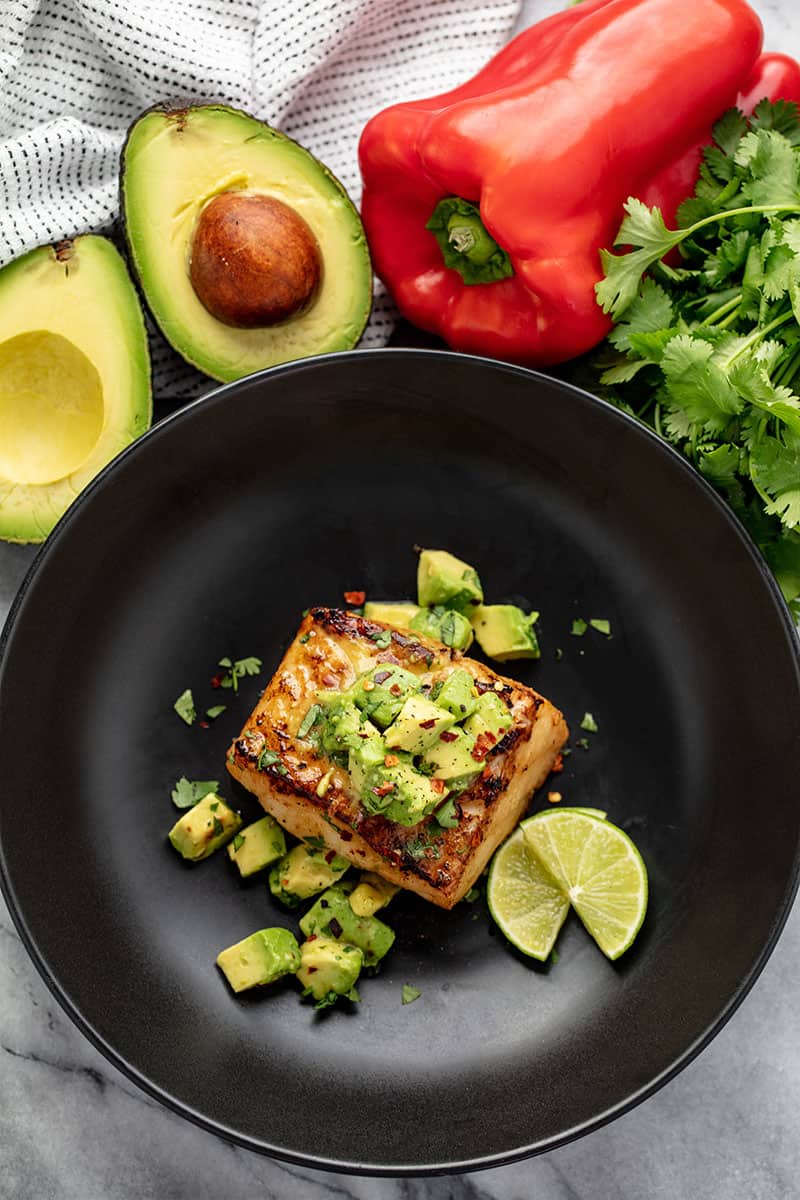 Sea Bass is a milder fish, which makes it a great choice for those who don't care for super "fishy" seafood. It has a mild, buttery taste, similar to Cod and Halibut. For those who want to love the healthy fruits of the sea, but are normally averse to fish, this is a great variety to start with. For seafood lovers, this is a special treat. Sea Bass is marinated and skillet seared, then topped with delicious avocado salsa—which adds the perfect texture and tang to this delicious fish.
What is the difference between regular Sea Bass and Chilean Sea Bass?
Sea Bass is a kind of catch-all name for a few different varieties of similar fish—many of them are not even Bass. Chilean Sea Bass, for instance, is a Patagonian Toothfish. There is a wide variety of Sea Bass from different parts of the world—all with similar taste and texture. Fun fact: Mediterranean Sea Bass has three times the Omega-3's found in other white fish like Haddock, Tuna and Cod.
Where can I buy the best Sea Bass?
Sea Bass is usually carried even in in-land grocery stores, as it is a seafood staple and is priority shipped all over the world. You can also buy frozen fillets at most grocery stores, or even opt to have it flown to you, fresh, direct from a fish market.
What fish can be substituted for Sea Bass?
Sea Bass is a broad label that includes many different kinds of fish. Any flaky white fish will work as a substitute for Sea Bass. Look for fish like halibut, sablefish, black cod, branzino, flounder, or red snapper.
If you like seafood or would like to experiment with more seafood recipes, here are a few more you might like:
Watch the video below where Rachel will walk you through every step of this recipe. Sometimes it helps to have a visual, and we've always got you covered with our cooking show. You can find the complete collection of recipes on YouTube, Facebook Watch, or our Facebook Page, or right here on our website with their corresponding recipes.