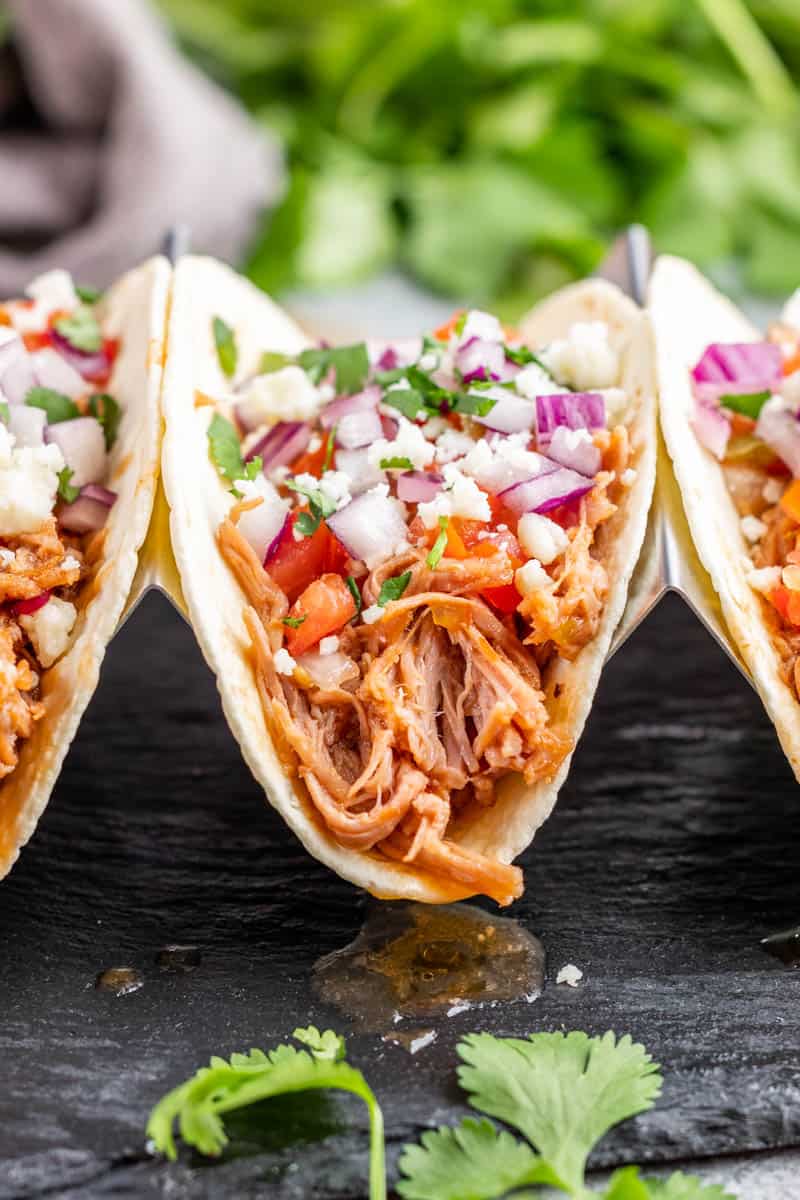 Savor the explosion of flavors with pulled pork tacos. Tender, juicy pork meets a tangy and sweet salsa that will have everyone asking for seconds!
Indulge in the delightful fusion of tender pulled pork and zesty sweet salsa with pulled pork tacos. Inspired by the rich flavors and use of fresh ingredients in Mexican culinary traditions, these tacos are perfect for a family dinner or a festive gathering with friends. Tacos have been a staple in Mexican cuisine for centuries, with origins dating back to the indigenous people of the region. The introduction of slow-cooked pulled pork into the taco filling is a nod to the southern United States' barbecue tradition, bringing together the best of both worlds and creating a dish that celebrates culinary diversity and the universal love of good food. Easy to prepare, this harmonious blend of flavors will leave everyone at the table satisfied and impressed.
Substitutions & Dietary Considerations
For a dairy-free option, you can substitute the queso fresco with a plant-based cheese or simply omit it. You can also experiment with different salsas and spices to cater to your dietary preferences and taste buds.
Frequently Asked Questions
Can I use a different type of meat for this recipe?
Yes, you can substitute the pork with beef, chicken, or even jackfruit for a vegetarian option. Adjust the cooking time accordingly based on the meat chosen.
Can I make this recipe in an Instant Pot or oven instead of a slow cooker?
Yes, we've included instructions for Instant Pot and oven methods in the recipe.
How spicy is the sweet salsa?
The spice level depends on the salsa you choose. Feel free to adjust the spice level according to your taste by selecting a mild or hot salsa.
Do I have to use that much brown sugar?
You really don't! You may increase or decrease the amount of salsa, brown sugar or spices to your personal taste preferences or dietary needs.
How do I know when the pork has finished cooking?
Ensure the pork is cooked through to an internal temperature of 145°F, however the preferred temperature for pulled pork is 203 degrees F. We recommend using a meat thermometer for accuracy.
Serving Suggestions
Serve your pulled pork tacos with a side of Mexican rice, refried beans, or a fresh and zesty salad. For a festive touch, consider offering a variety of toppings such as guacamole, sour cream, and lime wedges for your guests to customize their tacos.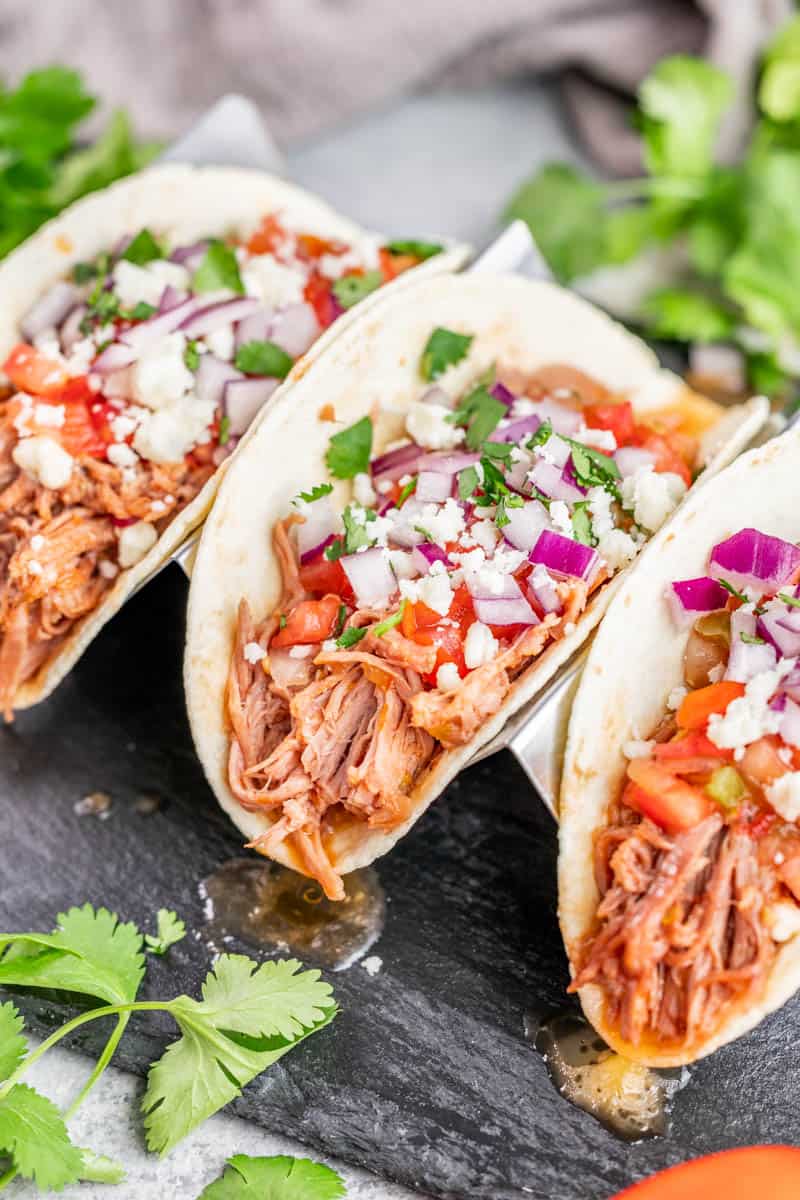 Storage & Reheating Instructions
Store leftover pulled pork in an airtight container in the refrigerator for up to 4 days. Reheat in a microwave or on the stovetop over low heat, adding a bit of water or broth if needed to maintain moisture.
Related Recipes
If you like this recipe, you may be interested in these other delicious taco recipes: