Recreate your childhood with Oatmeal Chocolate Chip Cookies! They are sweet and chocolatey, with the most delightful texture from the oats, and fun for the whole family to make!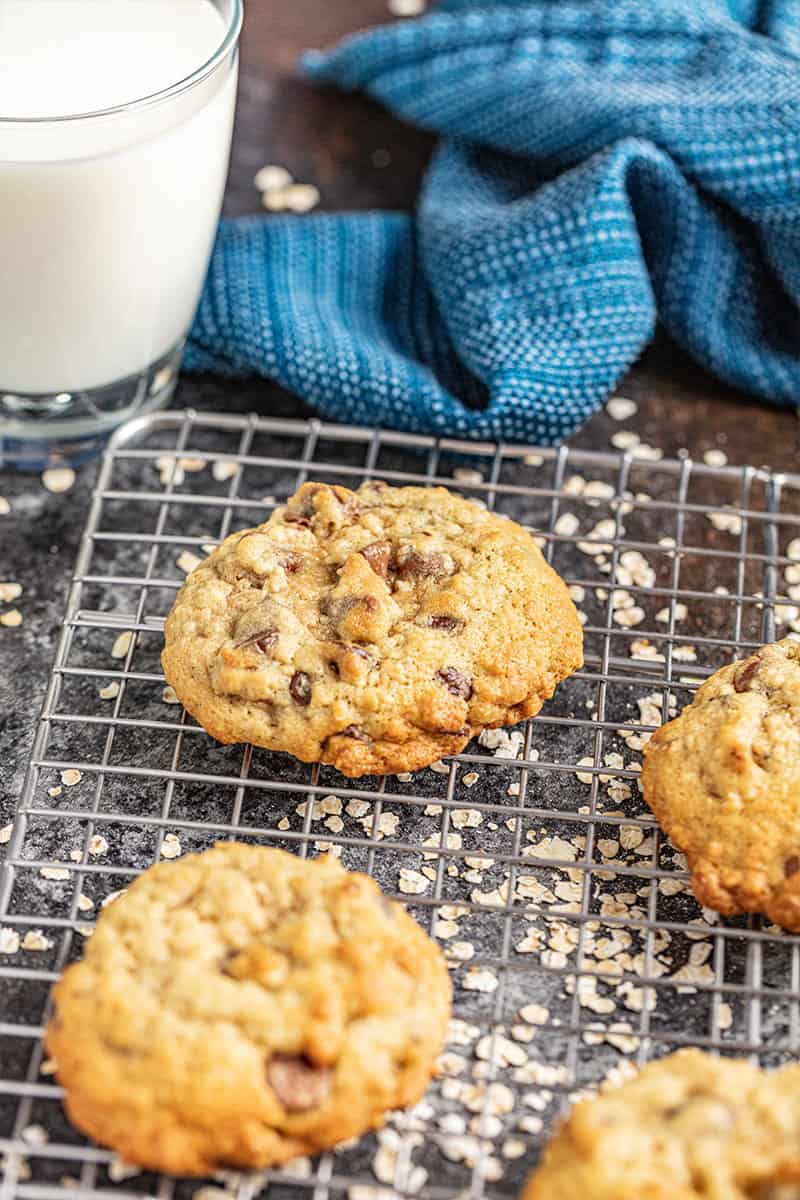 We are all about re-creating and perfecting the classic recipes we grew up with, and oatmeal chocolate chip cookies are as classic as they come. We sometimes wondered if adults were trying to trick us into eating healthy oatmeal, but we have grown and learned that oatmeal chocolate chip cookies were never about trying to be healthy. They are just plain old delicious! That added texture of the oatmeal transforms your typical plain chocolate chip cookie into one amazing cookie.
Can I double this recipe?

Yes! Cookie recipes typically double rather easily. This recipe makes approximately 20 to 24 cookies, depending on how large or small you make them. Simply double all of your ingredients for approximately 48 cookies. You will need to either work in batches, or use 4 baking sheets.

Can I use regular rolled oats?

Yes, you can substitute regular rolled oats for the quick oats. Both of these types of oats work well in this recipe.

Sugars:

The mix of white and brown sugar makes this cookie so wonderfully chewy. You will definitely want to use both, rather than stick with only granulated sugar.

Raisins:

Raisins in oatmeal cookies are another traditional cookie. If you prefer raisins to chocolate, go ahead and substitute them in. You could even use both raisins and chocolate!
Cinnamon:

We love the added flavor from the cinnamon. It pairs so well with the oatmeal! However, it is completely optional.

Nuts:

If you enjoy nuts in your cookies, we highly recommend chopped pecans in your oatmeal chocolate chip cookies. If you don't enjoy nuts or have allergies, you can definitely leave them out.

Cooking Time Modifications:

If you want a crispier cookie, bake for 14 minutes.  If you prefer a chewy cookie that holds together, bake for 10 minutes. For that perfect crips ring around the outside and a soft center, bake for 12 minutes.

Storage Instructions:

Store any leftovers in an airtight container or bag for up to 7 days. However, in our house, we eat them all within 2 days!
If you like this recipe, you may be interested in these other delicious cookie recipes: