Oatmeal Chocolate Chip Cookies are an old-fashioned classic family favorite cookie with options for soft and chewy cookies as well as crispy ones for those who like a little crunch.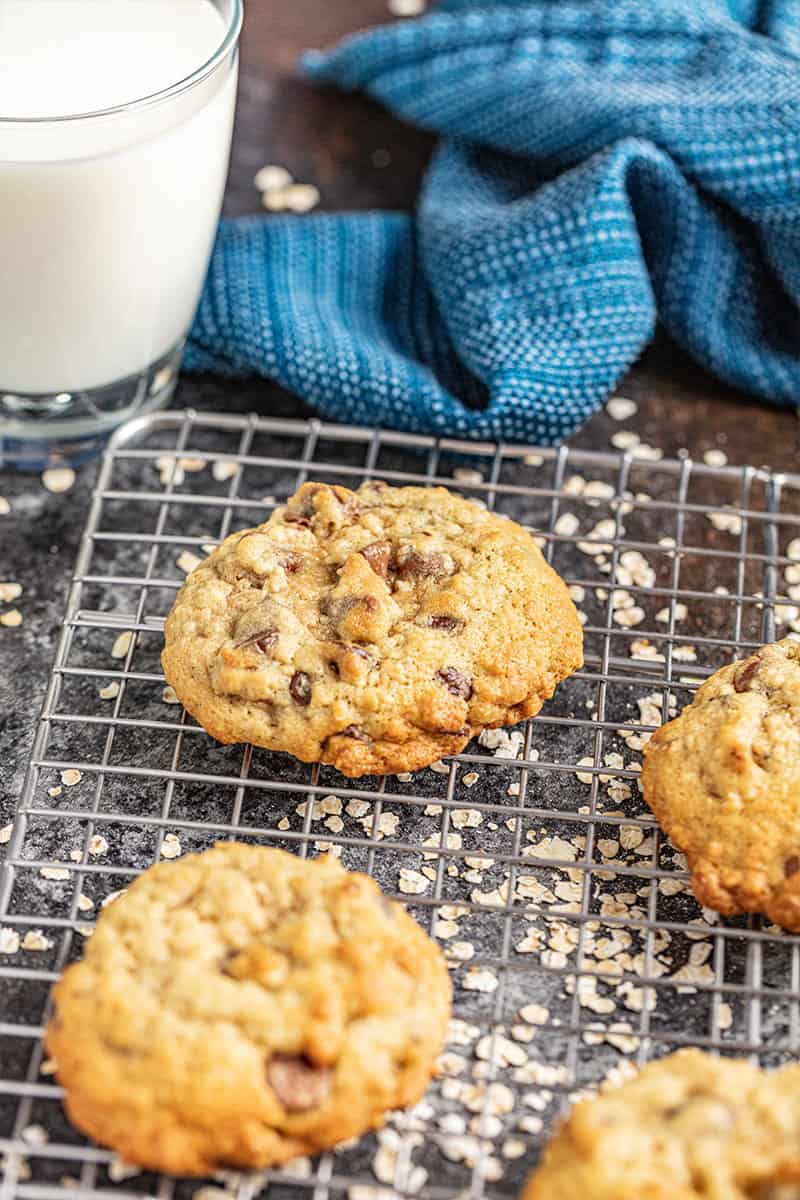 We are all about re-creating and perfecting the classic recipes we grew up with, and oatmeal chocolate chip cookies are as classic as they come. We sometimes wondered if adults were trying to trick us into eating healthy oatmeal, but we have grown and learned that oatmeal chocolate chip cookies were never about trying to be healthy. They are just plain old delicious! That added texture of the oatmeal transforms your typical plain chocolate chip cookie into one amazing cookie. These chocolate oatmeal cookies are not to be confused with an oatmeal raisin cookie. They're so much more decadent, and the chocolate pairs perfectly with the chewy oatmeal! We also sneak in a dash of vanilla and cinnamon, which brings out the natural flavors in the oats and adds a touch of sweetness. The other secret? The brown sugar! It lends a caramel and almost toffee-like flavor to the recipe to give you the best oatmeal chocolate chip cookies out there.
Oat Options:
We like to use quick oats for this chocolate oatmeal cookie recipe as we often have them on hand. You can also substitute them with regular rolled oats. Both options work well in this recipe!
Sugar Options:
As mentioned, the brown sugar in this recipe really makes it stand out. We love using it in cookie recipes for its deep and rich flavor. That said, the mix of white and brown sugar in this recipe will make your cookies so wonderfully chewy. You'll definitely want to use both instead of only granulated sugar!
Chocolate Chips:
They wouldn't be the best oatmeal chocolate chip cookies if it wasn't for the chocolate chips, right?! We use regular milk chocolate in our recipe, but you can feel free to use your favorite: milk, dark, or white!
Do I Have To Use Cinnamon?
We personally love the addition of cinnamon in this chocolate oatmeal cookies recipe! We love the way the slightly spicy flavor marries with vanilla, brown sugar, and oats. However, if you don't like cinnamon, it's completely optional.
What Else Can I Add To Oatmeal Chocolate Chip Cookies?
Raisins in oatmeal cookies are another traditional cookie. If you prefer raisins to chocolate, go ahead and substitute them. You could even use both raisins and chocolate for a fun twist! You can also add nuts if you like them. We highly recommend chopped pecans or walnuts in your chocolate oatmeal cookies. If you don't enjoy nuts or have allergies, you can definitely leave them out.
Can I Double This Recipe?
Absolutely! Cookie recipes typically double rather easily. This recipe makes approximately 20 to 24 cookies, depending on how large or small you make them. Simply double all of your ingredients for approximately 48 cookies. You will need to either work in batches or use 4 baking sheets.
Cooking Time Modifications
If you want a crispier cookie, bake for 14 minutes. If you prefer a chewy cookie that holds together, bake for 10 minutes. For that perfect crisp ring around the outside and a soft center, bake for 12 minutes. One of the reasons that this is one of the best oatmeal chocolate chip cookie recipes is that you can really make it your own!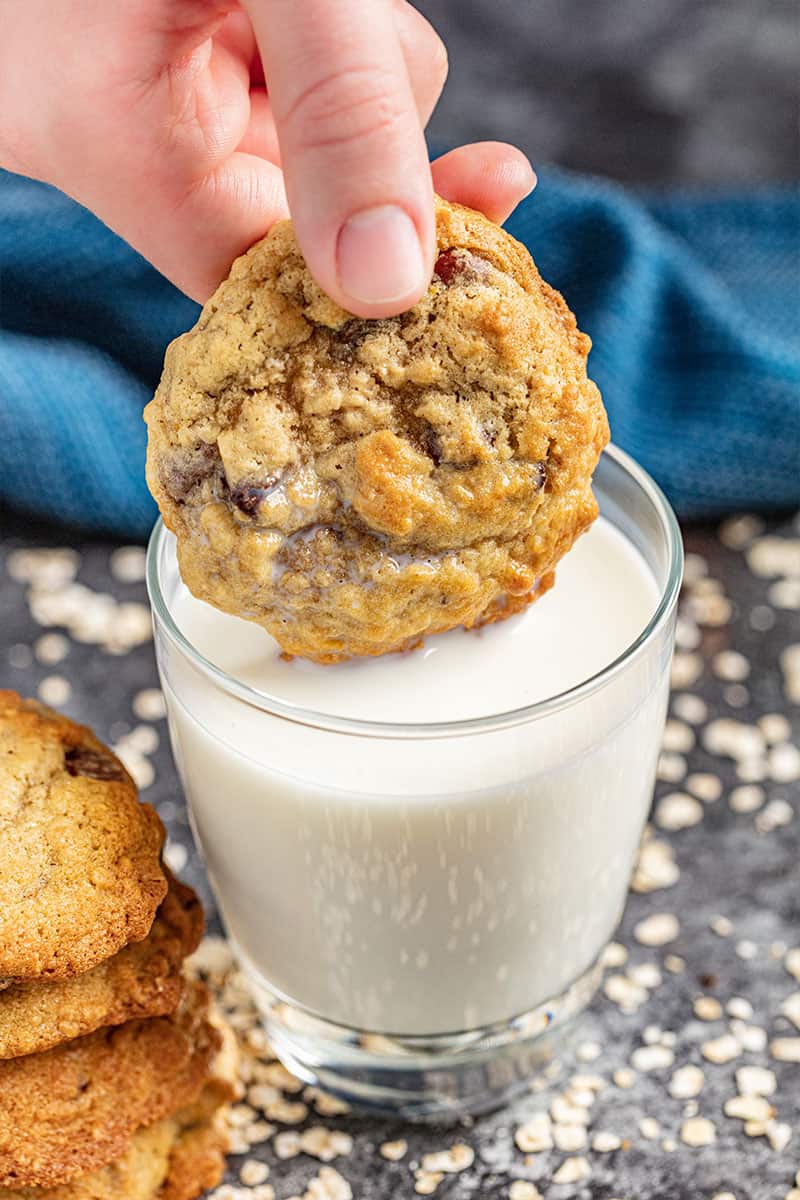 Freezing Instructions
If you do end up doubling this recipe, you may want to freeze some of them. The good news is that our best oatmeal chocolate chip cookies freeze beautifully. After they've finished baking, make sure that they cool completely. Then, place them in an airtight freezer-safe container and then inside your freezer, where they will keep for up to 2 months. You may also consider wrapping the cookies individually in plastic wrap to ensure they stay fresh.
Storage and Reheating Instructions
You can store any leftovers in an airtight container in your pantry or on your countertop for up to 7 days. However, in our house, we eat them all within 2 days! If you like warm cookies, you can heat them up in the microwave at 15-second increments until they are warmed through. You can also reheat them in the oven at 300 degrees F for around 5 minutes.
If you like this recipe, you may be interested in these other delicious cookie recipes: