Moroccan-spiced chicken breasts sliced and served gyro style with tons of vegetables and topped off with a zingy tahini sauce. This is a healthy sandwich that makes for an amazingly delicious lunch or dinner.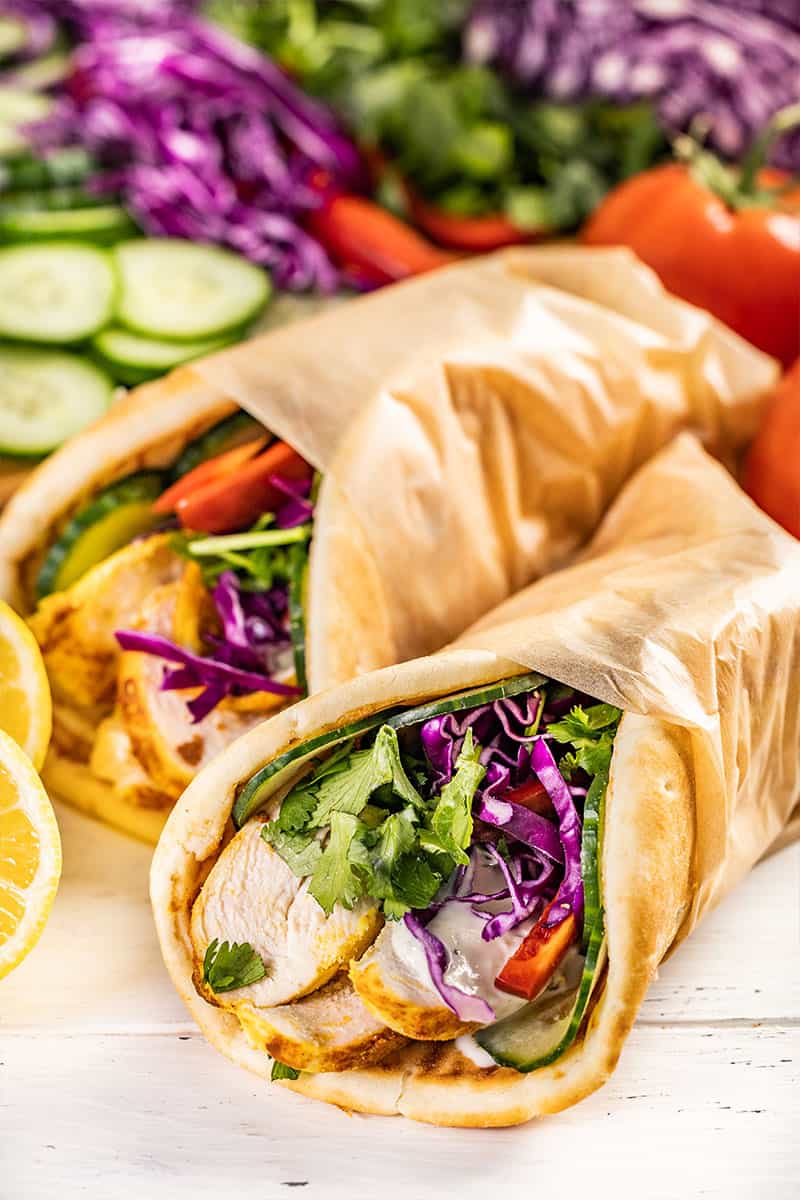 Chicken is such a versatile food to cook with. If you're looking for a unique way to prepare it, try your hand at these Moroccan-inspired chicken gyros! The secret is in the mixture of 7 herbs and spices that we coat the chicken breast in. Pop it in the oven for under an hour and the results are tender, juicy, and flavorful! This recipe is a favorite here at The Stay At Home Chef. It's a simple meal that is full of flavor, and it's also light and healthy and packed full of vegetables. While our chicken gyro recipe has little to nothing to do with a traditional Greek gyro, this tasty sandwich is inspired by Gyro sandwiches and the flavors of Morocco for a fusion combination that is sure to inspire.
How Do You Pronounce The Word Gyro?
First things first, you may be wondering about the correct pronunciation of the word gyro. You may have already heard it as "hee-row" or "jai-row," but the correct way to say it is "yee-row." Phonetically, gyro = "Yee-row." Now you know!
What's a Traditional Gyro?
As mentioned, our chicken gyro recipe is filled with Moroccan-inspired spices and is quite different from a traditional gyro. Traditionally, gyros are a Greek dish that is usually made with pork. The meat is stacked and then roasted on a vertical rotisserie. It takes on a round shape as it cooks, which is why it was dubbed a "gyro." In Greek, the word means round. The meat is then served on pita bread with fresh vegetables, tzatziki sauce, and French fries. Equally delicious as our rendition, but as you can see, a bit different!
Gyro vs Shawarma vs Souvlaki:
There tends to be some confusion around the difference between these three dishes. They are all similar, but each boasts something special:
Gyro: A Greek dish made from roasted pork and served on a pita with veggies, fries, and tzatziki sauce.
Shawarma: A Middle Eastern street food dish that's filled with roasted meat that is also cooked on a vertical rotisserie. It's often served with pickled vegetables instead of fresh.
Souvlaki: Another Greek dish made with skewer-roasted pork, chicken, or lamb and eaten with pita and fresh vegetables. Souvlaki is usually enjoyed on a skewer with the bread and toppings on the side instead of in a sandwich.
Remember, while our chicken gyro recipe is both Moroccan and Greek-inspired, it is a unique dish that we came up with after experimenting in our kitchen!
What is Tahini? Can I Find It In The Grocery Store?
You need tahini for our special tahini dressing, which takes this dish next level. Tahini is a ground sesame paste. It is often sold in a tin can or jar and can usually be found in your local supermarket near the other ground nut and seed mixtures like peanut butter.
Tahini shouldn't be mistaken for tzatziki. While the names are slightly similar, they couldn't be more different. Tzatziki is yogurt-based, while tahini is sesame seed-based.
What Toppings Are Good On a Gyro?
We recommend that you serve your gyros with shredded purple or green cabbage, sliced bell pepper, sliced cucumber, sliced tomato, thinly sliced red onion, and roughly chopped cilantro. These fresh toppings complement the chicken wonderfully!
Enjoy yours for a hearty lunch on its own or for dinner with a yummy side, like this Greek salad or this Mediterranean option.
What Kind of Bread Should I Use For Chicken Gyros?
Pita bread is usually used for gyros. You can make your own pita bread, and it's also widely available in most grocery stores in the US and Canada. Alternatively, you can also look for any Middle Eastern-style flatbread.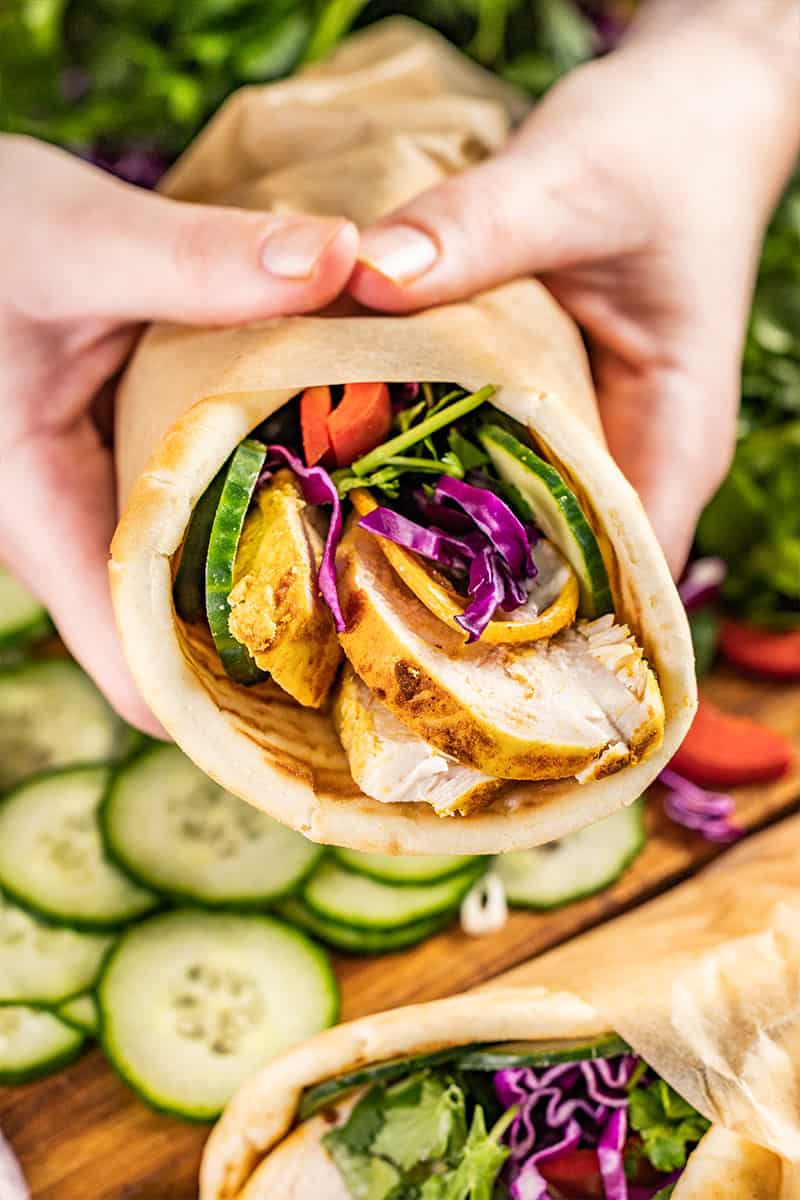 Storage and Reheating Instructions:
If you have any leftovers, or if you want to meal prep, you can store the meat in an airtight container in the fridge for up to 3-4 days. When you're ready to eat, reheat it in the microwave in 30-second increments until it's completely warmed. You can also freeze the chicken in a freezer-safe container for up to 3-4 months. Before reheating, let it thaw overnight in the fridge.
We recommend that you store your leftover chicken gyro unassembled, as the toppings and dressing will make the pita bread soggy if you store them together in the fridge.
If you like this recipe, you may be interested in these other delicious sandwich recipes:
Watch the video below where Rachel will walk you through every step of this recipe. Sometimes it helps to have a visual, and we've always got you covered with our cooking show. You can find the complete collection of recipes on YouTube, Facebook Watch, or our Facebook Page, or right here on our website with their corresponding recipes.