Italian Beef can be cooked in a slow cooker, instant pot, or seared on your stovetop and cooked in the oven. There is minimal prep time before it cooks low and slow with your favorite Italian spices for tender, juicy beef your entire family will love.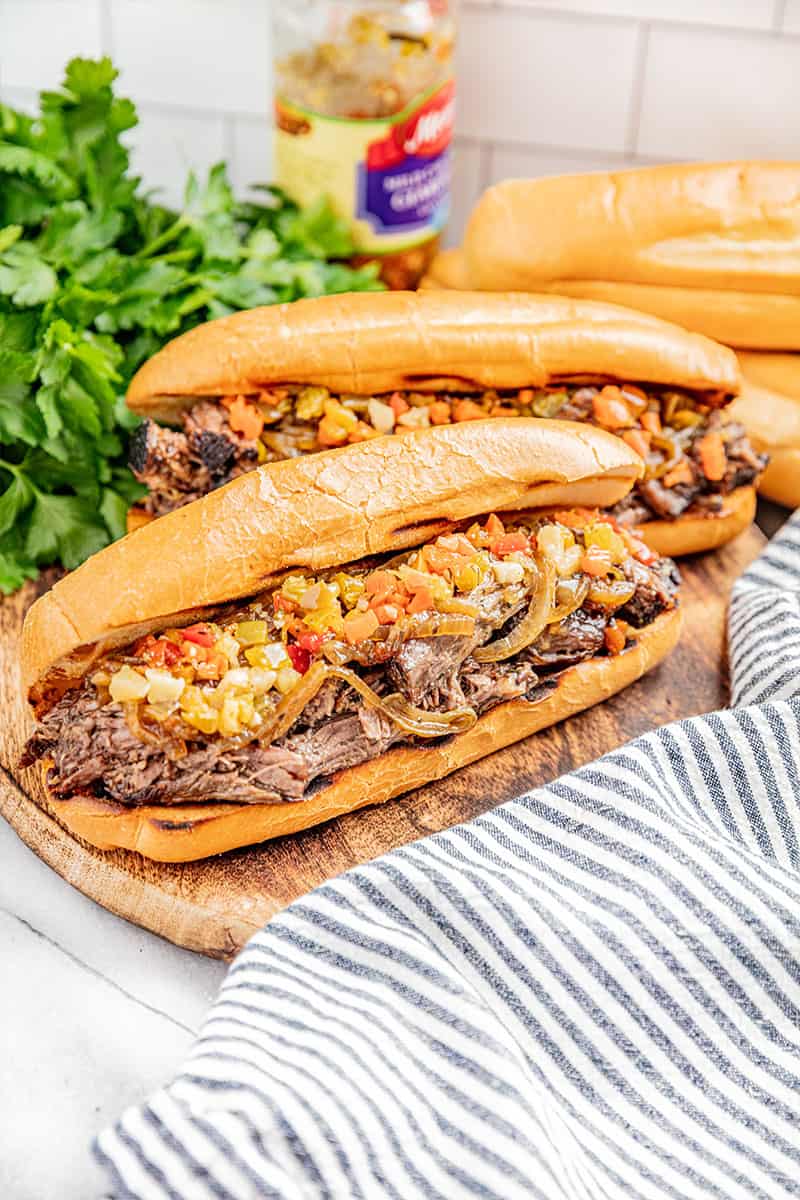 We love nothing more than a recipe with options: slow cooker, instant pot, or stove top. If you're like us and have all of the specialty appliances, then you can take your pick and decide which cooking method is most convenient for your family. If you aren't into the single use kitchen gadgets, we are here for you in this recipe too with stovetop and oven instructions. No matter how you cook this Italian Beef, it is going to be delicious!
Topping Suggestions for Italian Beef Sandwiches:

This sandwich really is amazing without any added toppings — just the meat and peppers on a delicious hoagie roll. However, a totally acceptable topping to this sandwich is a couple slices of provolone cheese.

Bread Suggestions:

Homemade hoagies are our personal favorite, but any roll would work with this. If we can't have a hoagie, we love a good crusty sandwich roll.

What is Giardiniera?

Chicago-style Giardiniera is a blend of pickled and marinated veggies. It typically includes cauliflower, bell peppers, celery, and carrots, though you can sometimes find others peppers and gherkins as well. You should be able to find this in your local grocery store near the pickles.
Roast Suggestions:

For the most tender and flavorful beef, you will want to use a chuck or a rump roast. These are traditionally less expensive cuts of meat, and should be easily found in the meat section of your grocery store.

Storage and Reheating Instructions:

Store any leftovers in an airtight container in the fridge for up to 5 days. Reheat single servings in the microwave in 30 second increments until warmed through.

Freezer Instructions:

We recommend portioning out your meat by the pound (or less). Store in quart sized freezer bags for up to 3 months. When ready to use, thaw in your refrigerator overnight.
If you like this recipe, you may be interested in these other delicious sandwich recipes: