This slow simmered Pineapple Chile Pulled Pork is stuffed in a ciabatta roll, layered on top of mashed black beans, a drizzle of Mexican crema, cilantro and diced pineapple. One of those messy-but-worth-it sandwiches that packs the flavor punch!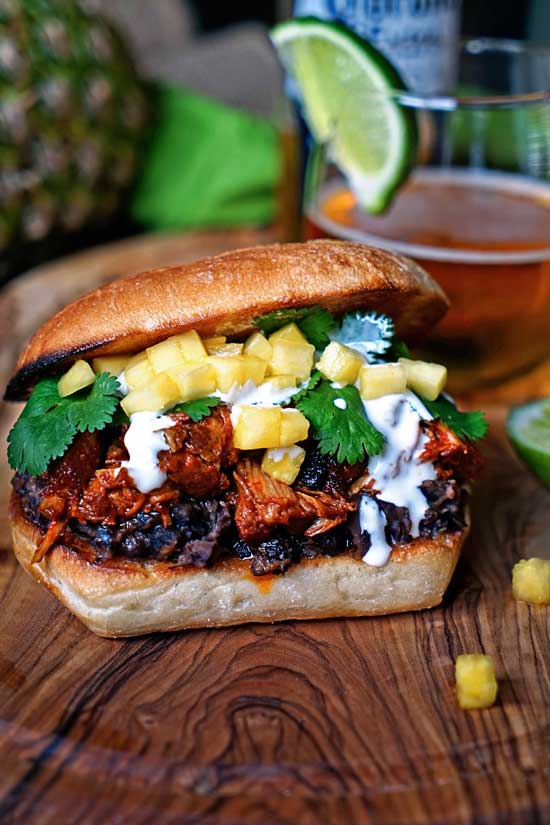 Hi everyone, it's Kevin from Kevin Is Cooking. Special thanks to Rachel for letting me contribute here on The Stay at Home Chef. For today's post I'm sharing my Pineapple Chile Pulled Pork. Pineapple is a favorite fruit around my house. From smoothies, to salsas, to roasting on the BBQ with a dusting of cinnamon, it's sweet and tangy flavor and texture is wonderful. I used not only small, diced cubes in the topping, but the juice to simmer with the pork. I love guajillo peppers and when added to soups like posole, it creates another level of complexity to the dish as with this one.
The dark red guajillo chile has a slight green tea flavor with berry overtones, is a little smoky and has little heat. This will be puréed with garlic, pineapple juice and a habanero chile for the heat. The acid in the pineapple works to break down the pork for a very tender and flavorful shredded pork.
This is one easy recipe where the slow simmer in the pot does all the work. A quick browning of the pork shoulder first seals in the juices. The tangy pineapple juice caramelizes on the sides and bottom of the pork as it simmers. Feel free to spoon over meat as it cooks.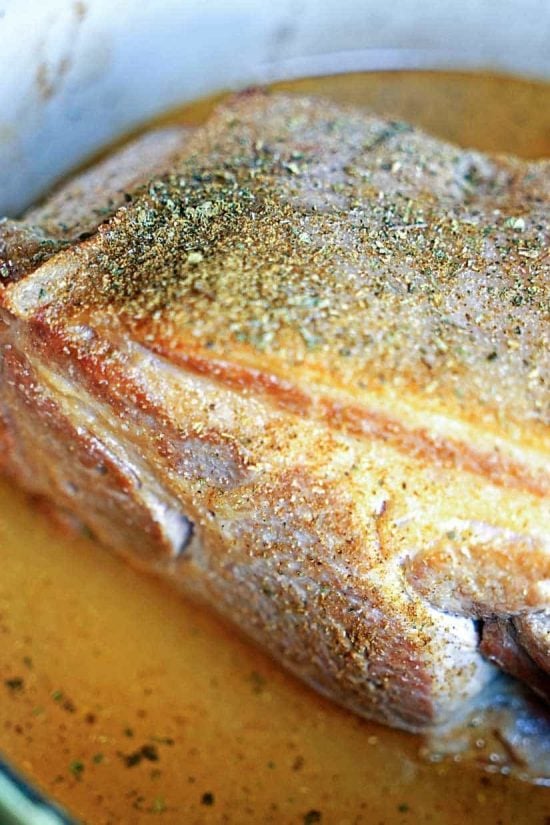 Let's start by removing the stems from the dried guajillos and shake out excess seeds. Pour hot water over them to cover and allow them to soak for at least 30 minutes to an hour. Remove chiles from water and purée with garlic, habanero pepper and 1 cup pineapple juice. Set aside.
Next, rub salt all over pork shoulder and in a 5-6 quart Dutch oven brown on all sides in olive oil. Remove pork, discard all but 1 tablespoon of oil in pot and return pork to pot, fat side up. Add 4 cups of pineapple juice, sprinkle the Mexican oregano and cumin over pork fat cap, and simmer on low for 3 hours, covered. Add the last cup of pineapple juice if needed. I love Mexican oregano, it is very different than regular oregano and I rub the leaves in my hands and sprinkle over the pork. Make the effort to find it in your market, it's worth it.
Remove bone if any and shred meat in pot. Add the red chili sauce and simmer for another hour. The sweet and tangy flavor of pineapple is perfect with pork, when mixed with the chili sauce, it is elevated to another level.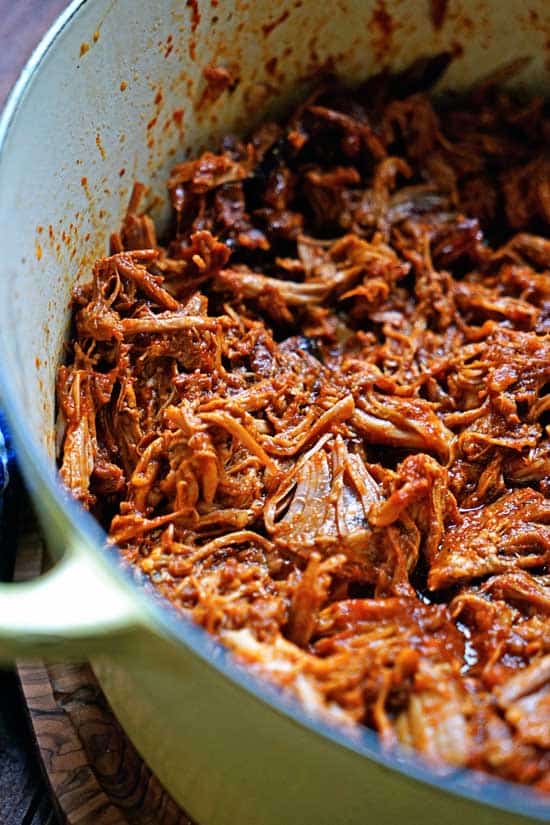 For this meal I was thinking of a lunch, and I needed a bread roll that could stand up to the filling that was coming it's way. A toasted ciabatta roll would work nicely.
I love the toasted aspect to give a little crunch to the meal and slathered each side with a quick mash of black beans. This is one filling lunch or dinner.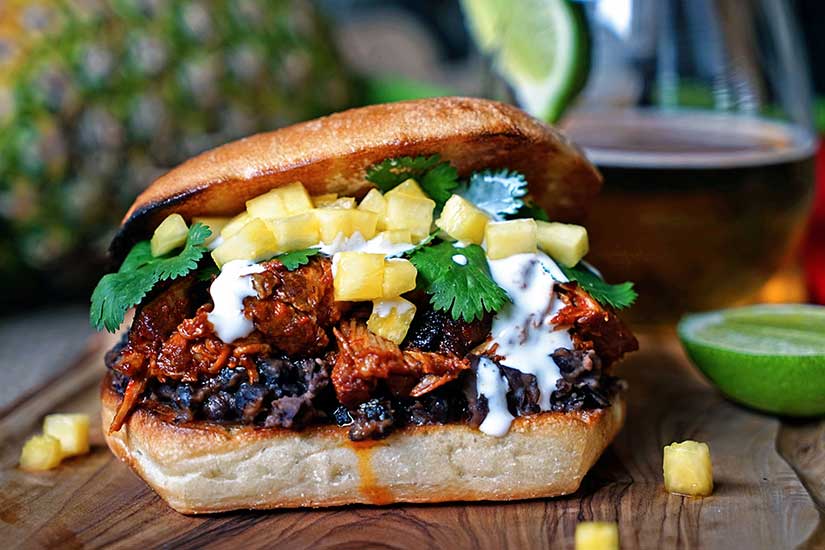 Next I added the shredded Pineapple Guajillo Chile Pulled Pork, a little diced pineapple, some Mexican Crema and a few cilantro leaves.
Serve this up with your favorite beverage. If you like this pulled pork recipe, check out Rachel's Thai-Style Pulled Pork Sandwich, too. Enjoy!