Making your own homemade pita bread is both easy and inexpensive. No need to pay the grocery store markup. Fresh is best anyway!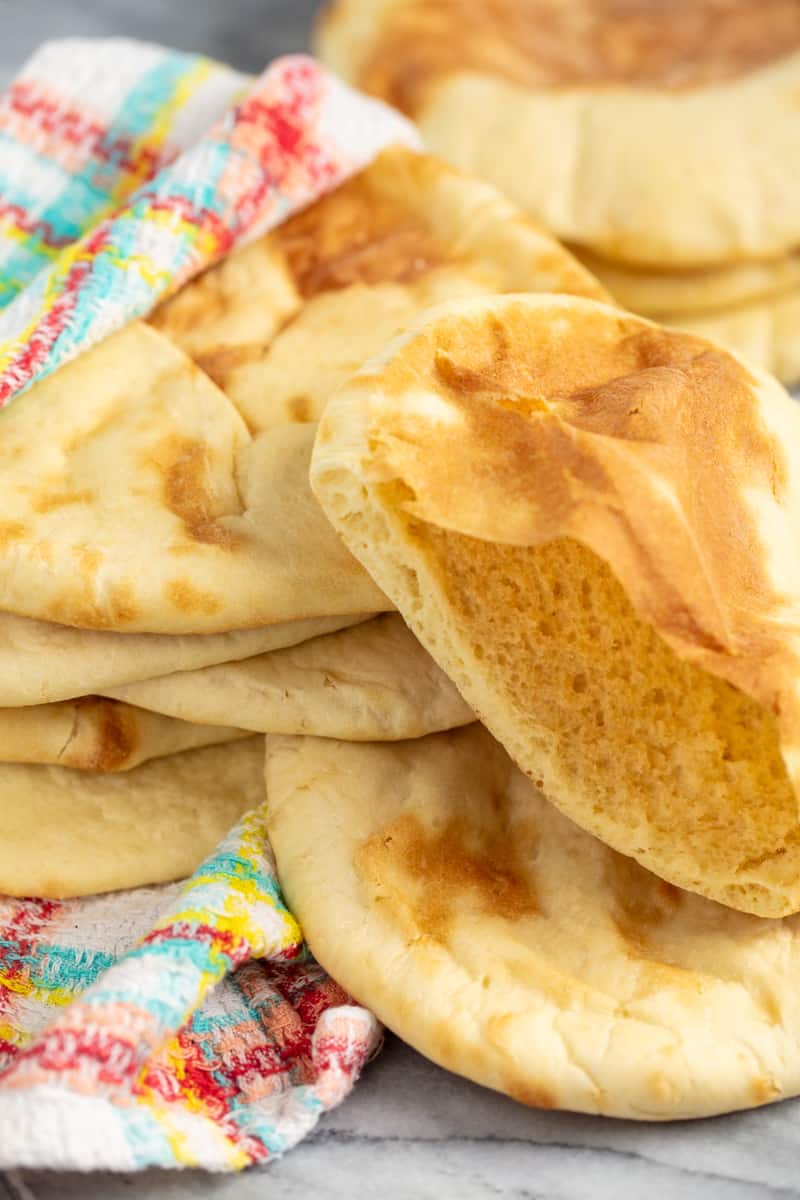 Making your own pita bread is such a smart thing to do. Bread is always the same…mix, rise, shape, bake with maybe a few twists and turns along the way. Pita bread is simple to make, puffs up like a balloon, and like most other breads, it is best enjoyed fresh.
What is the difference between naan and pita bread?
Both naan and pita are what are considered flatbreads, but they are very different. The ingredients used to make each of them are unique. Pita bread usually has yeast, sugar, flour, salt, and olive oil, while Naan bread has many of those ingredients plus eggs, butter, and yogurt. These different ingredients are what makes them both unique in taste and texture.
Do I have to have a baking stone to make pita bread?
While a baking stone produces the best results, you can also use a regular baking sheet. Another option is to skip the oven all together and cook your pita bread on the stovetop. To do this you'll need to preheat a large, heavy skillet over high heat. Working one piece at a time, you can cook the pita bread in this hot skillet for about 2-3 minutes per side. Be careful not to burn them.
Do I have to have a stand mixer to make pita bread?
No! You do not need a stand mixer to make pita bread. Instead, you can easily stir the dough in a large mixing bowl. As you add the flour in it will become harder to stir. When you can no longer stir, simply switch to using your hands and knead the dough until it is soft and pliable.
How many pita breads does this recipe make? What size are they?
This recipe makes between 8 and 12 pita breads, depending on how big you'd like them to be. This recipe will make approximately twelve 8-inch pita breads. If you want larger pita breads you can make approximately ten 10-inch pita breads, or eight 12-inch pita breads. For most uses, we recommend making 8-inch or 10-inch pitas.