Craving something sweet and tangy? Look no further than this delicious recipe for Lemon Dream Edible Cookie Dough. Made with butter, brown sugar, lemon juice, and white chocolate chips, this recipe is sure to satisfy your cravings for a refreshing and satisfying treat.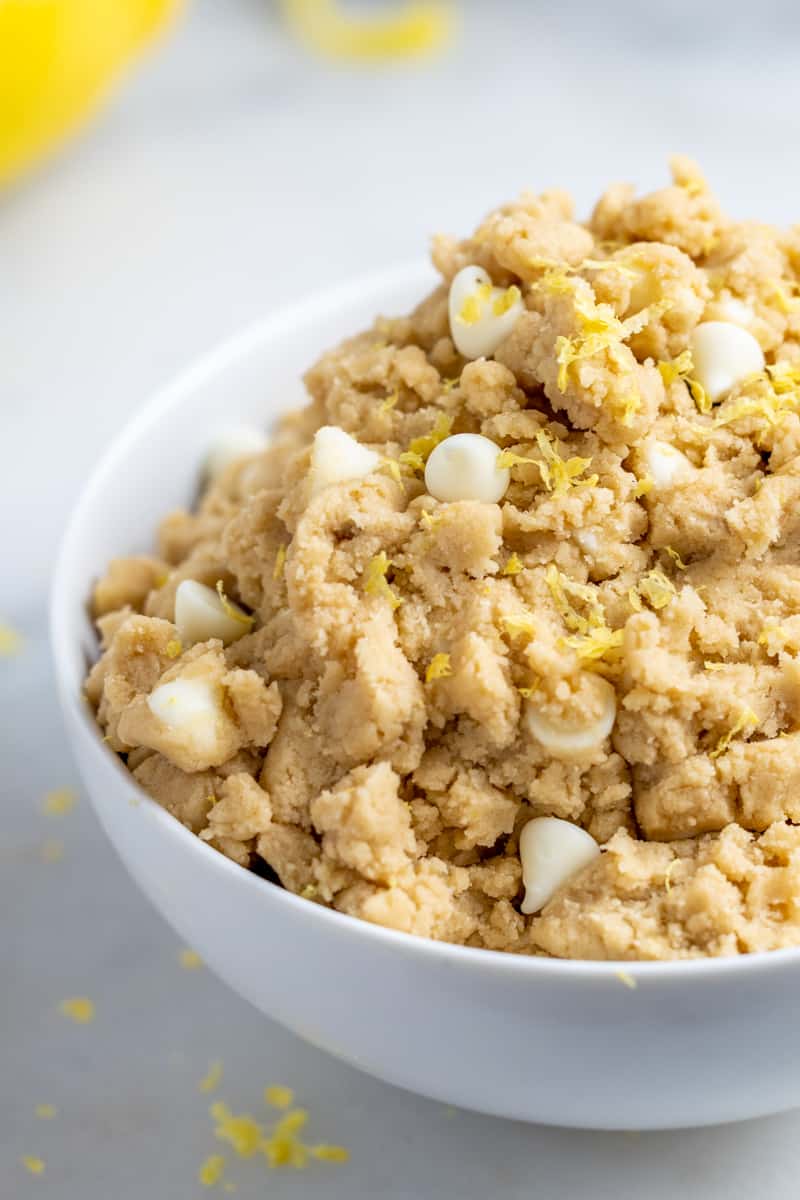 Are you guilty of sneaking a few bites of cookie dough when you're baking? You're not alone! Who can resist the temptation of that sweet, buttery dough? Well, now you don't have to feel guilty about it anymore because this recipe for Lemon Dream Edible Cookie Dough is here to satisfy all your cravings for raw cookie dough. It's easy to make, perfect for a sweet treat, and even more fun to make with kids. So, grab your ingredients, heat-treat your flour, and get ready to enjoy the cookie dough you love.
How to Heat-Treat Flour to Prevent Salmonella
When making edible cookie dough, it is important to heat-treat the flour before using it in the recipe. This is because flour can contain harmful bacteria such as salmonella, which can cause food poisoning. There are two options for heat-treating flour:
Oven Method: Spread the flour out on a rimmed baking sheet and bake in a preheated oven at 350 degrees F (175 degrees C) for 6-7 minutes. Allow the flour to cool completely before using it in the recipe.
Skillet Method: Heat a skillet over medium-low heat. Add the flour to the skillet and stir constantly for about 3-5 minutes or until the flour is golden brown. Allow the flour to cool completely before using it in the recipe.
Mix and Match Flavors
Lemon is a delicious and refreshing flavor for edible cookie dough, but don't be afraid to try other citrus flavors or mix and match. Try using lime juice and zest for a tangy twist, or orange for a sweeter option. The possibilities are endless!
Can I use regular flour instead of heat-treated flour in this recipe?
It is not recommended to use regular flour in edible cookie dough recipes as it may contain harmful bacteria. Always use heat-treated flour to ensure the safety of the dough.
Can I bake this cookie dough?
No, this recipe is specifically formulated for raw cookie dough and should not be baked. If you want to bake cookies, you should use a traditional cookie recipe.
Can I use other mix-in options in this recipe?
Yes, you can use other types of mix-ins in this recipe such as nuts, dried fruits, or even cream cheese baking chips. Be creative and experiment with different flavors to find your perfect combination.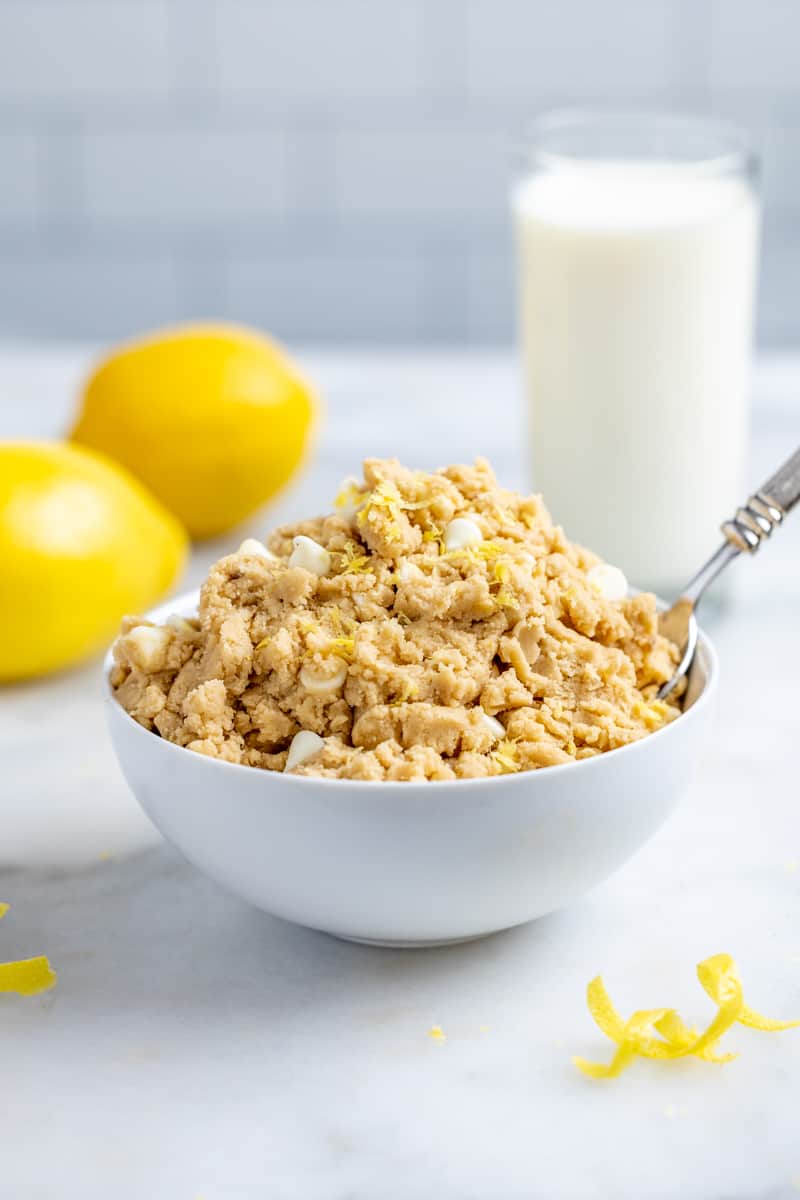 Storage and Freezing Instructions
This recipe can be stored in the fridge for up to a week or in the freezer for longer-term storage. Simply scoop the dough into small balls and store in an airtight container. Note that this recipe is for raw cookie dough and should not be baked as the results will not be suitable for traditional baked cookies.
Are you a cookie dough lover? Check out some of our other cookie dough delights!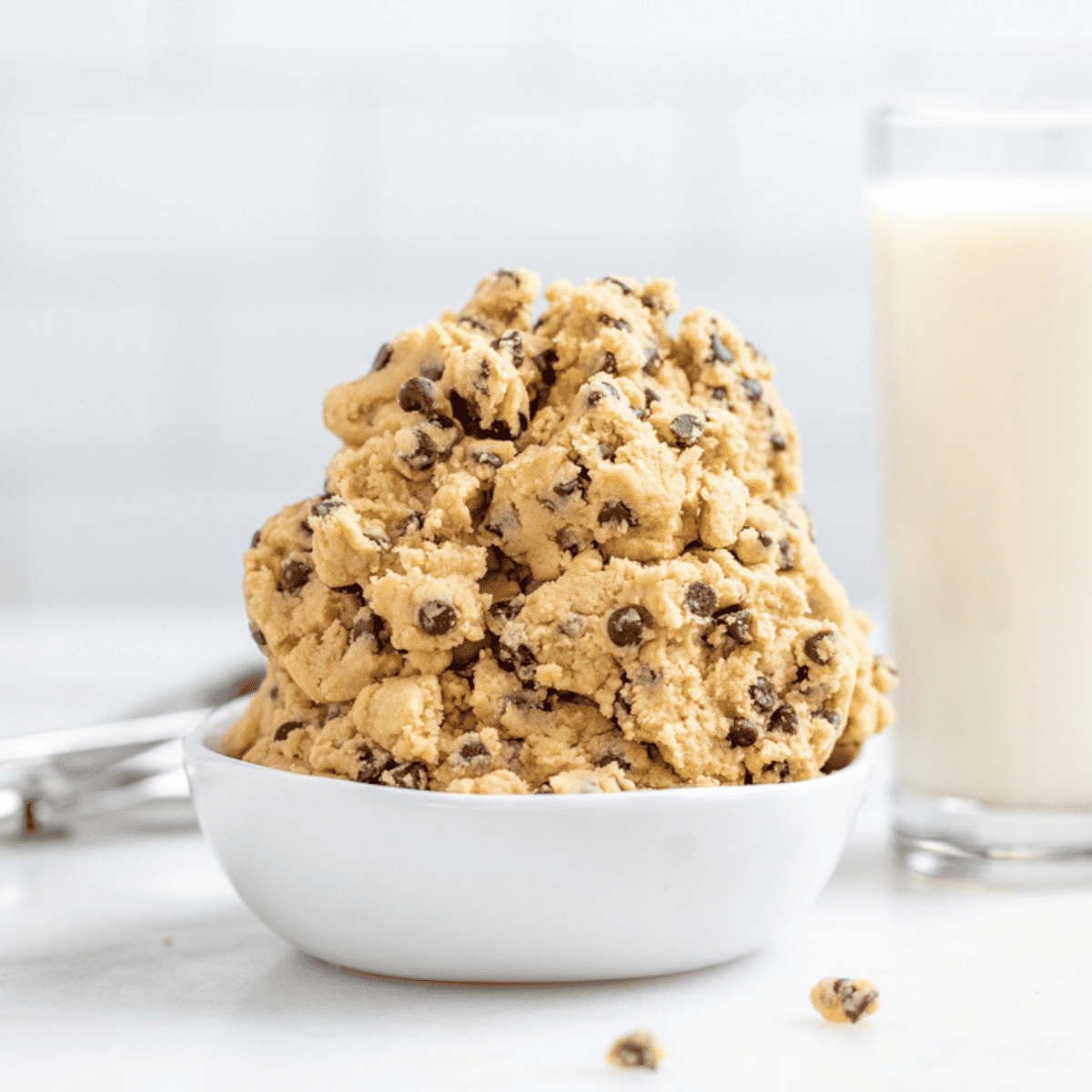 Simply click on the image to be taken to the recipe and let your eyes feast on cookie dough heaven!