If you unapologetically lick dough off the spoon every time you make cookies, you're in the right place! Edible cookie dough is made with heat-treated flour, and absolutely no eggs for a safe and addicting dessert – perfect for a Friday night at home.
Sneaking bits of cookie dough was always our favorite part of making cookies as kids; and as adults, we recognize that eating homemade cookie dough can be problematic with the risks associated with consuming raw eggs and flour. Lucky for you – and me – our edible cookie dough is made without any harmful raw ingredients (no salmonella to be found). You don't have to worry about a sore stomach — or worse — and can focus fully on indulging in the flavors. It's the ultimate addition to a Friday night movie at home, or as a fun slumber party snack for kids!
How Do You Make Cookie Dough Safe To Eat?
We've all heard it: "Don't eat raw cookie dough, it'll make you sick!" While it was the last thing we wanted to hear as kids, our parents did have a point. Eating raw eggs and uncooked flour can give you a stomach ache or worse. You can make edible cookie dough in a few different ways. Ditch the eggs entirely and pre-bake the flour. Eggs are usually blamed for causing an upset stomach, but raw flour is another ingredient that can cause food-borne illnesses.
The Problem With Flour:
You may have never suspected that uncooked flour could contain bacteria, but it does. You should never eat uncooked flour. When raw grains are processed into the flour found in the supermarket, harmful bacteria remain. The only way to remove it is to bake it — a technique called "heat treating." It's an essential step in making this no-bake cookie dough recipe.
Heat-Treating Flour Instructions:
The best way to ensure that flour is safe to eat is to heat treat it first. It is exactly what it sounds like it would be: you have to heat/cook the flour a bit before adding it to your no bake cookie dough recipe. Simply spread the flour onto a baking tray that's lined with parchment paper. Bake it at 350 degrees F for about 10 minutes, or until it reaches 165 degrees Fahrenheit.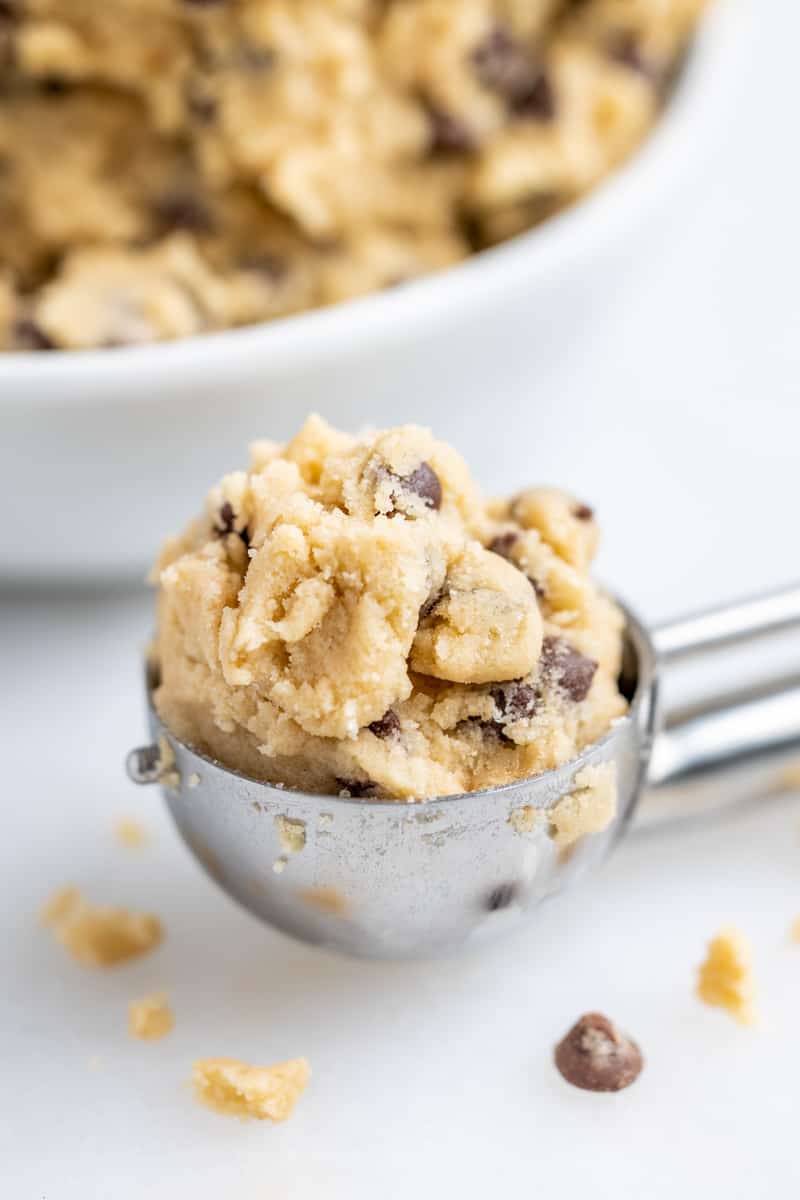 Freezer Instructions:
Want to make a double batch of edible cookie dough so you have some for later? No problem! You can freeze this recipe for up to 3 months. Store it in an airtight and freezer-safe bag. When you're ready to eat it, allow it to thaw in the fridge overnight before digging in.
Storage Instructions:
You can store any leftover homemade cookie dough in an airtight container in the fridge, where it will keep for up to 3 days.
If you like this recipe, you may be interested in these other delicious cookie dough inspired recipes: