Authentic hummus is easy to make at home with this simple and delicious recipe. We've also included two popular flavor options for Garlic Hummus and Roasted Red Bell Pepper Hummus.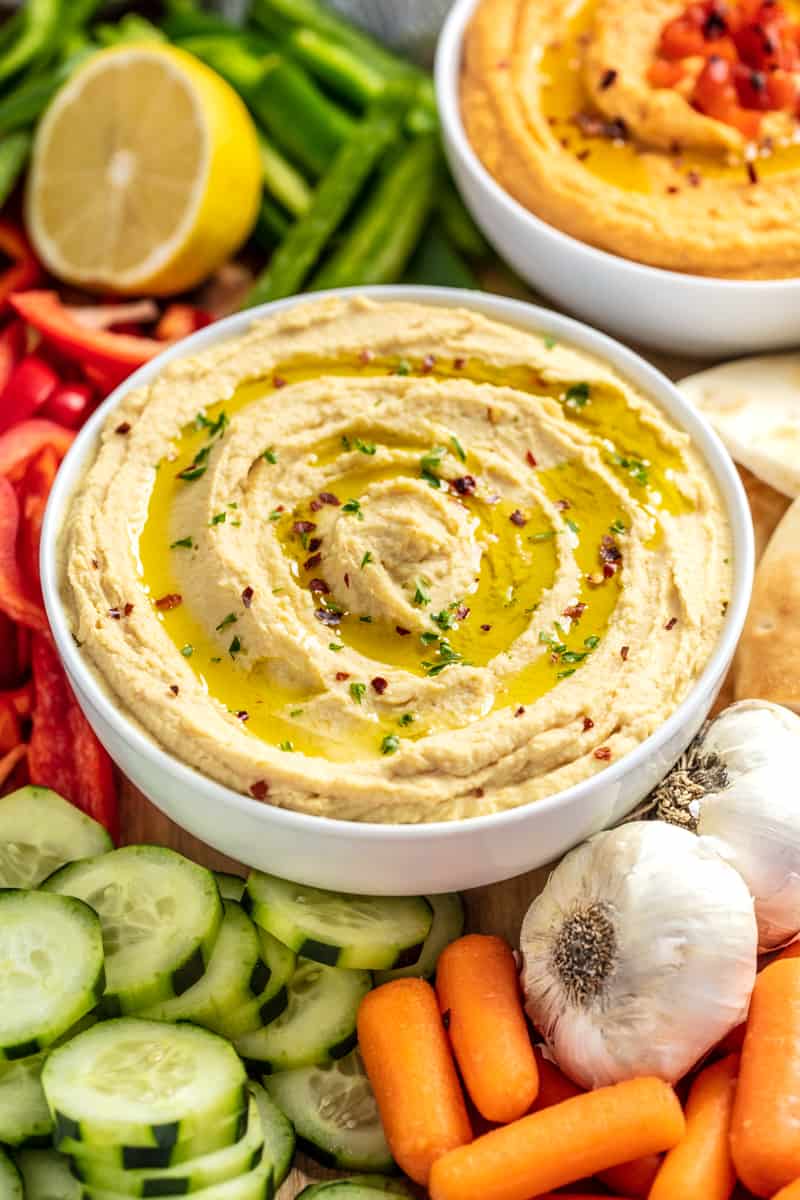 Hummus is a great snack food for almost any occasion. It is light, healthy and delicious. It's a fun alternative to the rich cheese-based dips we usually gravitate toward, but it's also a great addition to a variety of dips or a potluck. We love snacking on it with pita bread and bagel chips.
Hummus has a garbanzo bean base with tahini, olive oil and some simple spices and herbs. Tahini is a paste made from sesame seeds and has a strong, nutty flavor. Making your own hummus is really quite simple and only requires a few ingredients. You can substitute peanut butter for the tahini if you prefer it or are unable to find it. You can also change the flavor with the add-ins we discuss below. This recipe is vegetarian, vegan and gluten-free. You can't beat that!
Are garbanzo beans the same as chick peas?

Yes. They are the same and you might see them called either way in stores.

Do I have to pull the shells off of every single chick pea?

No. In fact, it isn't necessary to pull the shells off at all, but removing the shells does produce a smoother texture. You can choose to remove the shells from all or some of the chick peas.

What should I serve with hummus?

Hummus is a light and delicious side dish or appetizer. It goes great as a dip for vegetables, or with any kind of chips, crackers, bagel chips, or pita bread wedges. Our favorite vegetables include sliced cucumber, carrots, and bell peppers.

What should I use to garnish or flavor my hummus?

Hummus is easy to garnish or add flavor to. A little experimenting will help you find out what you like best. Some delicious options are: chopped parsley, paprika, pine nuts, chopped olives, or diced, roasted red bell pepper.
Popular Variations:

Some popular hummus flavors are garlic, roasted garlic and roasted red bell pepper. Here is how you can make them:

Garlic Hummus: To make garlic hummus, add 4-6 extra cloves of garlic to the recipe and blend in thoroughly with the rest of the ingredients.
Roasted Garlic Hummus: For roasted garlic hummus, start by roasting your garlic. This is done by cutting the off the top or narrow end of a bulb of garlic, then drizzling with olive oil. Wrap that in aluminum foil, and roast in 400 degree Fahrenheit oven for 30-40 minutes. This tones down the garlic in terms of strength, and alters the flavor. Swap the whole bulb of garlic out for the two cloves in the original recipe. It is delicious!
Roasted Red Bell Pepper: To make this flavor of hummus, you will start by either roasting a red bell pepper or buying a jar of roasted red bell pepper. A 12 ounce jar contains about one full red bell pepper. Drain the jar and add it to the original recipe with the garbanzo beans and blend thoroughly.
If you love hummus, you might also like some of these other delicious dip recipes: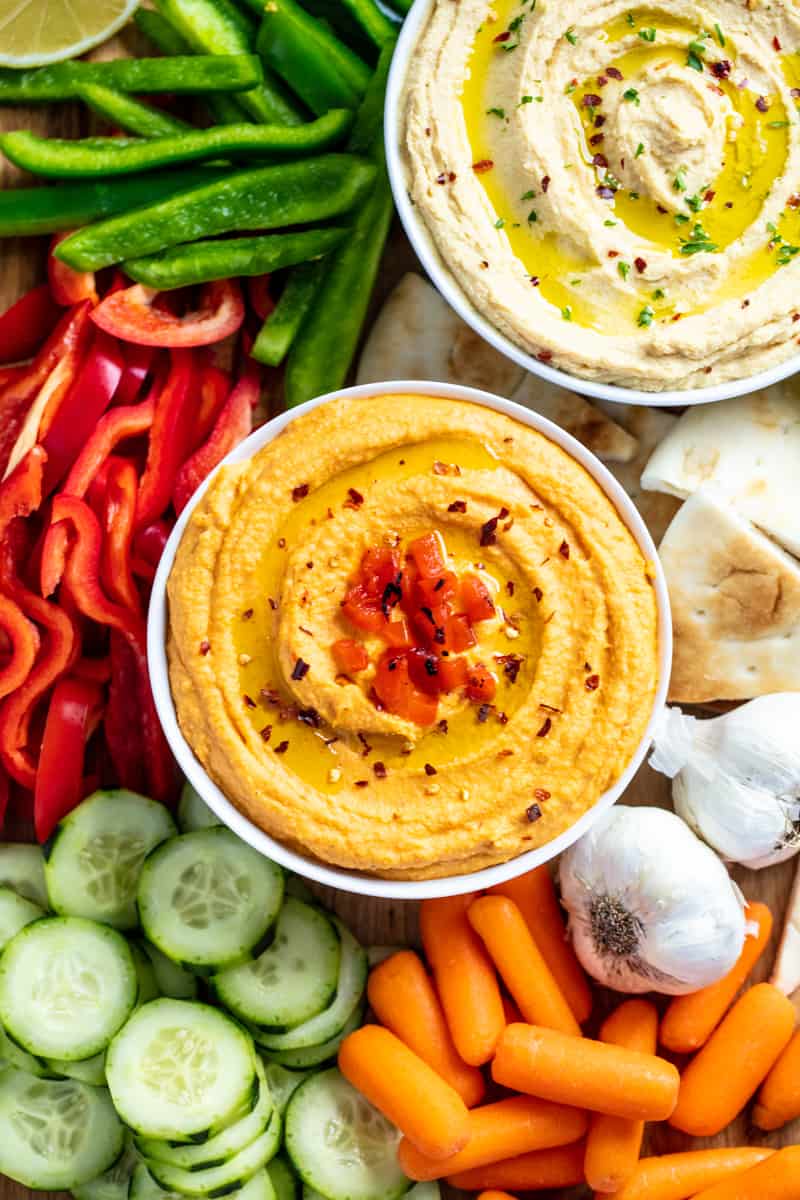 Watch the video below where Rachel will walk you through every step of this recipe. Sometimes it helps to have a visual, and we've always got you covered with our cooking show. You can find the complete collection of recipes on YouTube, Facebook Watch, or our Facebook Page, or right here on our website with their corresponding recipes.