Your heart doesn't have to be two-sizes too small to enjoy Grinch punch! This fun holiday treat is made with ice cream, lemon-lime soda, almond extract, and green food coloring — to give you that Grinch-green color — and is full of sweet and citrus flavors!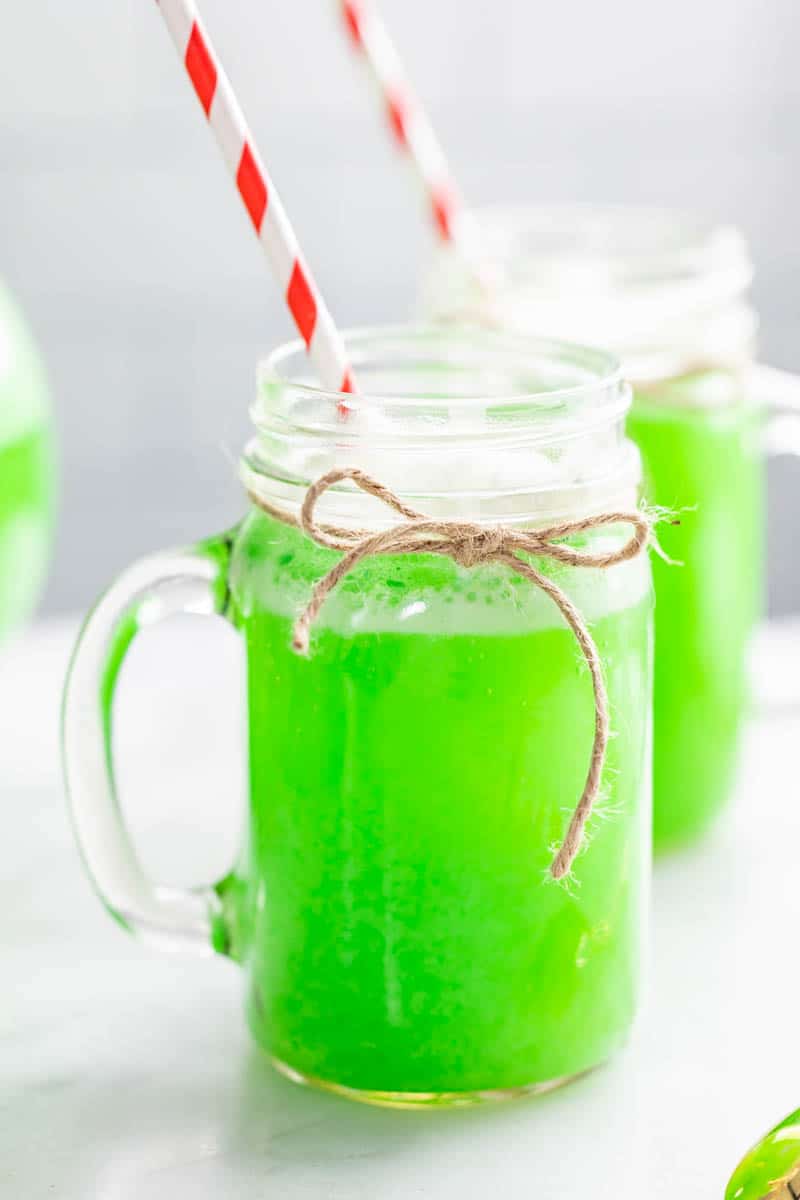 If you're looking for a festive drink for a holiday party, look no further! Grinch punch is a non-alcoholic Christmas-themed punch that is ridiculously cute and super tasty. It's something that everyone at your table can enjoy, no matter how old. The combination of flavors will give you a citrus and almond-tasting green punch that is refreshingly cold and delicious. It packs a punch — in terms of cuteness and taste! Bonus points if you serve this in cups with the classic Grinch face on them. Use plastic cups and draw them on with a permanent marker, or dedicate a collection of glasses to your annual holiday party. Christmas movie enthusiasts are bound to get a kick out of it!
What Does Grinch Punch Taste Like?
Grinch punch boasts a creamy citrus flavor, thanks to ingredients like citrus soda, ice cream, evaporated milk, and almond extract. You may have never thought to pair citrus and ice cream together, but boy, is it yummy. The taste is similar to a lemon-lime sherbet!
Fun Add-Ons:
While this green punch is certainly festive when you make it as indicated, there are some other add-ons you can use to make it even more fun! Here are some of our favorite ideas:
Add a sugar rim — dye the sugar green or red, or use colored sugar
Use maraschino cherries for an even more festive look
Top with a dollop of whipped cream
Serve with red and white striped straws
Flavor Variations:
We, of course, love our Grinch drink exactly as it is, but there is room to play around with the flavors. You can add different types of juices to the soda if desired:
Pineapple juice
Green Berry Rush Hawaiian Punch
Lemon juice
Grapefruit juice
The key to using juice is to add a few tablespoons at a time and then taste it to test. You don't want to end up with overly citrus results, so use any flavor add-ons sparingly.
What Kind Of Ice Cream Should I Use?
You can keep things simple and use classic vanilla ice cream in your green punch, or you could mix things up a bit. Here are some options that would work wonderfully with the other ingredients:
Vanilla bean
Strawberry
Raspberry
Can I Add Alcohol?
If your 21+ friends and family want to add a little kick to their Grinch drink, you can absolutely add alcohol. While you can always experiment with your preferred liquor, we recommend a clear liquor – such as vodka or rum – as it has a more neutral flavor and shouldn't affect the overall taste too much. Make sure to drink responsibly!
Make Ahead Instructions?
This beverage is best served fresh. If you make it too far in advance, the soda will go flat, and the ice cream will melt. That said, you can prepare the sugar, evaporated milk, and almond extract mixture a few hours before serving — just make sure to store it in the fridge.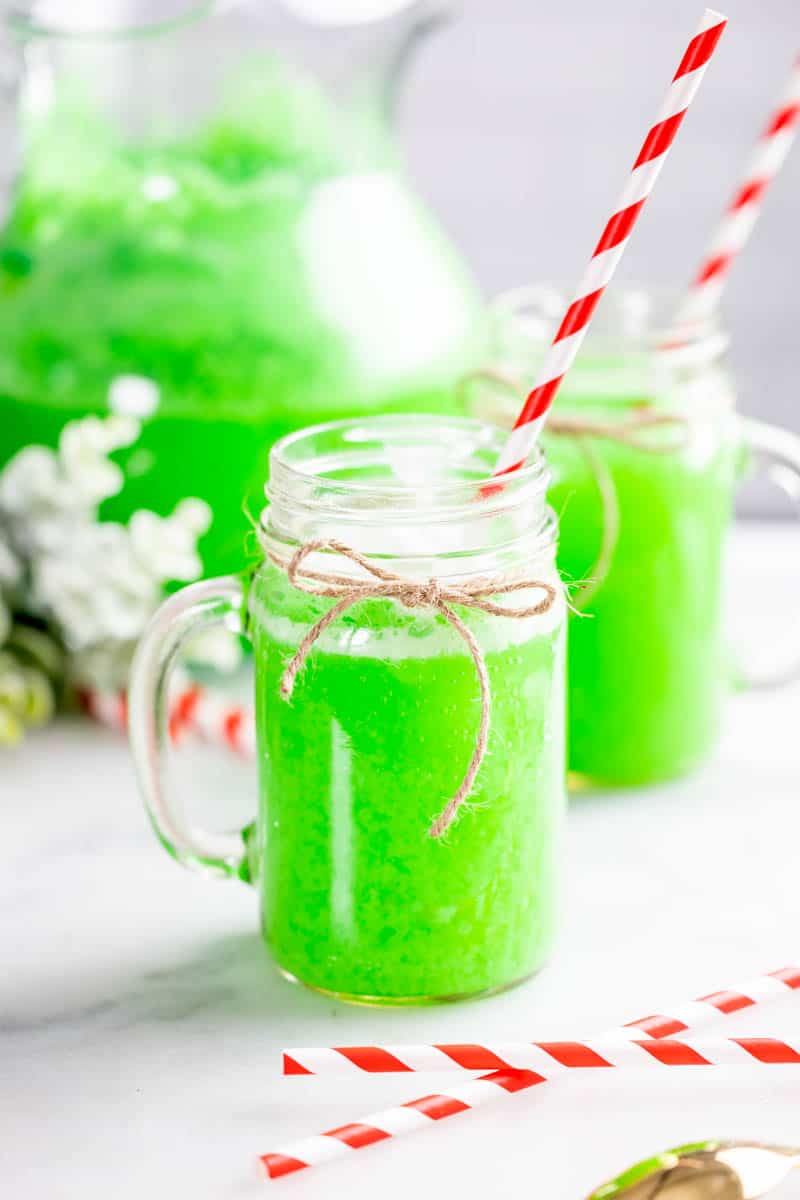 Can I Store Leftovers?
If you follow our recipe, you should end up with 4 perfect servings of this Grinch drink. Leftovers don't keep well, so encourage your guests to drink up!
If you like this recipe, you may be interested in these other delicious festive drink recipes:
Watch the video for great tips and tricks for making this recipe. You should also visit and subscribe to my YouTube Channel where I have my own cooking show. There are hundreds of restaurant quality recipes you can easily make at home over there. So get on over and check them out!