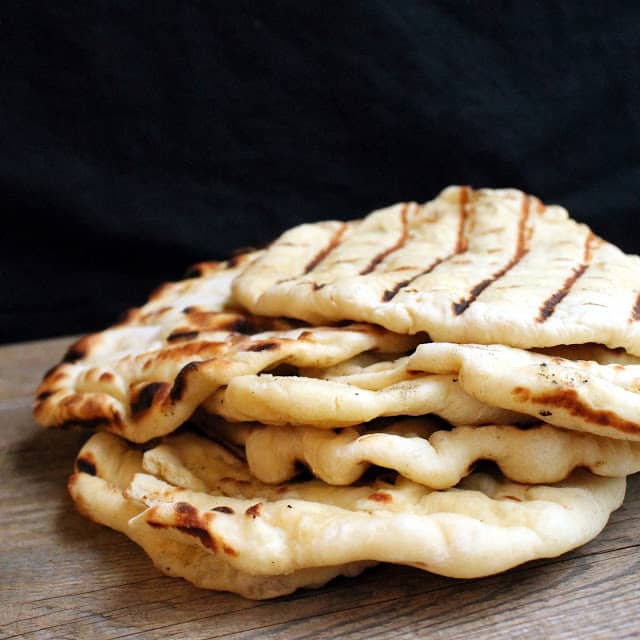 What would a feast of India be without some delicious Naan? We've had our Strawberry Lassis and our to-die-for Chicken Tikka Masala, but let me tell you… the Naan makes the meal. And today I'm especially excited to share my first cooking video. It is nerve wracking to put myself out there like this, but it was totally fun to do and you'll be seeing more of these. It's short and shows you just how easy it is to cook Naan right on your grill.
Ingredients
1 tsp yeast
1 cup warm water
2 tablespoons sugar
2 tablespoons yogurt
1 egg
1 tsp salt
2 1/2 cups flour
1/4 cup melted butter
Instructions

MY OTHER RECIPES
1. Put all ingredients together in a bowl and mix by hand or using a stand mixer. Knead about 5 minutes. Cover and let rise 1 hour.
2. Separate the dough into 8 balls. Let the balls rise for 30 minutes.
3. Roll out each dough ball into tear-drop shapes or ovals. They should be quite thin.
4. Heat an outdoor grill to high heat. Brush one side of the dough with melted butter. Place butter side down on the grill. Butter the top side. When bubbles appear, flip the dough (should only take 1-2 minutes). Cook the other side for another 1-2 minutes.
ALTERNATE COOKING METHOD
If you don't have access to a grill (or the weather outside is frightful), use a heavy skillet. Just follow the same method described above in your skillet. You won't get that great "grilled" flavor or any of the grill marks, but it'll still be pretty good.


FLAVOR YOUR NAAN


Garlic Naan – Add tsp crushed garlic to the dough mixture.
Onion naan – Add tsp onion powder and 2 tsp finely diced onion to dough mixture
Cinnamon Naan – Add 2 tsp cinnamon to dough mixture. After cooking, sprinkle the top with a mixture of brown sugar and cinnamon.