Easy Chinese Pepper Steak will quickly become a family favorite. This quick take-out fake-out dinner is ready in just 15 minutes!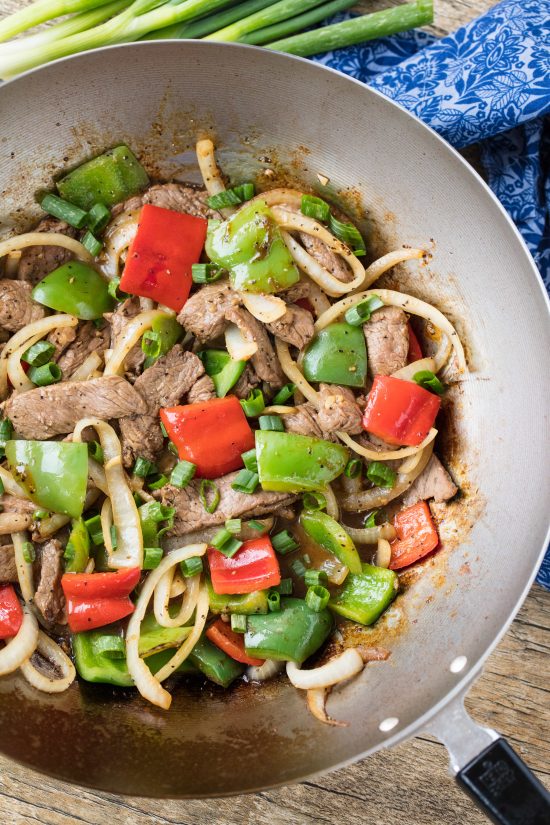 This post is sponsored by Massdrop. All opinions expressed are my own.
Have you heard of Massdrop? I hadn't until recently, but it's this really cool website where they bring people of similar interests together and you can buy cool products at discounts. You vote for which products you want to see offered, and then people commit to buy. The more that commit buy, the less the price. Mass buying equals drops in prices. Massdrop. Cool, eh?
Well, they recently opened up a community for cooking enthusiasts. The gorgeous wok used in this recipe is one of the fantastic deals or "drops" that they are running right now. You can get in on this deal by clicking HERE. Be sure to check out the GIVEAWAY at the bottom of this post where you can also win one for yourself.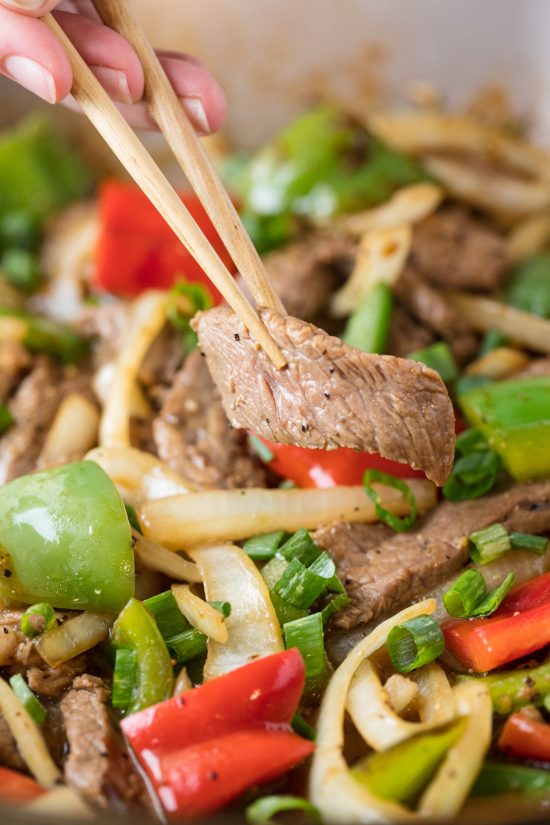 This recipe is my version of classic Chinese Pepper Steak. Now, it's not exactly authentic Chinese food. It's much more of an American Chinese classic. That doesn't stop it from being super tasty. And guess what? It's ready in 15 minutes. The best part about woks is that they cook stuff super fast at a high heat. I love, love, love cooking on a wok. Sure, you can make this in a skillet, but woks are just awesome and have unique properties that allow you to do cool things with food quite quickly. You should get one and start playing with it. You will quickly become a wok convert.
PRO TIP: Woks need to be seasoned just like a cast iron pan needs seasoning. It should come with a set of instructions on how to do so. It should go something like first, boil water in the wok. Rinse it off and coat it in oil then heat it up. Repeat the oil and heat several times. You also don't wash it with soap. Let salt and heat do all the germ killing.
Watch the video below where I show off this wok and give you tips and tricks as I walk you through every step of this recipe.
Easy Chinese Pepper Steak
Easy Chinese Pepper Steak
Easy Chinese Pepper Steak will quickly become a family favorite. This quick take-out fake-out dinner is ready in just 15 minutes!
Author:
Rachel Farnsworth
Ingredients
1 pound sirloin steak, cut into ¼ inch thick strips
¼ cup + 1 tablespoon soy sauce, divided
1 tablespoon rice vinegar
2 tablespoons cornstarch
½ cup beef broth
1 tablespoon sesame oil
1 tablespoon sugar
1 tablespoon black pepper
2 green bell peppers, cut into 1-inch squares
1 red bell pepper, cut into 1-inch squares
1 onion, sliced
4 cloves crushed garlic
2 teaspoons minced ginger
4 tablespoons vegetable oil, divided
¼ cup sliced green onions (optional)
Instructions
Pour 1 tablespoon soy sauce and 1 tablespoon rice vinegar over beef in a small mixing bowl. Set aside.
In another small mixing bowl, whisk together ¼ cup soy sauce and cornstarch. Add in beef broth, sesame oil, sugar, black pepper, ginger, and garlic. Whisk to combine. Set aside.
Heat 2 tablespoons of vegetable oil in a wok over high heat. Add in beef and toss until seared. Remove from wok and set aside.
Add in another 2 tablespoons of vegetable oil. Add in peppers and onions. Cook in the wok until tender crisp.
Add meat back into the wok. Add in ginger garlic sauce. Stir and cook about 1 minute.
Serve with sliced green onions to garnish.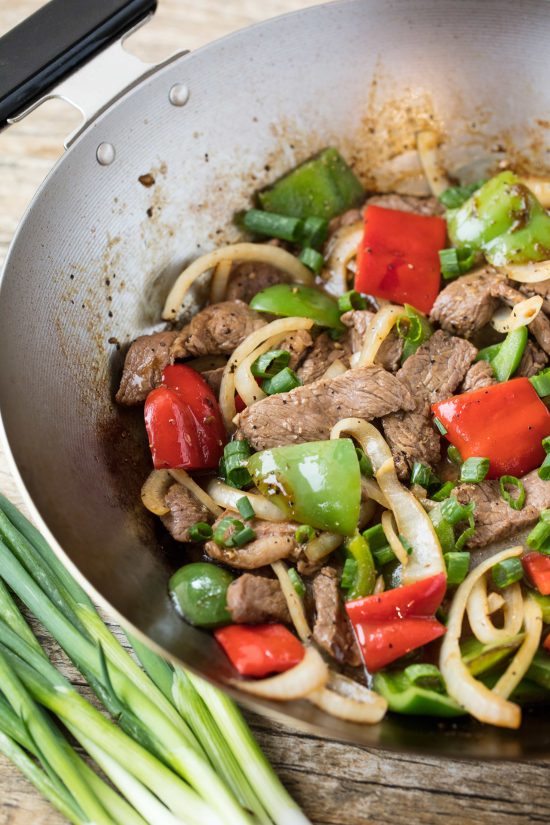 a Rafflecopter giveaway