Skip the takeout and make this quick and easy Kung Pao Chicken at home. It takes just 15 minutes to make which means you may never order takeout again!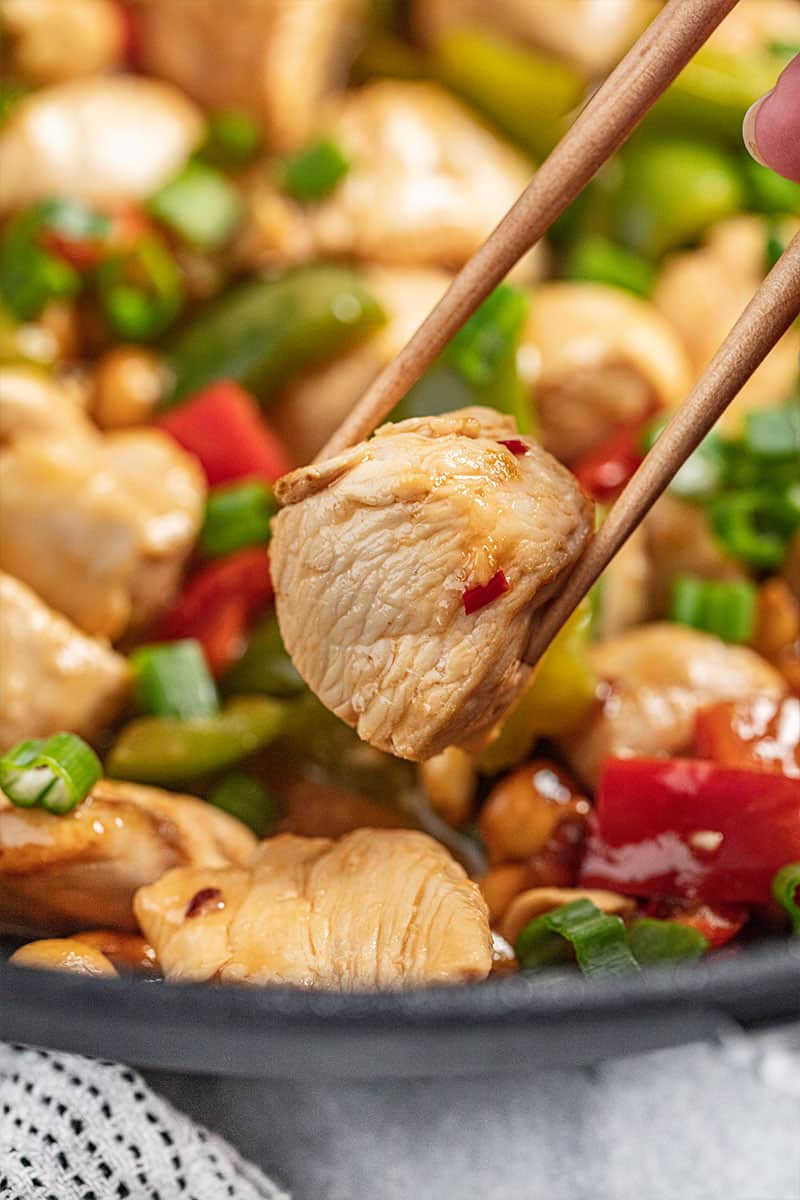 We love a good 15 minute meal. And Kung Pao Chicken? It's a total crowd pleaser. Why order take out when you can make it so easily at home? Plus, you never have to worry if the delivery guy accidentally spilled it on the sidewalk and scooped it back in the box. Anyone else worry about that?
You can easily adjust the spiciness level in this recipe to give it more or less "pao." Just add more or less peppers. In this recipe we use rehydrated Chinese red chiles. You can also use spicy red chile paste (found in the Asian section of your supermarket) or a fresh chile of your choice, either diced or sliced up. Add more or less depending on how spicy you want your Kung Pao Chicken. If you want to keep it kid friendly, you can even leave out the heat all together, but then it will mostly just be Kung Chicken.
Do I need a wok?
Woks might be be more authentic, but you can use any large skillet. 
Can I substitute peanuts for anything else?
Cashews are a great substitute, but if you have peanut/tree nut allergies, you can simply omit all nuts.
Oil Options for Easy Kung Pao Chicken:
If you avoid cooking with vegetable oil for whatever reason, you can use any neutral flavored oil; avocado, grapeseed, and canola are best. In a pinch a 'light' olive oil, sunflower oil or peanut oil will do. 
Storage and Reheating Instructions:
Kung Pao Chicken is best eaten fresh. You can store any leftovers in an airtight container in the refrigerator for up to 4 days. Reheat in a skillet on the stovetop over medium-low heat until warmed through. 
If you like this recipe, you may be interested in these other delicious Asian inspired recipes: