Perfect Crab Cakes are super easy to make. Use real lump or imitation crab and put together a gourmet crab cake in under 15 minutes. No restaurant required!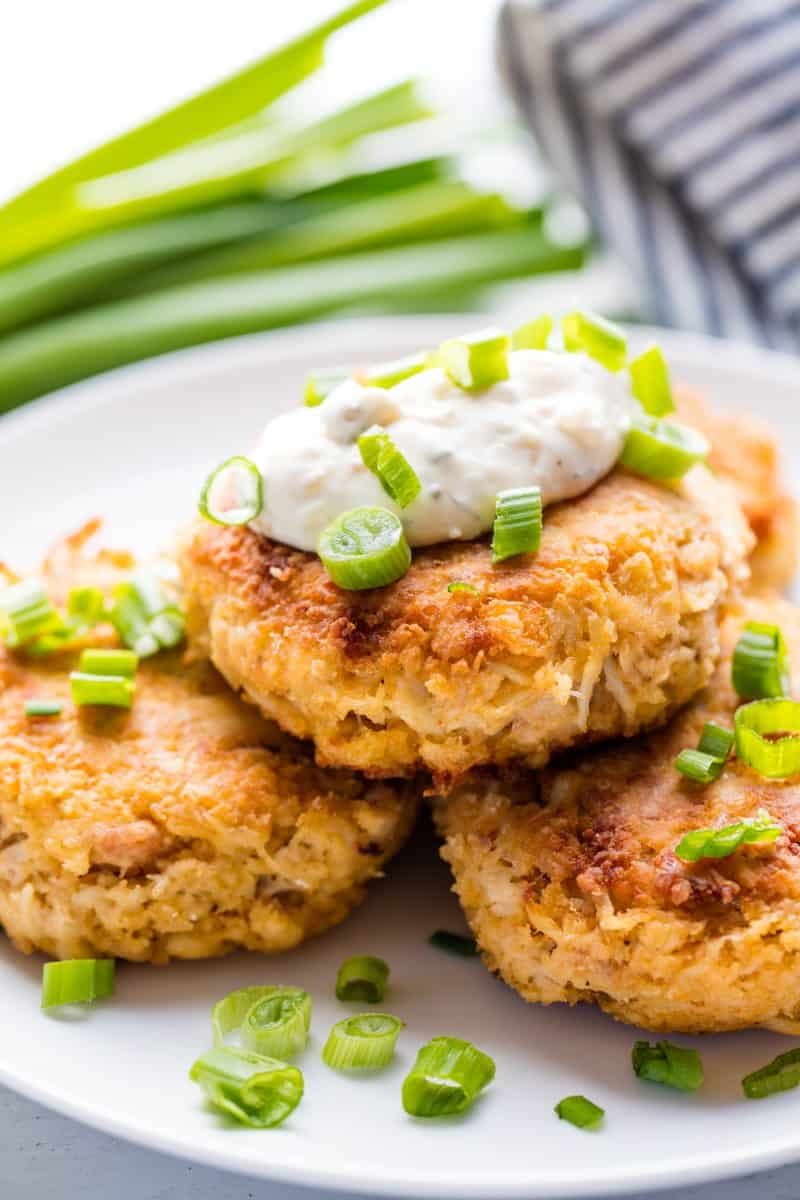 What is a good side dish for crab cakes?
Coleslaw, french fries, and fresh or roasted vegetables are all great side dishes for crab cakes.
How long can you keep crab cakes in the fridge?
Seafood is best consumed within 2 days. It's not recommended that crab cakes be stored in the refrigerator for longer than 48 hours.
What kind of sauce to serve with crab cakes:
There are lots of options when it comes to sauces that pair well with crab cakes. Tarter sauce is a classic option, but there are lots of other options as well. Crab pairs well with cocktail sauce, remoulade, wasabi based sauces if you like heat, or even a creamy horseradish sauce. Garlic butter is also an easy option as well.
What is old bay seasoning?
Old Bay seasoning is the brand name of a spice blend that pairs well with seafood. It contains bay leaf powder, celery salt, mustard, pepper, ginger, paprika, nutmeg, cloves, allspice, red pepper flakes, mace, cardamom, and cinnamon. While you can certainly make your own spice blend at home, it's very convenient to buy it as a spice blend since it contains such a wide variety of spices.
What kind of crab should I use to make crab cakes?
There are generally two kinds of fresh crab sold: lump crab meat, and lump claw meat. Lump claw meat tends to be far less expensive and still creates a tasty crab cake. It can be sold in a refrigerated can or in plastic bag packaging. You can also buy it at the seafood counter of your grocery store. Lump crab meat is also sold in the canned section of your grocery store near the tuna, but it is not considered fresh. It is not recommended for this recipe. Imitation crab can also be used in this recipe if you are trying to save money. But nothing beats real, fresh crab.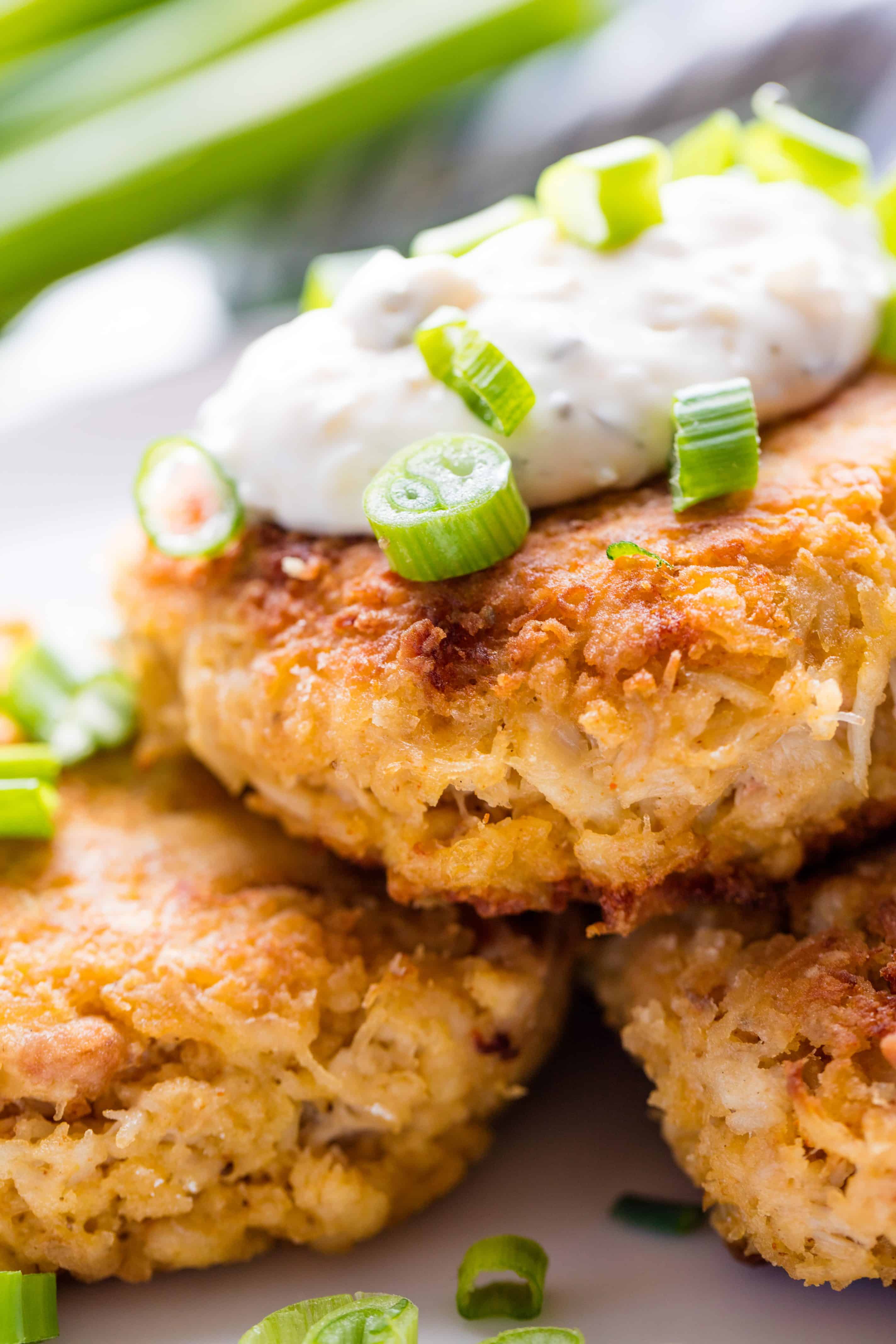 If you like this recipe you may also be interested in these other seafood recipes:
Watch the video below where Rachel will walk you through every step of this recipe. Sometimes it helps to have a visual and we've always got you covered with The Stay At Home Chef Cooking Show. You can find the full collection of episodes for free on YouTube, or right here on our website with their corresponding recipes.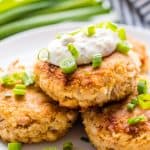 Perfect Crab Cakes are super easy to make. Use real lump or imitation crab and put together a gourmet crab cake in under 15 minutes. No restaurant required!
Ingredients
1

pound

lump crab meat

1

cup

panko bread crumbs

1/4

cup

mayonnaise

1

large egg

2

teaspoons

ground mustard

1

tablespoon

lemon juice

1

teaspoon

worcestershire sauce

1 1/2

teaspoon

old bay seasoning

1

teaspoon

garlic powder

1/2

teaspoon

salt

1/2

cup

all-purpose flour

1/4

cup

vegetable oil for frying

1/4

cup

sliced green onions for garnish
Instructions
Pick through crab meat and make sure there are no shells. Place into a medium-sized mixing bowl.

Stir in bread crumbs, mayo, egg, mustard, lemon juice, worcestershire sauce, old bay, garlic powder, and salt. Stir until ingredients are evenly distributed.

Take about 1/4 cup of the crab mixture and shape into a patty. Repeat with remaining crab mixture. Spread flour out onto a plate. Dip crab cake into flour on both sides to coat and gently brush off excess.

Pour enough oil into a large skillet to cover the bottom and heat over medium high heat. Working in batches as needed, fry crab cakes in hot oil until golden brown 3 to 5 minutes on each side, adding more oil between batches.

Transfer fried crab cakes to a paper towel lined plate to drain before serving hot. Garnish with green onions.
Nutrition
Calories:
300
kcal
|
Carbohydrates:
16
g
|
Protein:
17
g
|
Fat:
17
g
|
Saturated Fat:
8
g
|
Cholesterol:
62
mg
|
Sodium:
998
mg
|
Potassium:
220
mg
|
Sugar:
1
g
|
Vitamin A:
115
IU
|
Vitamin C:
7
mg
|
Calcium:
65
mg
|
Iron:
1.8
mg