This Copycat Olive Garden Salad Dressing brings that smooth and zesty flavor home to toss into your favorite green salad. It's simple and quick to make with nearly universal appeal!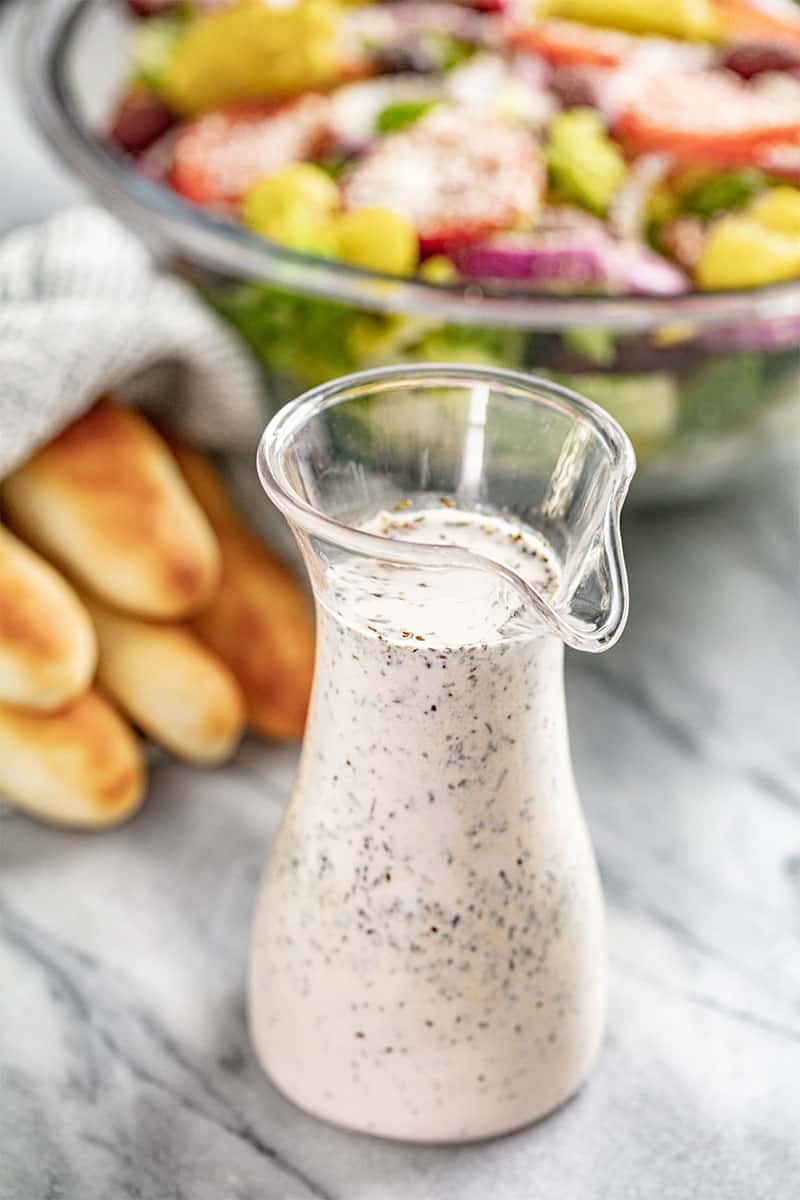 Who doesn't like the fresh, light salad that Olive Garden is famous for? Its Caesar-Italian flavor is totally guiltless and light. Even so, most of us are too full to eat once our main dish arrives because we filled up on salad and bread sticks—it happens to the best of us. Now, you can whip up that same Olive Garden dressing at home.
This copycat dressing calls for ingredients you probably have on hand already. Using mayonnaise for a little bit of creamy richness, this dressing rounds out with lemon juice, red wine vinegar, parmesan and other spices. Remember to serve this up the next time you feel like making an Italian dinner. Everything you need to copy the whole salad can be found in the recipe too. Buon Appetito!
Do I have to use mayonnaise?
In order to create the creamy, richness of this dressing, you will need to use mayonnaise. You can omit the mayonnaise and it will still taste good, however, you will want to replace the mayonnaise with olive olive oil or plain greek yogurt. Bear in mind that if you use olive oil it will be more of a classic oil and vinegar dressing.
Can I use fresh herbs instead of dried?
Yes. Fresh herbs are almost always preferable—just not as convenient. If you choose to use fresh herbs, make sure to chop them especially fine so their flavor can blend best with the oils and vinegar. Because dried herbs are more potent, you'll need to use approximately 3 times more fresh herbs to substitute in place of the tried. So for every 1 teaspoon of dried herbs, use 3 teaspoons fresh which is the equivalent of 1 tablespoon.
What ingredients are included in an Olive Garden salad?
An Olive Garden Salad is generally served as a bed of Romain lettuce topped with red onion, tomato, whole pepperoncinis, and kalamata olives. It can also be commonly served with croutons and in the restaurant they offer freshly grated Parmesan cheese and freshly cracked black pepper to add table side. Please review the following list for the amounts you will need to make your own Olive Garden salad at home.
4-6 cups chopped Romaine lettuce
half of a small red onion sliced into rings or half slices
1 large tomato, halved and sliced
8 whole pepperoncinis, drained
1/3 cup pitted kalamata olives
1/2 cup croutons (optional)
freshly grated Parmesan cheese (optional)
freshly cracked black pepper (optional)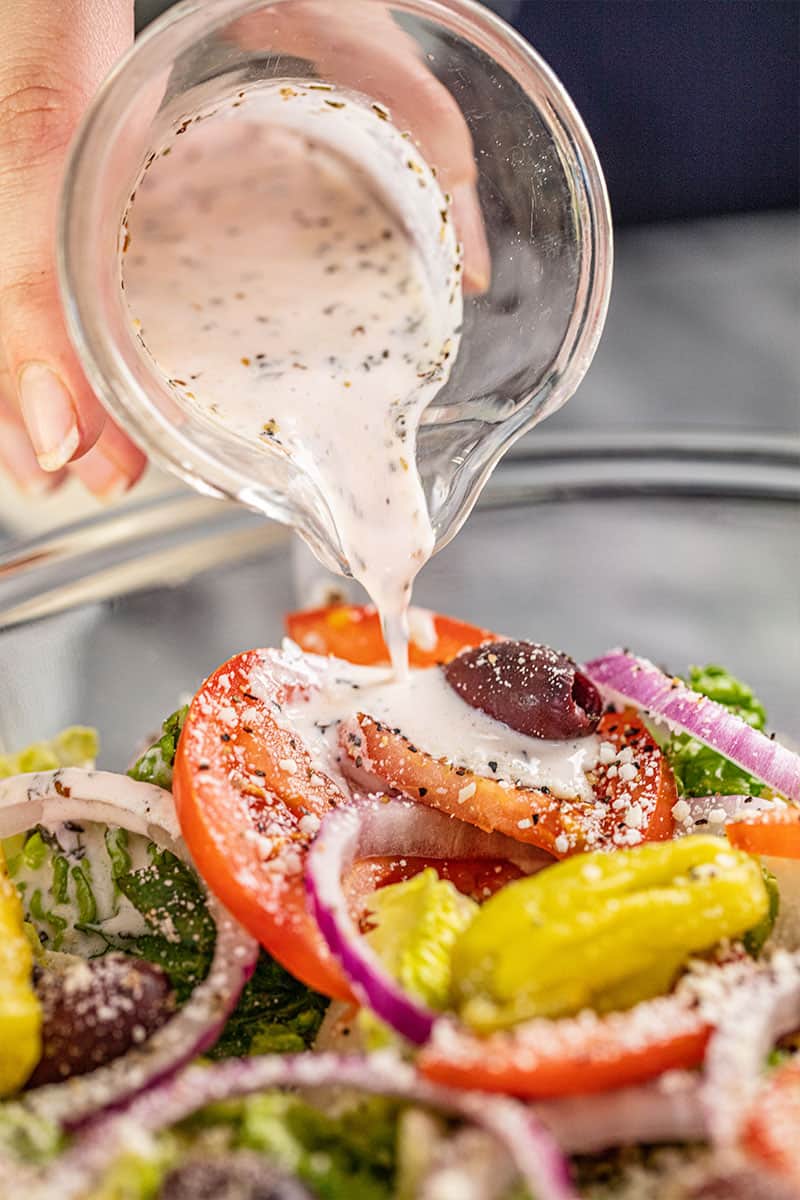 Can I make the dressing in advance? How long does it last?
Yes. You can make the dressing and store it in an airtight container or bottle for up to four weeks in the refrigerator. How long it lasts in the refrigerator depends on the freshness of the ingredients you use to make it.
If you like this dressing, you may also enjoy some of these other salad and salad dressing recipes:
Watch the video below where Rachel will walk you through every step of this recipe. Sometimes it helps to have a visual, and we've always got you covered with our cooking show. You can find the complete collection of recipes on YouTube, Facebook Watch, or our Facebook Page, or right here on our website with their corresponding recipes.