Christmas charcuterie board is a seasonal twist on your favorite appetizer. Made with seasonal meats, cheeses, jams, jellies, and fruit; your guests won't be able to resist — and neither will you! 'Tis the season!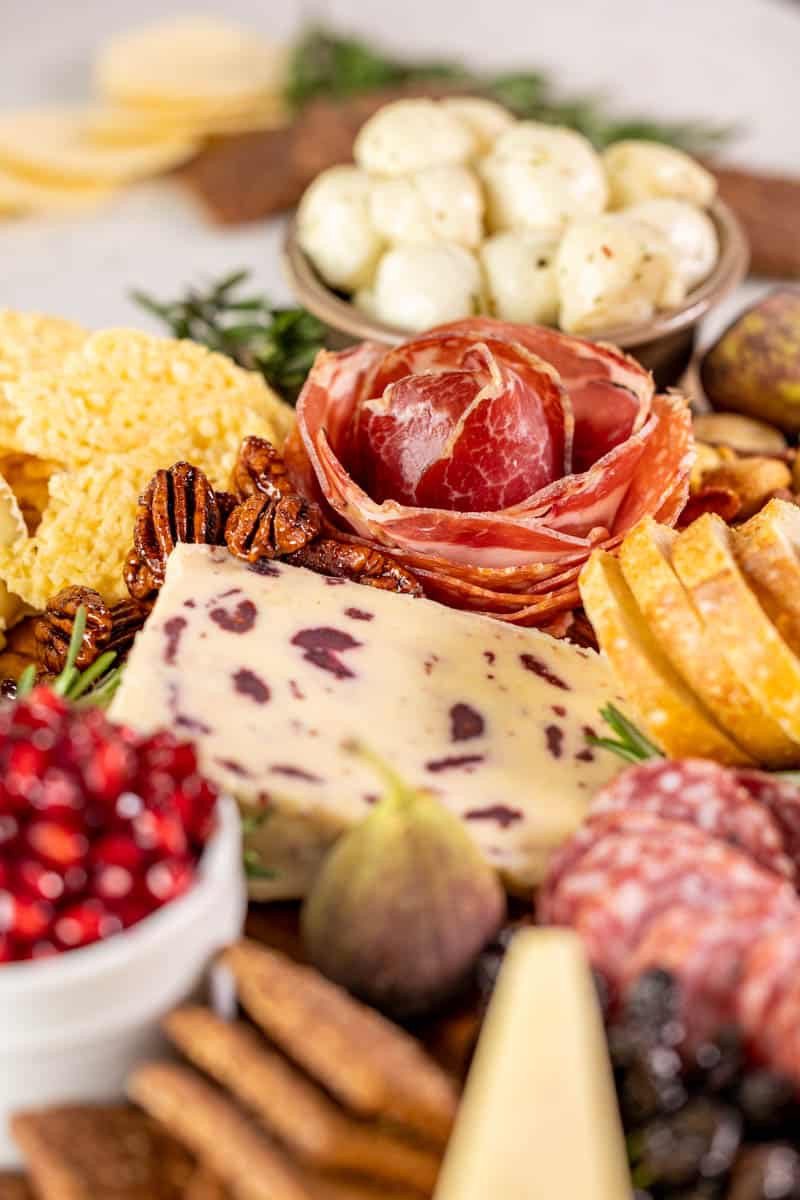 If you're looking for Christmas charcuterie board ideas, we're here to help! It truly has become one of our favorite appetizers. Not only is it a blast to put together, it's always a hit with our guests. Taste testing to match meat and cheeses to see what works? You don't have to ask us twice! So, what goes into making a Christmas themed charcuterie board? It's all about adding seasonal-themed cheeses and working in winter elements to your design. Think a snowball-looking ball of mozzarella, candied nuts, and a bit of fresh rosemary. We also love the idea of using snowflake-shaped crackers. Stick to the winter/holiday theme, but feel free to get creative — that's what cooking at home is all about.
Start With The Meat:
The base of any good Christmas themed charcuterie board is a good selection of quality meat. We typically always include:
Sopressata
Salami
Pepperoni
Ham
Prosciutto
Add The Cheese:
Your Christmas themed charcuterie board won't be complete without plenty of cheese. You'll want to include many different types, textures, and flavors to go along with the other ingredients. We like to use a range of hard, soft, and semi-soft options:
Hard to firm: Cranberry cheddar, baked parmesan chips, Merlot cheddar
Semi-soft: Horseradish Havarti, cranberry Wensleydale
Soft: Different flavored goat cheese, brie, fresh mozzarella balls
Don't Forget The Seasonal Add-Ons:
You can make your Christmas charcuterie board stand out by making sure to include some fun seasonal add-ons. You can take these extras in any direction that you want, but try to use seasonal fruit, jellies, jams, nuts, and condiments:
Fruit: Figs, pomegranate seeds, pears, grapes
Jelly & Jam: Hot pepper cranberry jam, mulled cider jelly, fig jam
Nuts: Candied pecans, walnuts, almonds
Condiments: Honey, mustard, pickles, olives
Herbs and the like for decor: Rosemary, mint, pine sprigs, fresh cranberries
Finish It Off With The Bread:
You need something to pile up all that yummy meat, cheese, and extras on! Here are some Christmas charcuterie board ideas for bread and crackers to inspire you. You can mix and match to your specific preferences:
Water crackers
Wheat Thins
Crostini
Fresh French baguette, sliced
Herb crackers (if they're green in color — grab 'em!)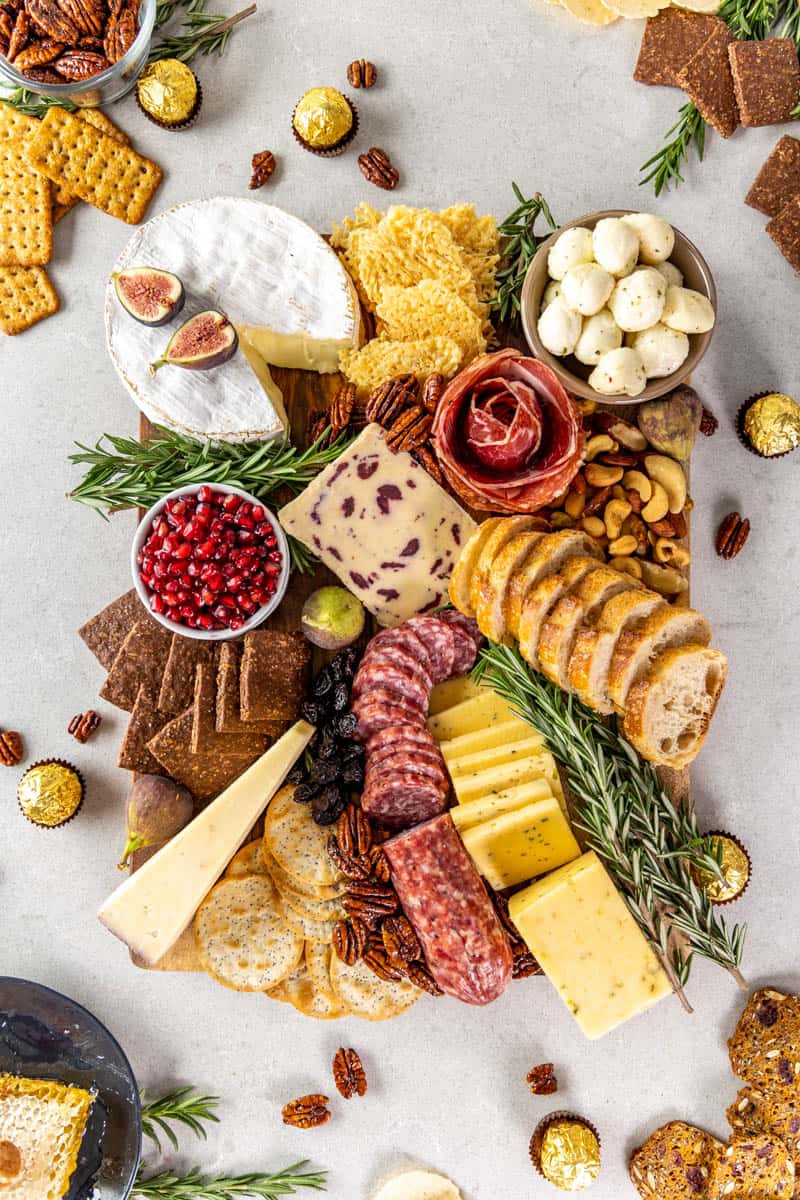 Make-Ahead Instructions For A Christmas Charcuterie Board:
One of the best parts about serving a Christmas themed charcuterie board is that you can make it up to 24 hours in advance. That means you can knock it out the night before the party so you have more time to work on your main and side dishes. Simply arrange the ingredients on your board of choice, then wrap everything tightly in plastic wrap. Store it in the fridge until you're ready to serve. Pro tip: hold off slicing any fruit or bread before serving for maximum freshness!
Storage Instructions:
If you have any leftovers, you should store them in separate containers in the fridge. Aim to eat the meat and cheeses within 24 hours. One of our favorite leftover Christmas charcuterie board ideas is sandwiches made with any meat and cheese that may have gotten left behind. That said, if you left out your board for more than 2 hours, it's safer to toss any leftovers.
If you like this recipe, you may be interested in these other delicious appetizer recipes: