Homemade Cheese Fondue gives you the perfect ooey, gooey, melty cheese to dip your favorite bread, pretzels, and veggies in. Whether you want to use a fondue pot, stovetop, or slow cooker, we've got you covered with instructions for all!
We are big fans of dipping. We are even bigger fans of cheese. This recipe is like hitting the jackpot for us. It helps that we always seem to have a dozen different varieties of cheese on hand, so we really can make this anytime we like. Is that not normal? Trust us, you need more cheese in your life, and this recipe is the best way to accomplish that. Sure, you can add some veggies to the mix to make this a bit healthier. But let's be honest, if we're making cheese dip, you know that bowl of veggies will remain full while the pretzels and bread are gone in 5 minutes flat. You do you and enjoy this cheesy goodness on all of your favorite foods to dip!
Cheese Options:
We're keeping it classic with this recipe today, but there are a lot of cheese options. It is best to pick at least 2 types of cheese for your fondue. Some of our favorite cheeses are:
Gruyere
Sharp Cheddar
Gouda
Fontina
Comte
Wine Substitutes for Homemade Cheese Fondue:
We love to swap out the cooking wine for beer to make a truly amazing beer cheese dip. Alternatively, if you'd rather not use alcohol, you can substitute with apple juice.
Can I use store-bought pre-shredded cheese?
We always recommend using freshly grated cheese. Some store bought cheeses have an anti-clumping coating, and it does not melt well.
Do I have to use a fondue pot?
You can use a fondue pot, make it on the stove, or even in the slow cooker. We prefer the fondue pot because it keeps your cheese at the perfect temperature while dipping.
Slow Cooker Instructions:
If you choose to make this in the slow cooker, you can follow the same instructions as for the fondue pot. No need to stir until melted, simply add your cheese mixture in to the hot wine, cover, and let cook for 30 minutes on high, then an additional 45 minutes on low. Be sure to check on your fondue and stir every so often.
Dipping Suggestions:
Really, what doesn't pair with cheese fondue? Alright, perhaps cheese fondue isn't meant for anything and everything, but there are so many good options. Some of our favorites include:
Bread
Granny Smith Apples
Cherry tomatoes
Cooked Meats
Roasted veggies
Pretzel Bites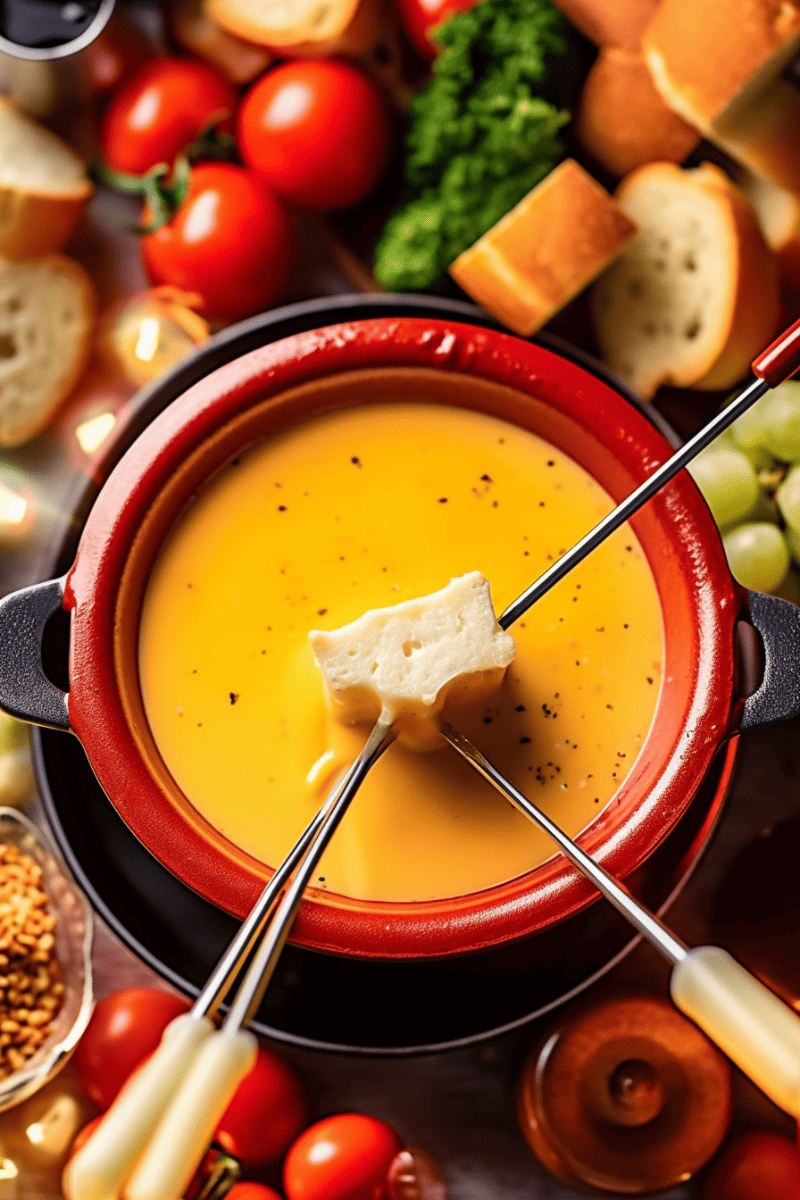 Storage and Reheating Instructions:
You can store leftover cheese fondue in an airtight container in the refrigerator for up to 5 days. Reheat in your fondue pot or in a saucepan on the stove, adding more liquids as necessary to thin it out, until warmed through.
If you like this recipe, you may be interested in these other delicious dip recipes: