Chocolate Pretzel Caramel Bars are a 3 ingredient dessert that will have your tastebuds singing with joy. Sweet, salty, and full of deliciousness.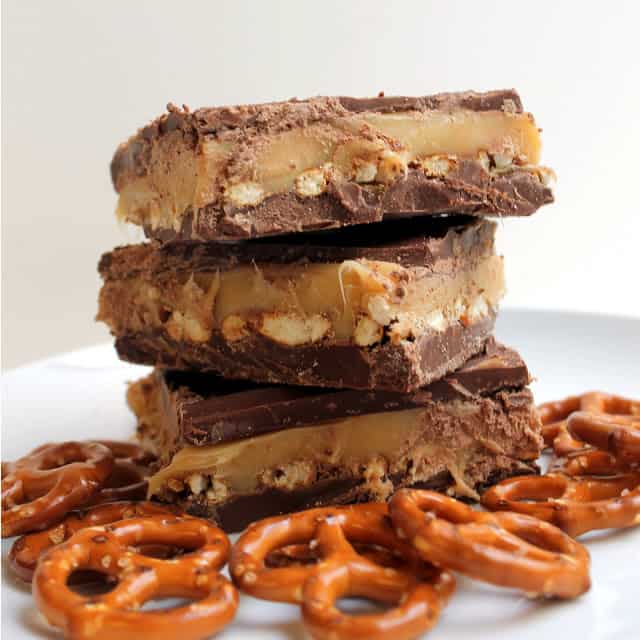 Who doesn't love the saltiness of a pretzel mixed with the sweetness of chocolate? Similar to chocolate and peanut butter, chocolate and pretzels are a classic dessert flavor combination and we are in love with this recipe. It comes together ridiculously fast, and there isn't even any oven baking required! Perfect for a hot summer day.
When sweetened condensed milk is caramelized it is called dulche de leche. The sugar in the sweetened condensed milk provides all the sugar that is necessary to turn it into a caramel. Pure caramel is simply melted sugar. A creamy caramel has some sort of milk added to it like heavy cream. Dulche de leche, then, is simply a Spanish name for creamy caramel.
Chocolate Options for Chocolate Pretzel Caramel Bars:

Chocolate chips, chocolate wafers, semi sweet, milk chocolate, dark chocolate, oh my! There are a ton of options, but don't let that overwhelm you. If you don't want your chocolate too overly sweet, stick with semi sweet or dark chocolate. If you are a chocoholic and can't get enough, milk chocolate is up your alley. You can use either wafers or chips, that's really just personal preference and won't interfere with the recipe either way.

Do I have to include pretzels?

I mean, pretzels are our jam so we highly recommend them. However, if you're just looking for a basic chocolate and caramel bar, you could always leave out the pretzels.

Storage Instructions:

You'll want to store these in the fridge for up to a week to keep them from getting too soft and messy. Alternatively, you can freeze them for up to a month. Just put in an airtight bag and let thaw before biting into one!
If you like this recipe, you may be interested in these other delicious dessert recipes:
Chocolate Pretzel Caramel Bars
Ingredients
2

bags

chocolate chips

2

handfuls

pretzels

2

cans

sweetened condensed milk
Instructions
Melt 1 bag chocolate chips in the microwave (15 seconds, stir, repeat until melted smooth).

Spread chocolate in bottom of a 9×9 pan. Layer pretzels to cover the chocolate. Let chocolate harden.

Pour 2 cans of sweetened condensed milk into a saucepan over medium-low heat. Stir constantly until it thickens (20-25 minutes). Remove from heat and spread over pretzels and chocolate. Let cool. 

Melt 1 more bag of chocolate chips. Spread on top of caramel layer. Let chocolate harden.