Featuring a peanut butter fudge center and a generous amount of homemade chocolate fudge frosting, lunch lady peanut butter bars are a classic childhood favorite! You're going to love them!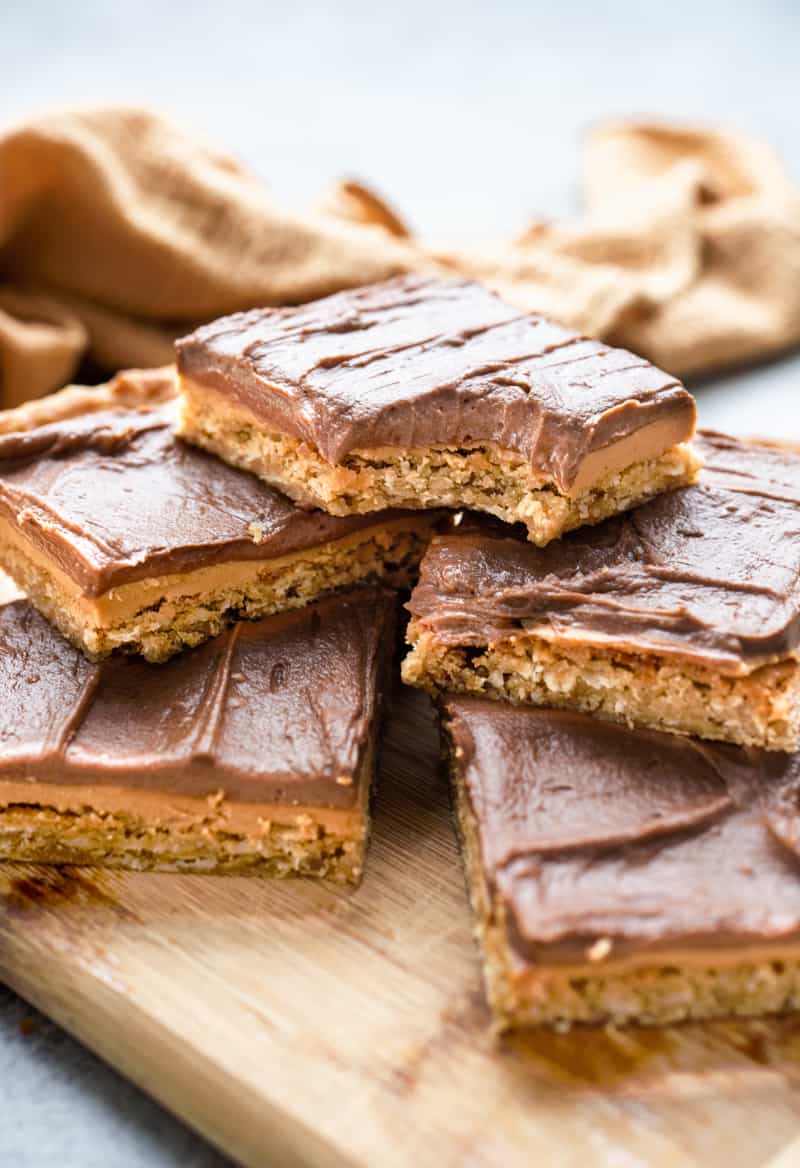 While most kids looked forward to recess, we preferred lunchtime! Once a week, our beloved lunch ladies would whip up these delicious old fashioned peanut butter bars, and we just couldn't ever get enough of them! We have such fond memories of those days (and those ladies!) that we knew we had to share their recipe with the world. Whip these up to have on hand for snack time, or wow your guests and bring them to your next potluck. No matter where you serve them, we guarantee the peanut butter lovers in your life will swoon!
Peanut Butter Options:
Peanut butter is everywhere in lunch lady peanut butter bars! It truly is the star of the show. That said, if you have an allergy or simply don't like the taste of it, you can replace it with your favorite nut butter. Here are some yummy ideas:
Sun butter
Cookie butter
Almond
Cashew
Hazelnut
Walnut
No matter what kind of nut butter you decide to use, it's important that you go for one without any added sugar. For all-natural versions, make sure to give it a good stir so that the oils mix together well. No one wants runny peanut butter bars!
Gluten-Free Options:
Our lunch lady peanut butter bars can easily be made gluten-free if needed! Simply replace the all-purpose flour with your favorite GF version, and make sure to go with GF oats.
Baking Dish Options:
You can use an 18×13 baking tray (as we have), or you can use a 9×13 baking dish instead. Just be aware that if you use a smaller pan, you'll likely have leftover crust, filling, and frosting.
Topping Suggestions:
While lunch lady peanut butter bars aren't typically served with a topping, we love the idea of adding some fun extras to the homemade fudge frosting. Here are some suggestions to get you inspired:
Reese's Pieces candy
Crumbled Reese's Peanut Butter Cups
Peanuts
Any other type of nut
Chocolate chips
Flaky sea salt
Chopped pretzels
Troubleshooting: Can I Use Instant Or Quick Oats For The Crust?
Our lunch lady peanut butter bars recipe calls for old fashioned rolled oats as they are known for holding their texture even when baked. You can use instant or quick oats in a pinch — they may affect the texture, but it won't make a difference as far as taste goes!
Crust Variations:
The classic version of this beloved dessert is made with an oat-filled crust. We love the old fashioned peanut butter bars recipe, but you can also get creative with the crust. Try replacing it with a:
Graham cracker crust
Oreo crust
Saltine crust
Sugar cookie crust
Brownie crust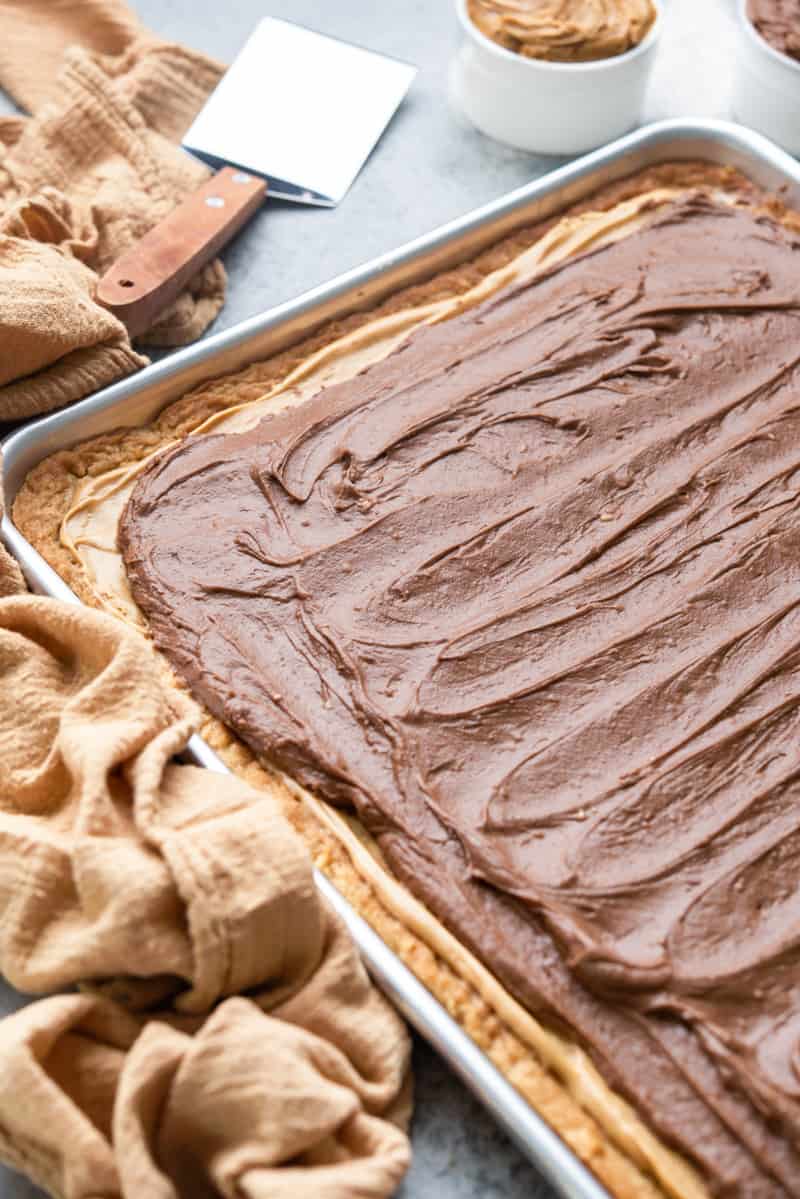 Freezing Instructions:
These old fashioned peanut butter bars freeze up wonderfully! You can feel free to make them in advance, then store them in the freezer for a later date. Simply follow the recipe instructions and let the dish cool completely. We recommend that you cut the bars and wrap them individually in plastic wrap. Place the bars in a freezer-safe bag, and they will keep for up to 2-3 months! When you're ready to eat them, make sure to let them thaw in the fridge overnight.
Storage Instructions:
You can store any leftovers in an airtight container in the fridge or on the countertop, depending on whether you like your lunch lady peanut butter bars chilled or at room temperature. Simply wrap them tightly in plastic wrap and they will keep for 5-7 days.
If you like this recipe, you may be interested in these other delicious peanut butter recipes: