Chipotle rubbed chicken thighs are coated in a mouthwatering blend of spices, topped with a pat of butter and baked in the oven until the skins are crispy and the meat is juicy. You're going to love this one!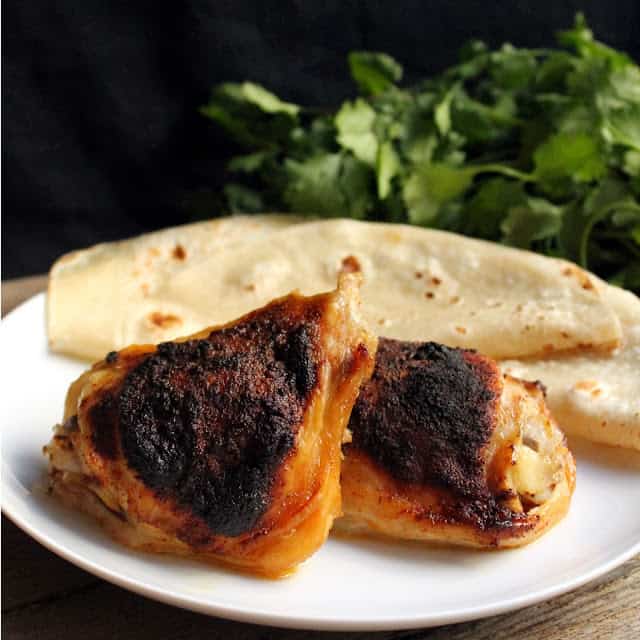 We have a loving obsession with chicken thighs. They are just way too good. The skin gets gloriously crispy, the meat always tender and juicy….heaven! They are super easy to make. We serve them with warm tortillas and a vegetable, and we smear the tortillas around in the drippings on the plate and…are you drooling yet? 
Don't think you can handle skin and bones? Think again my friend. These are amazing! With chipotle trending in the food world, you should be able to find chipotle chili powder in a nearby grocery store. That picture above? Looks burnt, but it totally isn't. The chipotle is such a dark color to begin with. It's actually a very deep red. Chipotle chili powder has a nice smokiness that is just so dang tasty, it might be addicting.
How do I know when the chicken has finished cooking?

Chicken needs to be cooked to an internal temperature of 165 degrees Fahrenheit. For dark meat, we recommend cooking to 172 degrees for maximum flavor and juiciness. 

Chicken Options:

We highly recommend this recipe with bone in and skin on chicken thighs, but understand that not everyone shares our love for this cut of chicken. If you can't stand bone in or skin on, go ahead and use boneless skinless chicken thighs. You won't get the same crispiness without the skin, but you can still maximize your flavor potential with all of the spices and seasonings.   

Storage and Reheating Instructions:

Store any leftover chicken in an airtight container in the fridge for up to 3 days. Reheat in a skillet over medium heat until warmed through to retain extra crispiness, or in a microwave until warmed through, in 30 second increments. 
If you like this recipe, you may be interested in these other delicious chicken thigh recipes: