This Chicken Fried Rice recipe is even better than takeout! Tender chicken is fried to perfection and mixed with fluffy, crispy rice and a variety of colorful veggies. It's so easy to make, you may never get takeout again!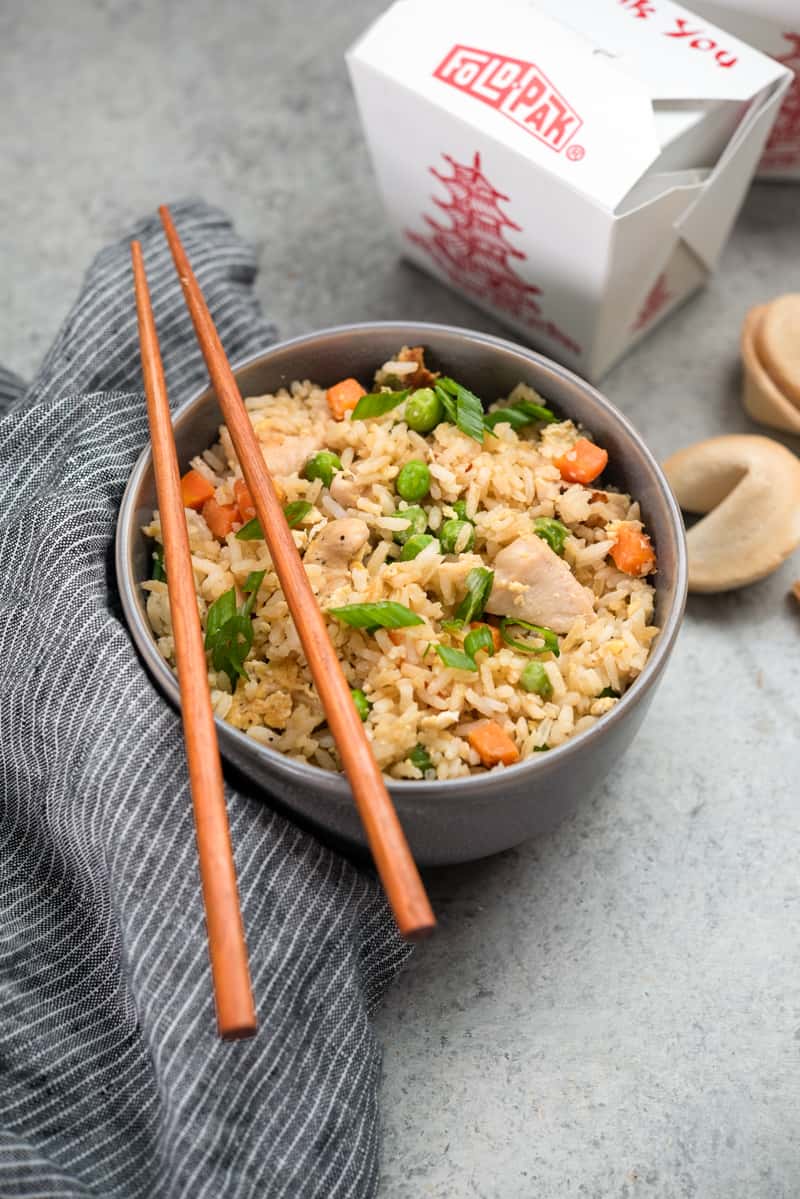 Looking for a tasty meal that's ready in no time? Our takeout chicken fried rice is just the thing! This dish starts with cooked white rice, which is fried in a pan until crispy and lightly golden. Tender, juicy chicken is added to the mix, along with a variety of veggies like peas, carrots, and onions. The whole dish is flavored with soy sauce and other seasonings for a delicious meal that's ready in minutes. Try our takeout chicken fried rice today and enjoy the convenience of a tasty meal without the hassle of cooking at home!
Using Leftover Rice (The Best Rice to Use!)
When it comes to making fried rice, leftover or day-old rice is preferred rather than freshly cooked rice. One of the main benefits of using leftover rice to make fried rice is that it is less sticky and easier to work with. Freshly cooked rice is hot and steaming, which can make it difficult to handle and can cause it to stick to your hands and the pan. Leftover rice, on the other hand, has had time to cool and dry out a bit, making it easier to handle and less likely to stick. This can make the process of making fried rice much easier and more enjoyable.
You can use any type of leftover or day-old rice for fried rice, including instant rice, long-grain rice, short-grain rice, wild rice, and brown rice.
How to Use Freshly Cooked Rice
While it is generally recommended to use leftover or day-old rice to make fried rice, there may be times when you only have freshly cooked rice on hand. In this case, there is a simple trick you can use to make your fried rice turn out perfectly.
To use freshly cooked rice to make fried rice, spread the hot, steaming rice out onto a baking sheet in a thin, even layer. Place the baking sheet in the refrigerator and allow the rice to cool and dry out for at least 30 minutes. This will help to remove some of the excess moisture from the rice, making it less sticky and easier to work with. Once the rice has cooled and dried out, you can proceed with making your fried rice as usual.
Vegetable Options
We like to use a classic blend of vegetables in this recipe. This includes fresh green onions, carrots, and peas. You can use a frozen blend of carrots and peas to make things even easier! Consider these yummy add-ons if you want to make your meal more veggie-packed:
Broccoli
Cabbage
Cauliflower
Snow peas
Asparagus
Green beans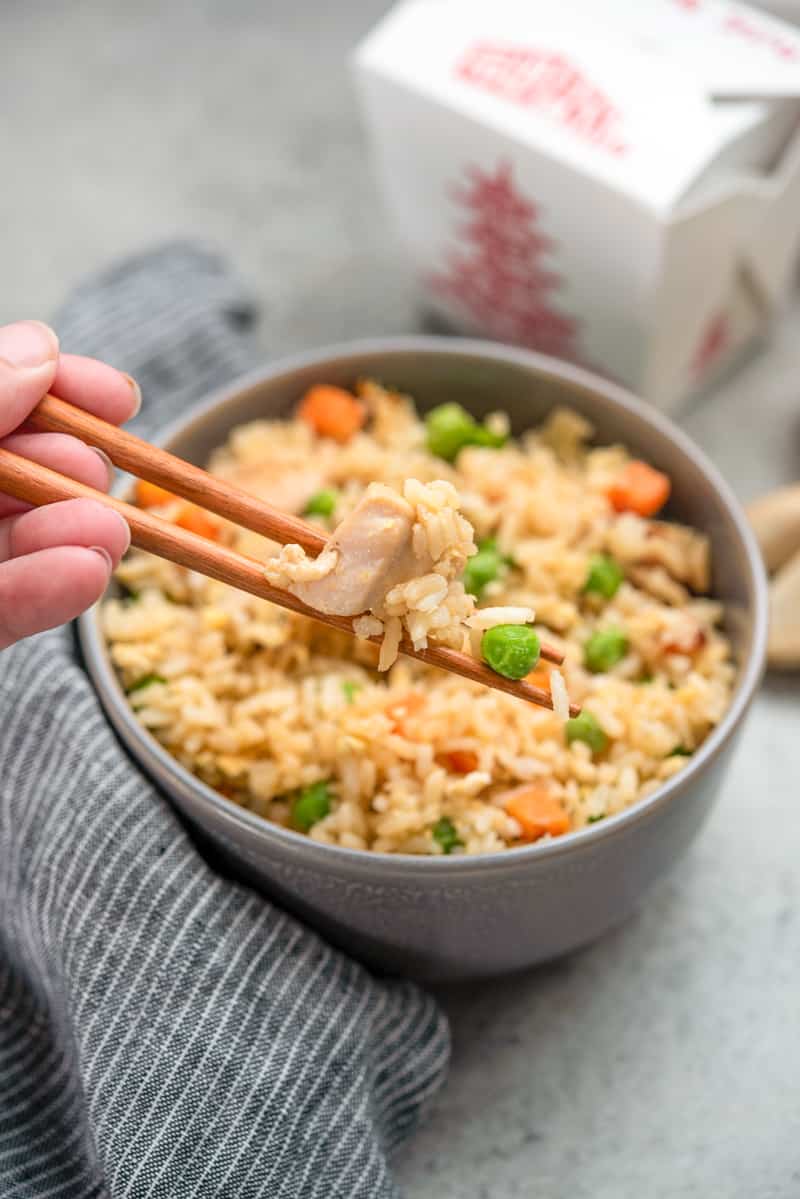 Variations and Substitutions
There are several different ways to add more flavor to this recipe. Cooking the chicken in a combination of sesame oil and cooking oil goes a long way. The added garlic adds a wonderful flavor too, as does a light drizzle of soy sauce for a garnish! If you prefer to use liquid aminos, you can use that instead. If you like a bit of heat, feel free to add red pepper flakes — or our favorite, Sriracha!
Eggs are a key ingredient in chicken fried rice – they add a soft and bouncy texture to the final results. However, you can always skip it or replace it with firm, crumbled tofu.
Storage and Reheating Instructions
Store any leftover easy chicken fried rice in an airtight container in the fridge where it will keep for up to 4 days. To reheat, we recommend using a wok or frying pan on the stove. Heat over medium-high until warmed through, about 10 minutes. You can (and should!) add a bit of water or chicken broth to the mix to ensure that it doesn't dry out. Otherwise, reheat your leftovers in the microwave in 30-second increments until warmed through.
If you like this recipe, you may be interested in these other delicious better-than-takeout recipes: