It's time to level up chicken breasts and turn them into flavorful and delicious crispy chicken cutlets! Perfectly seasoned, coated, and fried – this recipe will yield a tender and juicy chicken that will have your whole family asking for seconds.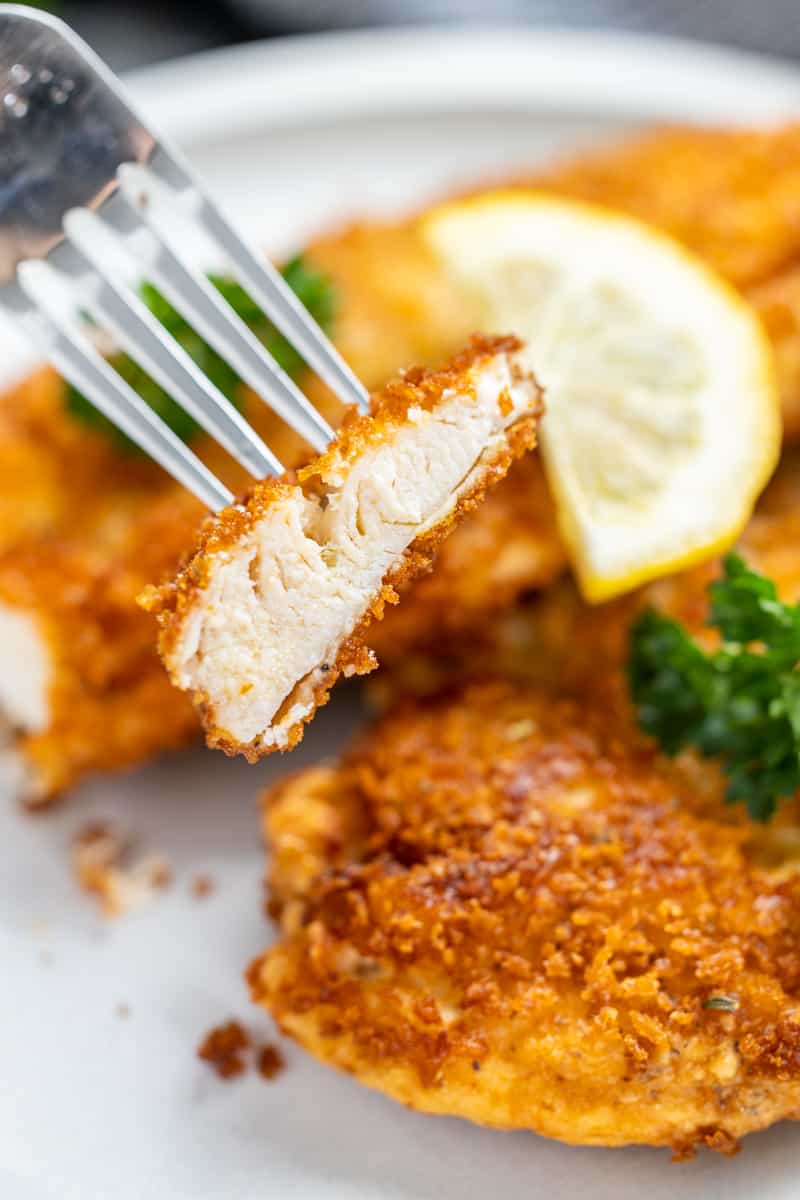 Whenever we're stuck on what to make for dinner, chicken immediately comes to mind. Chicken breasts in particular are extremely versatile. You can bake, roast, boil, grill, and fry them. Today, we're frying to create the crispiest breaded chicken cutlets out there. This recipe is so easy to make and so satisfying to eat – especially for dinner. The textures and flavors are just perfect, and it goes well with so many different sides. Chicken is one of those proteins that even the pickiest of eaters will love too. Feel free to enjoy this recipe as is, or go Italian-inspired and pour a bit of homemade marinara on top. We also love the idea of cranking up the heat and adding red pepper flakes to the breading. No matter how you decide to serve yours, it's highly unlikely you'll end up with leftovers! Everyone in our house can't get enough of this pan-fried chicken goodness.
How Do You Get Breading To Stick To The Chicken?
When you follow our instructions on the recipe card below, don't underestimate the power of those 3 separate dipping stations! If you find that your breading still won't stick, you can try putting the breaded chicken cutlets in the fridge for about 30 minutes to chill. This helps the breading solidify a bit more.
Do You Dip Egg First Or Flour?
You should always dip your chicken cutlets in the flour first. It's important to follow the flour, egg, and breadcrumbs order as each ingredient will stick to the next one if you do so. Flour sticks to the poultry, the egg sticks to the flour, and the breadcrumbs stick to the egg. Don't switch things up!
Air Fryer Instructions:
Preheat an air fryer to 350 degrees Fahrenheit.
Place chicken pieces in the basket of the pre-heated air fryer. Spray the tops with nonstick cooking spray.
Air fry for 10 minutes. Flip chicken pieces over using a spatula and spray the tops with nonstick cooking spray. Cook for 8 minutes more. Transfer chicken to a cutting board and slice.
Oven Instructions:
Preheat oven to 400 degrees Fahrenheit. Line a baking sheet with parchment paper. Spritz chicken with oil and bake for 20-25 minutes until 165 degrees Fahrenheit.
Serving Suggestions:
There are so many ways you can serve your breaded chicken cutlets. We typically like our meals to include protein, carbohydrates, and vegetables (and some bread as a bonus). The protein is already covered, and below you'll find our favorite serving suggestions to choose from:
Feel free to mix and match! You can get really creative with your side dishes.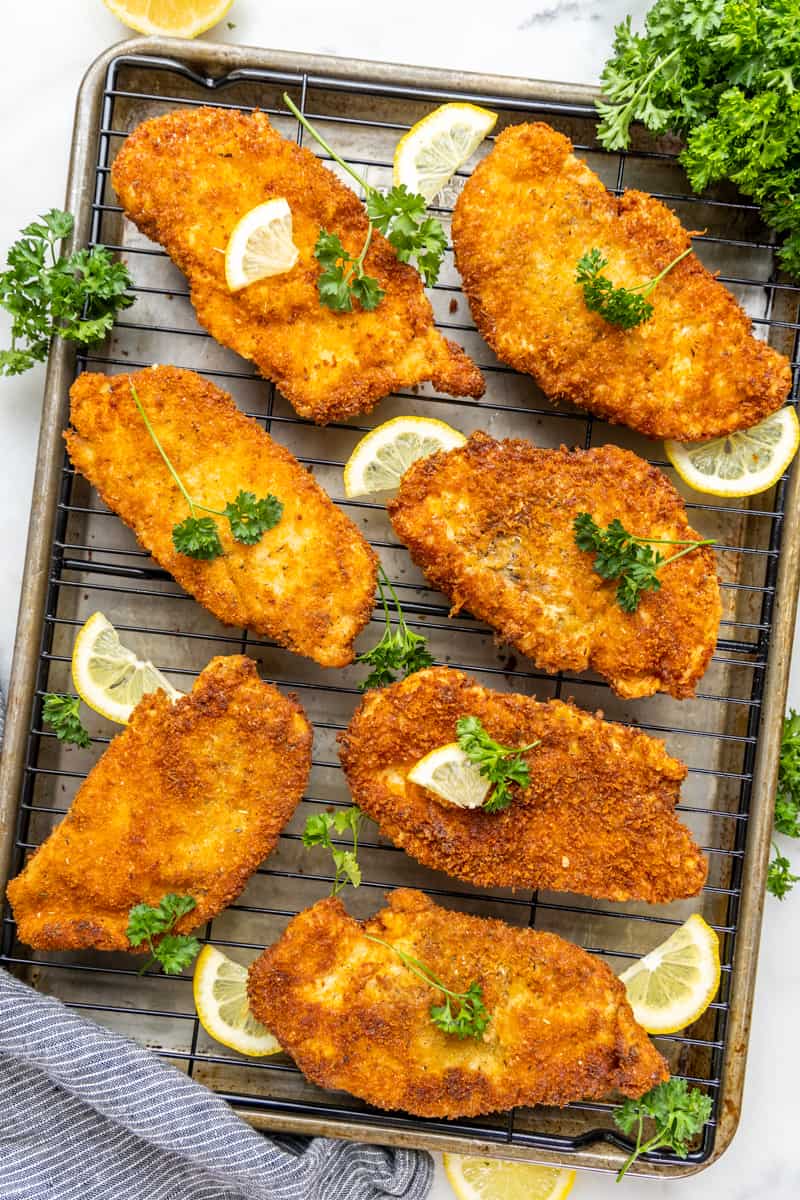 Can I Freeze Chicken Cutlets?
If you have some extra time over the weekend and want to get a head start on the coming days, weeks, or months, you can freeze this dish for later! Prepare the chicken cutlet recipe as instructed and allow the pieces to cool completely. Then, place them on a baking sheet and pop them in the freezer for a few hours. Once they are frozen, remove the baking sheet from your freezer and wrap each individually. Place them inside a plastic bag or container, then place them back in the freezer where they will keep for 3-4 months. To reheat, warm in your oven at 450 degrees F for 15-20 minutes. You don't have to worry about thawing them!
Storage and Reheating Instructions:
You can store any leftovers in an airtight container in the fridge, where they will keep for 3-4 days. When you're ready to reheat, you can do so in the microwave. Simply heat at 30-second increments until they are completely warmed through. It shouldn't take longer than a few minutes. You can also reheat chicken cutlets in the oven. Set the temperature to 400 degrees F and cook for 15 minutes.
If you like this recipe, you may be interested in these other delicious chicken recipes: