Chicken katsu has perfectly tender, juicy chicken, fried in the most delicious crispy coating and drizzled with a homemade katsu sauce. Frying, air fryer, and baking instructions included to fit your needs!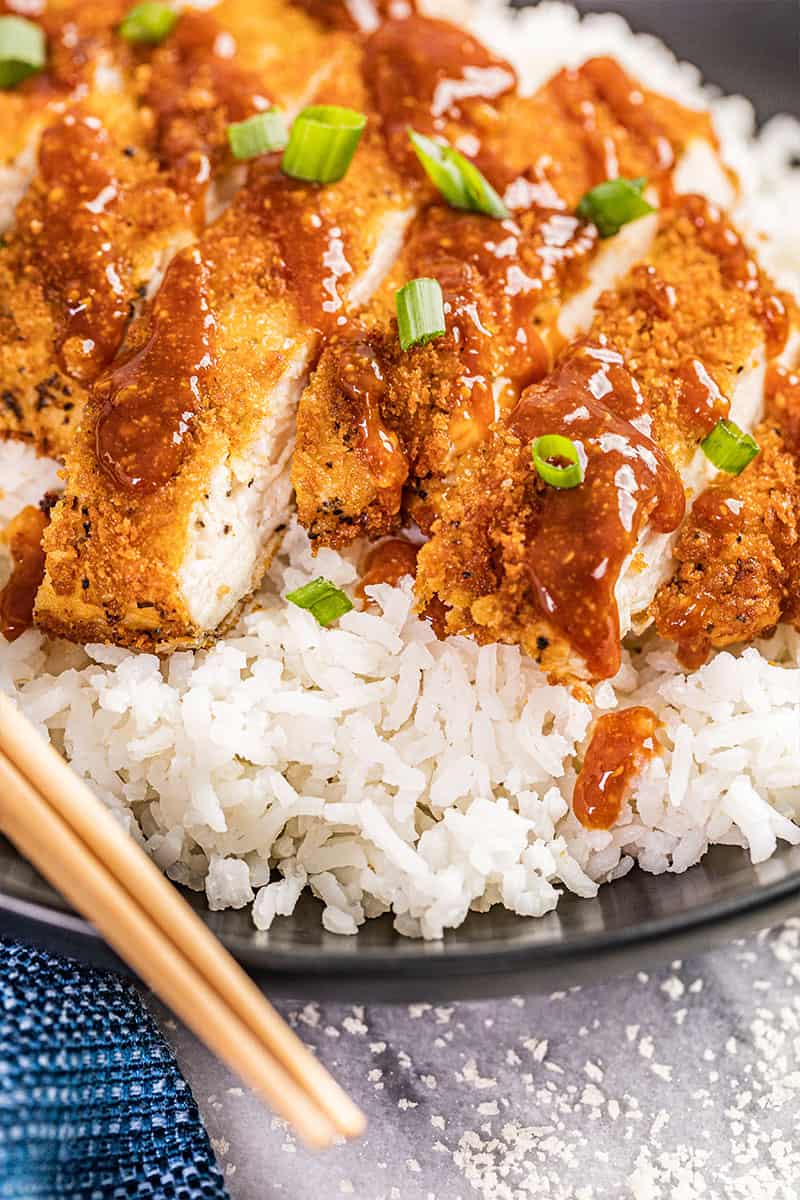 What could be better than fried chicken? Please say we're not the only ones who gravitate toward any recipe with a breadcrumb coating, fried in oil. We just can't get enough. With chicken katsu, the chicken stays perfectly juicy, the coating has that quintessential crunch when sliced through, and it all peaks at perfection once that katsu sauce is drizzled on top. It has a delightful balance of sweet and tangy, and combined with that perfect crunch of the breading, we are just in heaven every time we make this. You can make chicken katsu even if you don't love frying, just check out our air fryer and baking instructions and pick which works best for you!
Chicken Katsu is not an authentic Japanese recipe, but rather a typical American version of Japanese-American takeout restaurants. The Stay At Home Chef uses ingredients that are easily accessible for most people in the United States and Canada so that anyone can easily celebrate world cuisines even if their opportunities for travel or access to regional ingredients are limited.
Chicken Options for Chicken Katsu:
We love using chicken breasts in this recipe, especially since we always seem to have them in our freezer! However, if you are a dark meat fan, go ahead and try this recipe with chicken thighs.
Pounding Chicken Thin:
Pounding your chicken is an essential step. This ensures it will cook evenly, and you won't have overcooked or undercooked chicken.
Coating Tip:
Make sure to not skimp on your flour, egg, Panko coating. The more generously you coat your chicken, the crispier it will fry up!
Can I use store-bought Katsu sauce?
While you may always buy bottled Katsu sauce at the grocery store, we highly recommend you make it from scratch. It is quick and easy to make, and the flavor is so much better than the bottled stuff.
Serving Suggestions:
We love to serve this up with a side of white or brown rice and miso soup.
Air Fryer Instructions:
Preheat an air fryer to 350 degrees Fahrenheit. Place chicken pieces in the basket of the pre-heated air fryer. Spray tops with nonstick cooking spray. Air fry for 10 minutes. Flip chicken over using a spatula and spray the tops with nonstick cooking spray. Cook for 8 minutes more. Transfer chicken to a cutting board and slice. Serve with katsu sauce.
Baking Instructions:
Preheat oven to 400 degrees Fahrenheit. Line a baking sheet with parchment paper. Spritz your chicken with oil and bake for 20-25 minutes, until chicken reaches an internal temperature of 165 degrees Fahrenheit.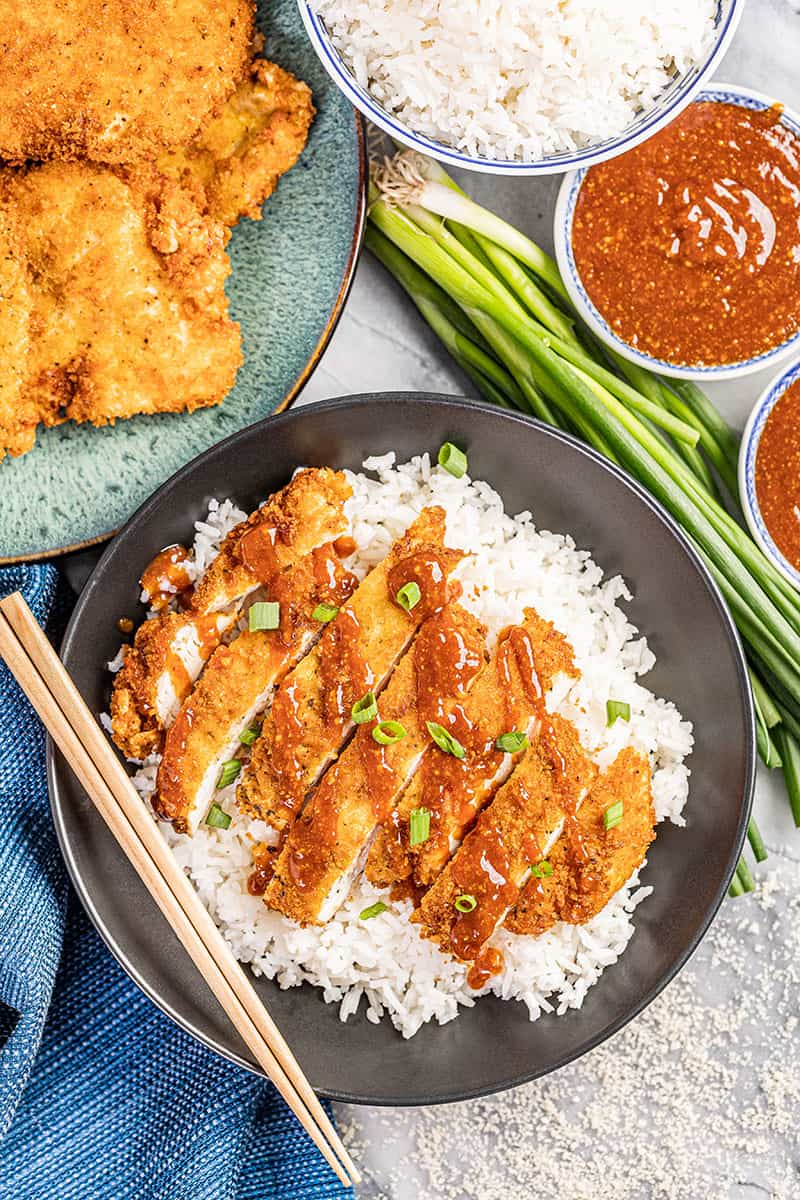 Storage Instructions:
Chicken Katsu is best eaten fresh. Store any leftovers in an airtight container in the refrigerator for up to 5 days. Reheat in an oven preheated to 350 degrees until warmed through.
If you like this recipe, you may be interested in these other delicious Asian inspired recipes: