Creamy chicken broccoli casserole is filled with juicy chicken, tender broccoli, cooked rice, and a perfectly seasoned homemade cream sauce. It is the ultimate meal to finish off a busy day, and you're going to want to try this tonight!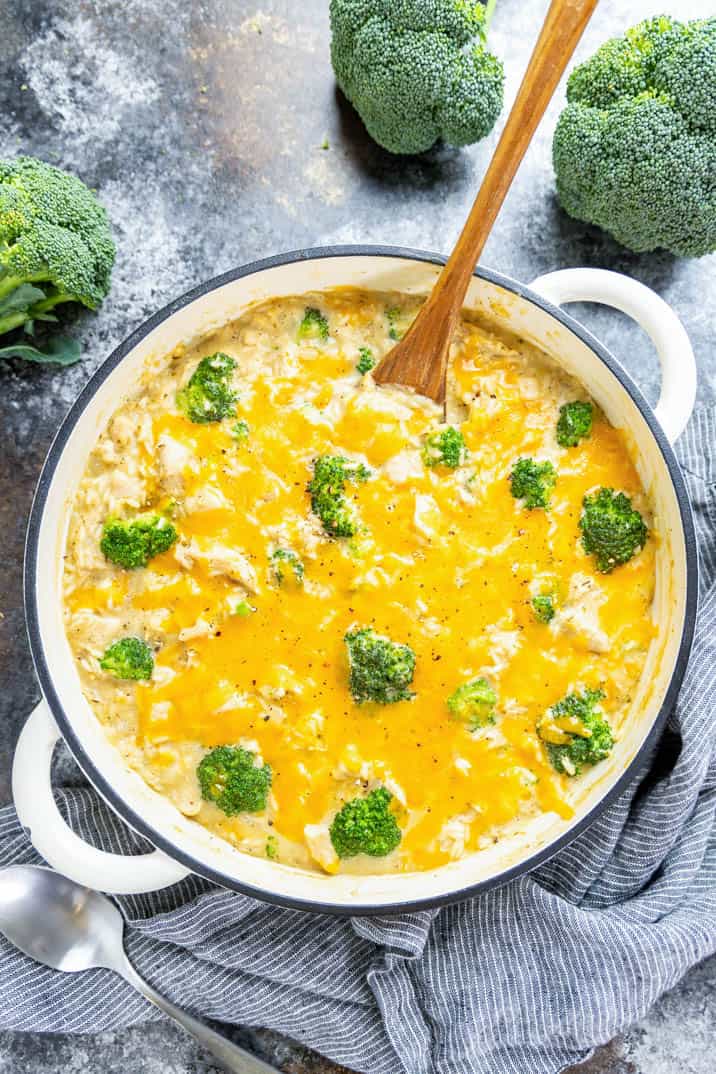 There's something so, well, comforting, about chicken broccoli casserole. We grew up on this kind of food, and whipping it up for our family at home is really special! We just love the yummy aromas that waft through our kitchen as it bakes in the oven. Plus, it takes under an hour to put together. It's filled with hearty, simple, and easy-to-find ingredients, most of which you may already have at home. There are so many different directions that you can take casseroles, and today we're working with a light protein, some veggies, and, of course, cheese! Even the pickiest of eaters will go crazy over this combination of cream, chicken, rice, and broccoli. It's also a great way to sneak in some extra greens. It's a meal that the whole family will love, and as a bonus, this one-pot meal means that you get to avoid a bunch of dirty dishes. Win-win!
Rice Options:
We like to give our chicken and broccoli casserole a bit more body by adding some rice. We typically opt for long-grain white rice, but you can also feel free to use:
Brown or whole grain rice
Quinoa
Cheese Options:
We love the addition of cheese in this easy chicken broccoli casserole. It works alongside the cream for ooey gooey results that we can't get enough of! We use Colby Jack, but you can also use:
Cheddar
Monterey Jack
Pepper Jack (for a bit of added spice)
Vegetable Add-Ins:
If you want to make this dish a bit heavier on the veggies, you can add in a few extras:
Don't be afraid to get creative!
Frozen vs. Fresh Broccoli:
We always prefer working from fresh vegetables, but if you have frozen on hand, you can feel free to use that instead. Be aware that you may have to let it cook for a bit longer. The broccoli will be fork tender and warm when it's ready. We recommend that you test it so that you know whether it is cooked through or not!
Troubleshooting: My Sauce is Too Thick
If the heat was a little too hot, or perhaps your dish was really wide and there was too much evaporation, add a bit more broth 1/4 cup at a time until you've reached your desired consistency.
Serving Suggestions for Creamy Chicken Broccoli Casserole:
Believe us — this meal is really hearty when served on its own. That said, if you want to create a real feast, you could round it out by serving it alongside: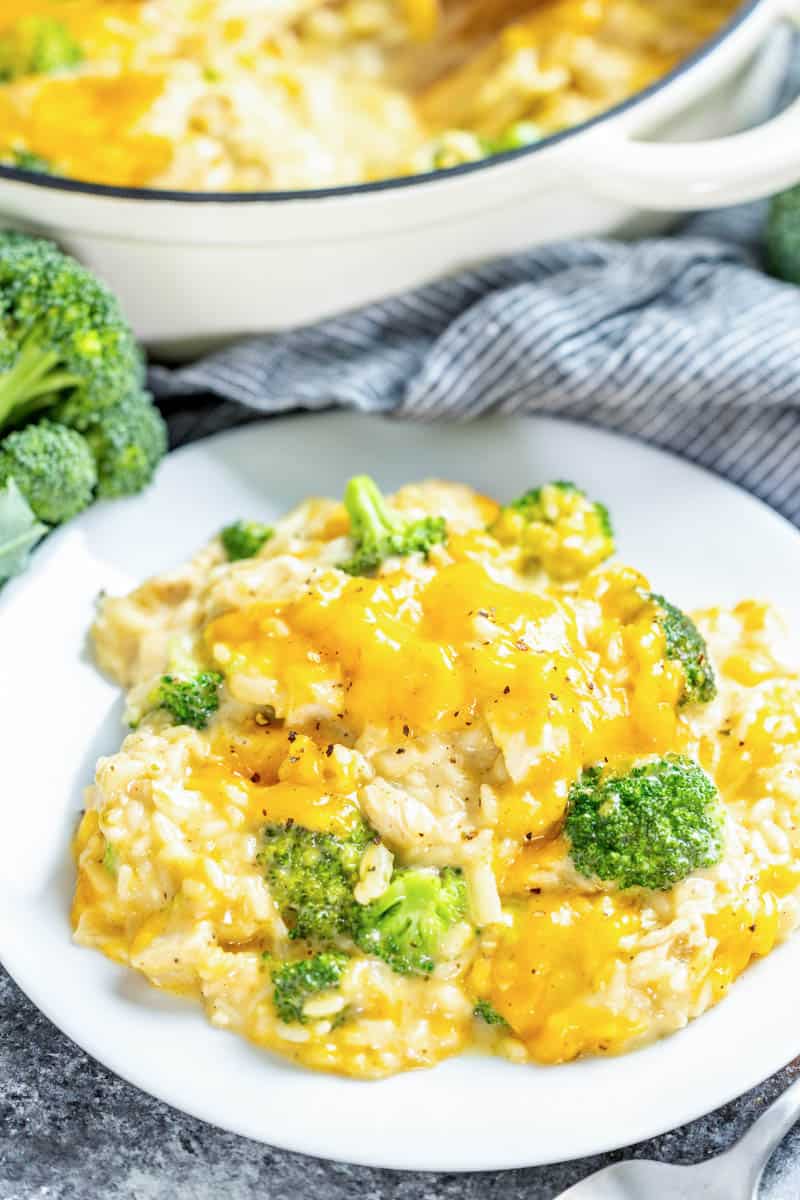 Freezing Instructions:
Let your finished casserole cook and cool completely. Transfer it to a freezer-safe container — we love using a baking dish made from aluminum foil for easy reheating. It will keep in the freezer for up to 3 months. To reheat, add a bit more cheese to the top of your chicken and broccoli casserole, cover with foil, and bake at 350 degrees Fahrenheit until warmed through, about 40 minutes.
Reheating and Storage Instructions:
Do you love leftovers as much as we do? You can store any extras in an airtight container in the fridge, where they will keep for up to 3 days. When you're ready to eat, reheat the leftovers in the microwave in 30-second increments until warmed through.
If you like this recipe, you may be interested in these other delicious casserole recipes: