When you combine the beauty of a cheesy dip with the tastiness of tacos, you get our cheesy skillet taco dip! Bring this along to your next get-together, or simply make it at home for your family. Either way, you're going to love this stuff!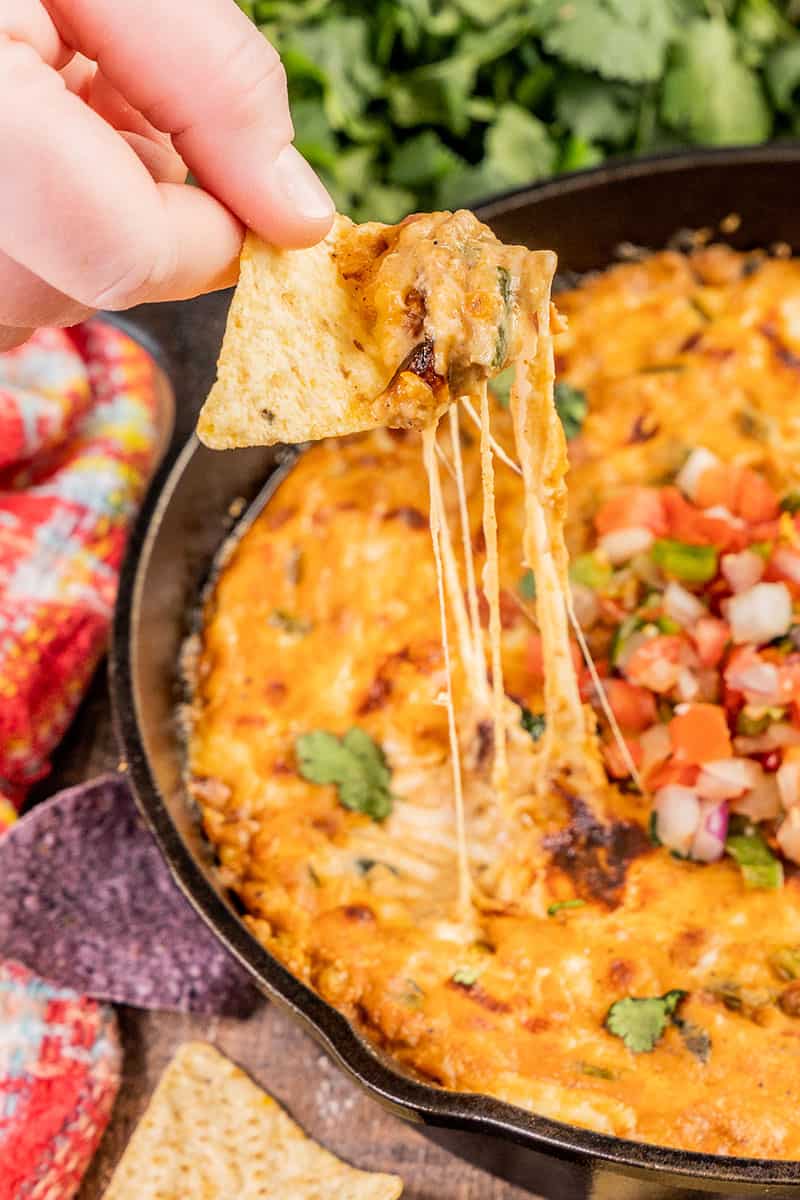 If you don't like tacos, then we can't be friends! Okay, that's an exaggeration (of course we can be friends!), but that's how much we love tacos here at The Stay at Home Chef. We decided to bring together our love of ooey gooey cheese with our love of tacos to bring you this cheesy skillet taco dip. It makes the perfect addition to a barbecue, game day party, or any sort of celebration. We've also been known to make it on a Saturday afternoon spent at home. It's filled with sour cream and two different kinds of cheeses, plus hearty refried beans and tons of spices and seasonings. The only thing left to do is to stock up on tortilla chips – and you may want to prepare yourself to bake another batch right away!
Baking Dish Options:
While we believe that a cast-iron skillet is a must-have kitchen item, some chefs don't have one at home. Not to worry – you can definitely prepare our easy taco dip without one. Cook up the onion, poblano pepper, and spices as directed in a regular frying pan. Then, stir in your refried beans, sour cream, lime juice, and cheeses and place into an ungreased baking dish of your choice:
7×11 pan
2-quart casserole dish
Pie plate
Spice Level Adjustments:
Of course, our Mexican-inspired dip includes some heat. If you like your Mexican dip on the less spicy side, simply limit the added cayenne pepper to your liking. If you really don't like spicy foods, you can omit the seasoning completely. The green chiles and poblano in this dish are also on the spicy side, but the sour cream and cheeses do a great job of cooling them down.
Cheese Variations:
Our Mexican dip calls for sour cream and two types of cheeses: Monterey Jack and Oaxaca. Sour cream and Monterey Jack are very easy to find, but you may discover that your local supermarket doesn't carry Oaxaca, a Mexican cheese. Feel free to replace Oaxaca with:
You can also replace the sour cream with Greek yogurt if desired!
Are Refried Beans the Same as Bean Dip?
This easy taco dip is meat-free and is vegetarian-friendly! As you go to make yours, you'll notice that one of the main ingredients is refried beans. Refried beans are not the same as bean dip. Refried beans are beans that have been cooked, mashed, and then fried (hence the name!) in some sort of cooking oil. Bean dip is simply cooked beans that have been mashed and served as is. Refried beans boast a lot more flavor, which is why we've opted for them in our recipe!
Troubleshooting: How Do You Thicken Homemade Dip?
You shouldn't have any problems with a runny or too-thin dip if you follow our recipe. Thanks to the sour cream, it should thicken up on its own really nicely. If you do want yours to be even thicker and creamier, simply add more sour cream a little bit at a time as desired.
Serving Suggestions:
We love serving our easy taco dip with:
Make-Ahead Instructions:
If you plan to bring this Mexican dip along to an upcoming party, you may be thinking of ways that you can prepare it in advance so that you're ahead of the game. Simply follow the instructions as instructed, but hold off on baking the dip until about an hour before you plan to serve it. You can store it in the fridge in the meantime. Then, broil in the oven as instructed.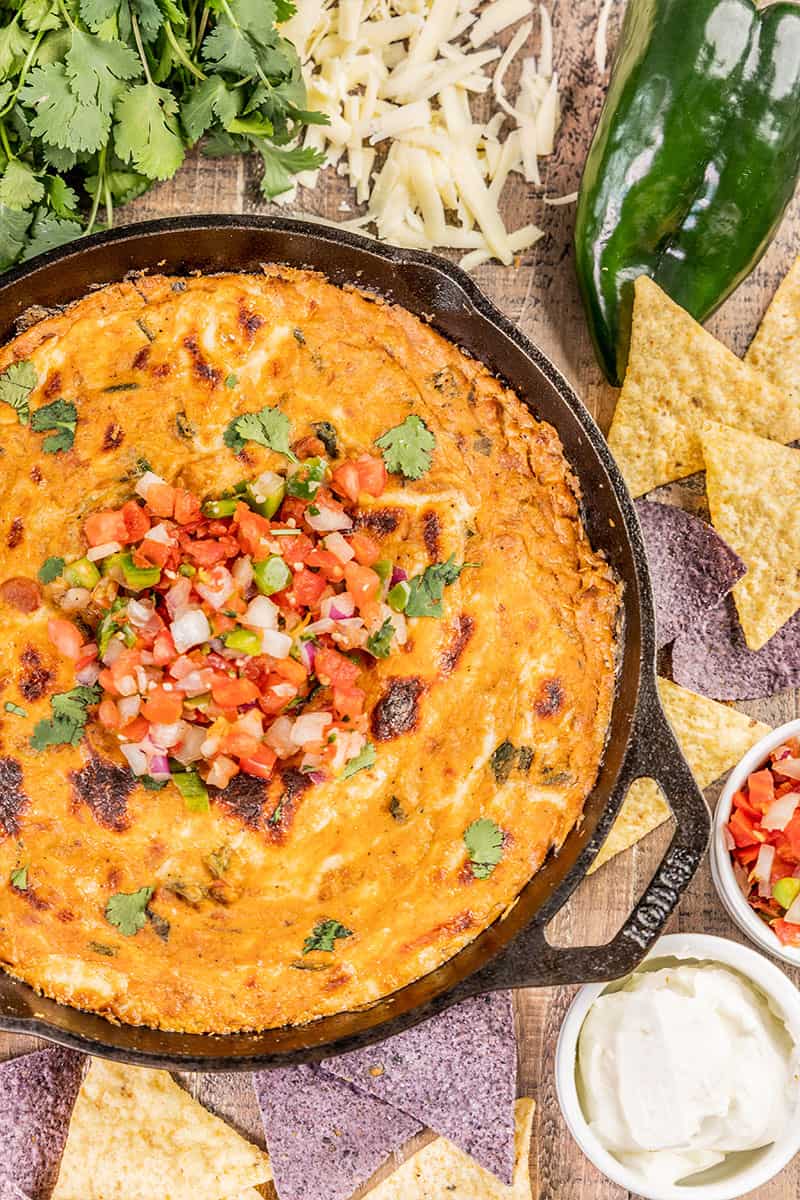 Storage and Reheating Instructions
If you're anything like us, you likely won't have any leftover easy taco dip! Seriously, folks really tend to lick the dish clean for this one. That said, if you do have leftovers you can store them in the refrigerator for up to 3 days. Reheat in the oven at 350 degrees F until warmed through and enjoy.
You can also reheat your leftover Mexican dip in the microwave at 30-second increments until heated.
If you like this recipe, you may be interested in these other delicious dip recipes: