Charcuterie boards include a variety of meat, cheeses, and all of your favorite extras — like fruit, nuts, and dips! Get creative and put together the ultimate adult snack using our complete guide. The possibilities are endless!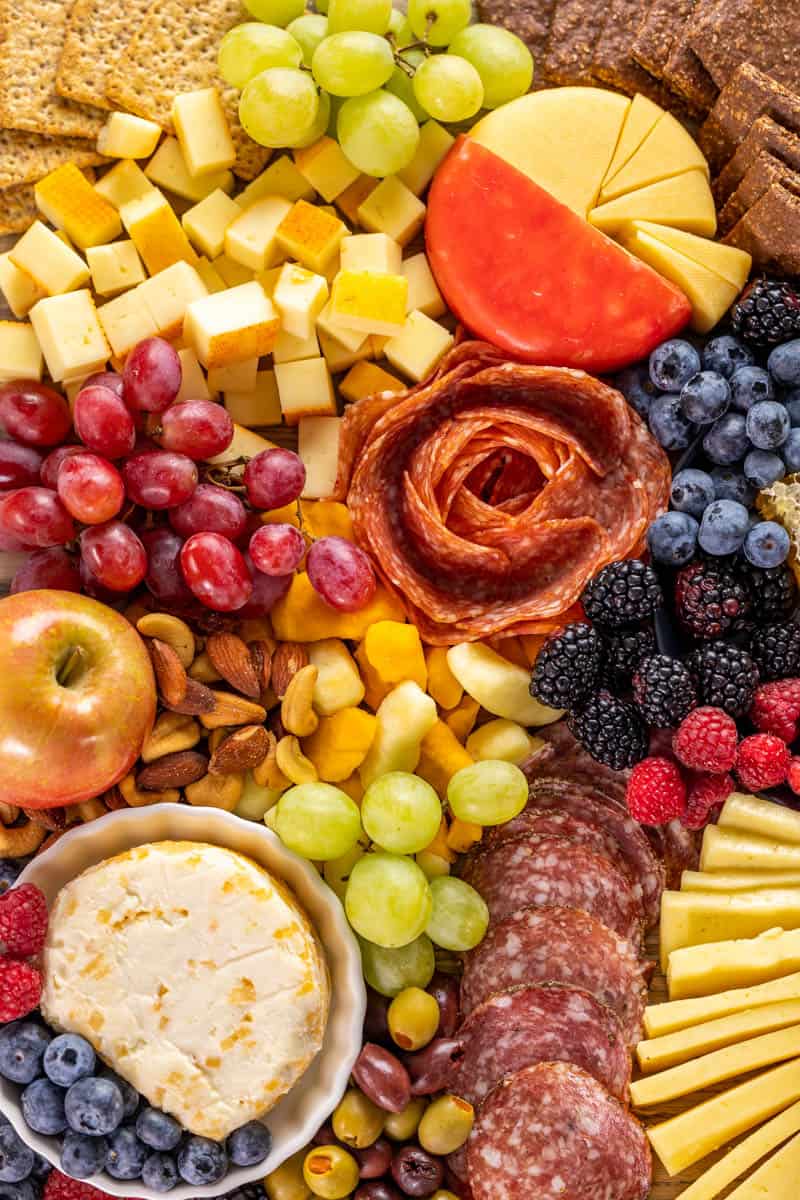 Charcuterie boards have become super popular, and we are here for it! We like to think of them as adult Lunchables. Pick your vessel (bread or crackers) and pile it up with your favorite meat, cheese, fruit, and jelly. There's an art to creating one at home, and if you've ever wondered how to make a charcuterie board yourself, you've come to the right place. We love recipes like these because there is so much room for creativity. Choose your ingredients based on our master list, arrange them on your board of choice, and serve. It's the perfect appetizer for a large party or a small gathering. You can even make one for a fun at-home date night! It's just as fun to prepare as it is to eat.
What Should Be On A Charcuterie Board?
Charcuterie boards used to feature a selection of meat…and that was it! Today these boards include cheese, fruit, nuts, seeds, jellies, jams, and more. Again, this is one of our favorite parts of making a charcuterie board ourselves. We get to pick and choose exactly what to include! Refer to the recipe card below for specific instructions, but in the meantime here are the basics:
Hard-to-firm cheese
Semi-soft cheese
Soft cheese
Bread and/or crackers
Cured meat
Fresh fruit
Nuts and/or seeds
Condiments like jelly and jam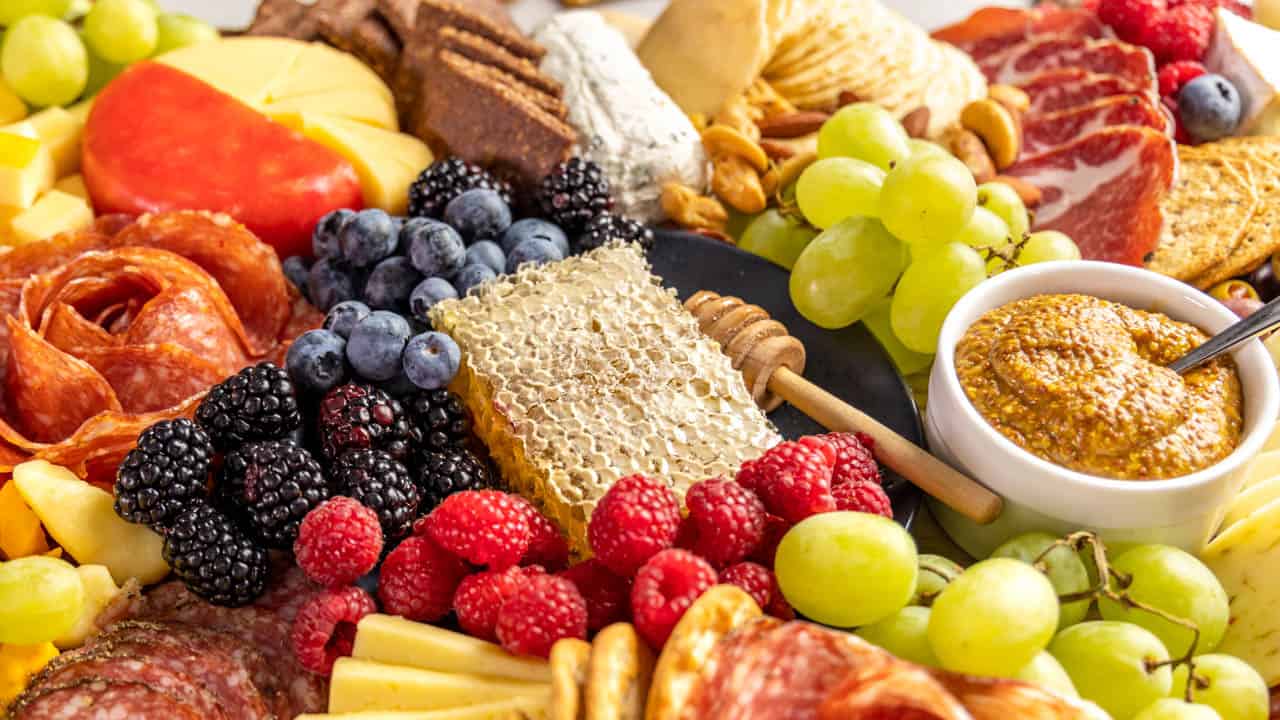 What Kind Of Board Should I Use?
One of the top questions that comes up when learning how to make a charcuterie board is: what material makes the best board? We always say that you should use whatever you have on hand. This could range from a large wooden cutting board to a serving platter and the like. That said, most chefs agree that a non-porous hardwood is the best choice. Slate, marble, and bamboo are also great choices!
Can I Make This Dish In Advance?
If you plan on making a charcuterie board for a party, you may want to prep it ahead of time. The good news is that you can assemble this up to 24 hours before serving! Just make sure to wrap it tightly in plastic wrap and store it in the fridge. And, we definitely recommend that you slice up the fresh fruit right before serving. Otherwise, it will start to brown — and no one wants that.
Fun Add-Ons:
One of the best parts of making a charcuterie board at home is including some fun add-ons. Here are a few of our favorites:
Create a meat rose (instructions for how to do it on the recipe card below)
Add some fresh herbs or flowers
Make it a themed board — get creative for the holidays or birthday parties
Add a bed of greens or other veggies
Create small labels for the meat and cheese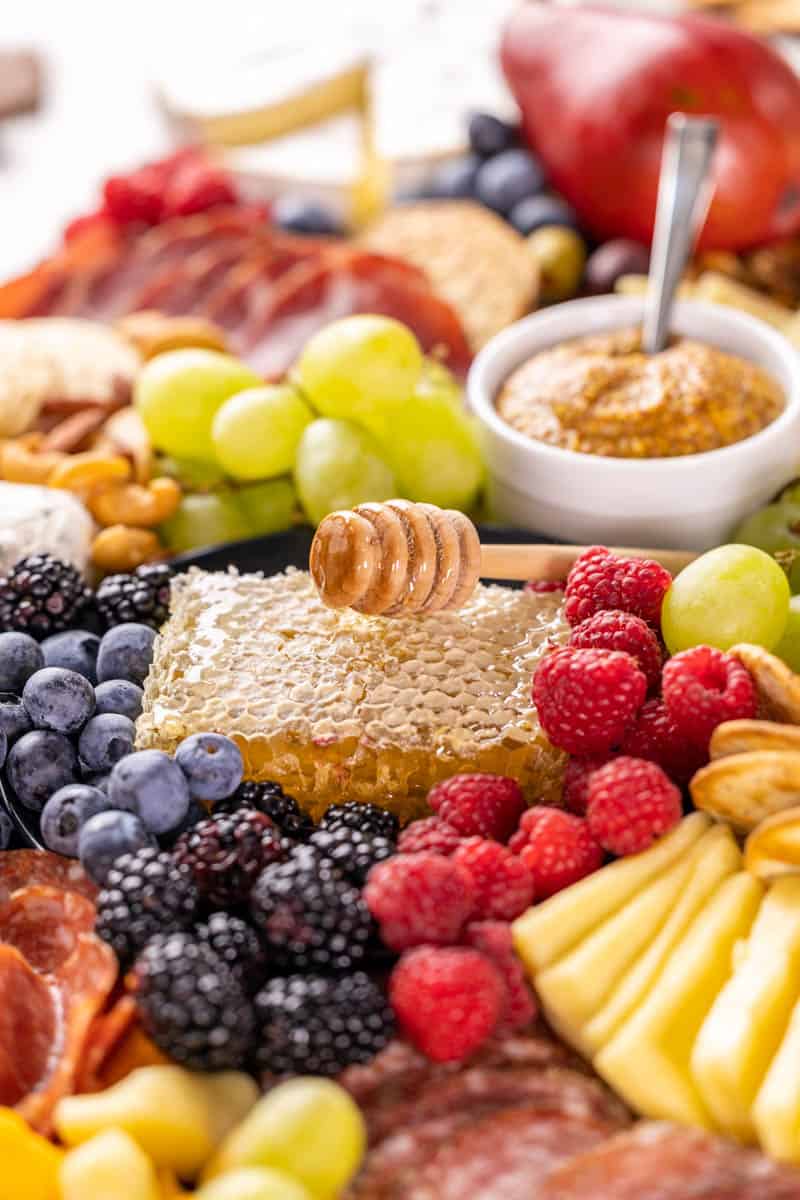 Storage Instructions:
You should store all of the ingredients in separate airtight containers in the fridge. Leftover meat and cheeses should be consumed within 24 hours. However, if the charcuterie board was left out at room temperature for more than 2 hours, you will need to toss what is left for food safety.
If you like this recipe, you may be interested in these other delicious appetizer recipes: