Brussel Sprouts Au Gratin takes the classic most hated veggie of all time and drowns it in a delicious cheese sauce making it a yummy side dish that is hard to hate!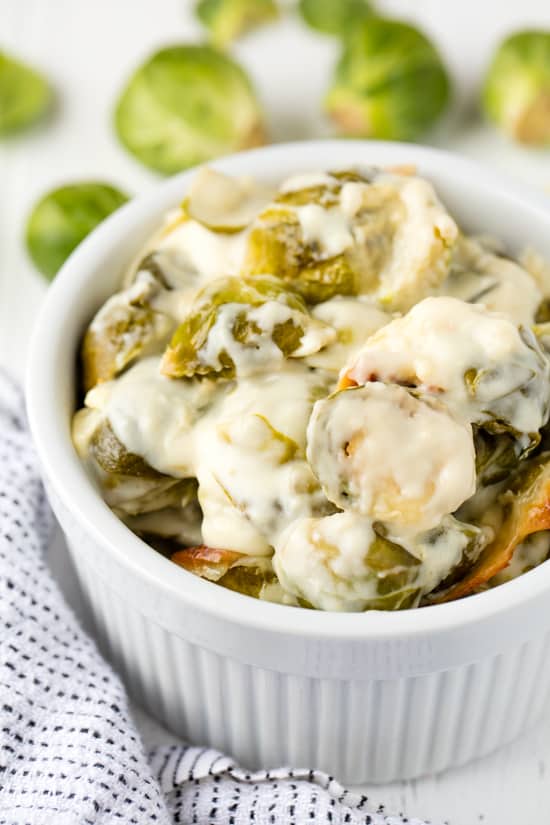 Brussel Sprouts are that classic veggie you either love or hate, but we think there is certainly too much hate in the world towards brussel sprouts. We understand though, because we only learned to love them as adults with this very recipe. Really though, if you are going to try any vegetable for the first time (or the first time as an adult), what better way to try it than smothered in a cheese sauce?! Au gratin is the way to go. Go on and give brussel sprouts a try.
Cream Cheese Substitute for Brussel Sprouts Au Gratin:
We've gone with cream cheese instead of the traditional mayonnaise. You can use mayonnaise instead of cream cheese, of course, but we prefer the cream cheese. It adds a thicker, creamier element that is just so delicious.
What is au gratin sauce?
Au Gratin refers to a popular cooking method where something is topped off with seasoned bread crumbs and a cheese sauce and then browned.
Is it Brussels sprouts or brussel sprouts?
They are named after the city in Belgium so they are in fact Brussels sprouts with a capital B and an s at the end of each word. Sprouts is also correct because it is the plural, signifying there is more than one. You most often see it as brussel sprouts which is simply a very common misspelling. It is spelled "brussel" in Flemish so it is correct somewhere, but it has just become a very common misspelling which makes it widely accepted and more often searched for than brussels sprouts.
Pro Tip:
If you want the brussel sprouts to retain a bright green color, place them in boiling water for 1 to 2 minutes to shock them, and then drain. Then use in the recipe as directed.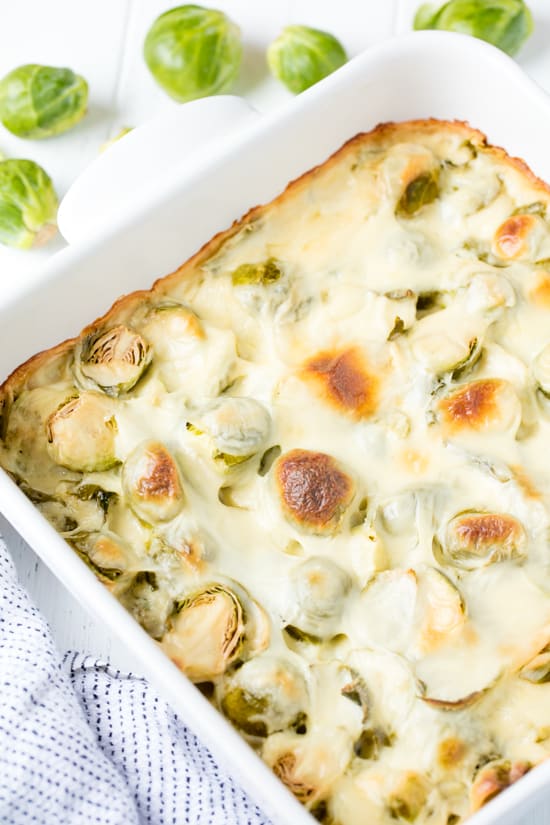 Storage and Reheating Instructions:
Store any leftovers in an airtight container in the refrigerator for up to 4 days. Reheat individual servings in the microwave in 30 second increments until warmed through.
If you like this recipe, you may be interested in these other delicious veggie side dish recipes:
Watch the video below where Rachel will walk you through every step of this recipe. Sometimes it helps to have a visual, and we've always got you covered with our cooking show. You can find the complete collection of recipes on YouTube, Facebook Watch, or our Facebook Page, or right here on our website with their corresponding recipes.
Brussel Sprouts Au Gratin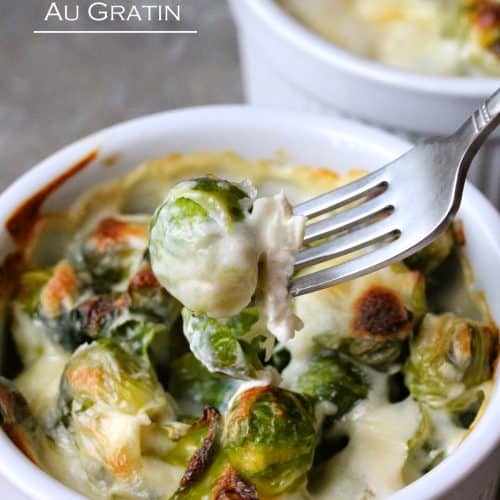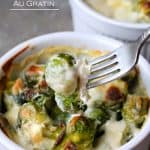 Brussel Sprouts Au Gratin takes the classic most hated veggie of all time and drowns it in a delicious cheese sauce making it a yummy side dish that is hard to hate!
Ingredients
2

tablespoons

butter

2

tablespoons

flour

1/2

teaspoon

ground mustard

1/2

teaspoon

onion powder

1/2

teaspoon

salt

1 1/2

cups

milk

3

tablespoons

cream cheese

1/2

cup

shredded parmesan cheese

1 to 1 1/2

lbs

fresh brussel sprouts

trimmed
Instructions
Preheat oven to 350 degrees. Lightly grease a 2-quart (8×8) casserole dish with nonstick cooking spray.

In a medium-size saucepan, melt butter over medium heat. Whisk in flour to form a roux. Whisk in mustard, onion powder, and salt.

When the paste is warm and bubbly, pour in milk. Heat until mixture thickens.

Remove from heat and stir in cream cheese and parmesan cheese until melted and smooth.

Place the trimmed brussel sprouts in the prepared pan (Note: if your brussel sprouts are large you may need to cut them in half so they are bite-sized). Pour cheese mixture over brussel sprouts.

Bake in the preheated oven for 45 minutes to 1 hour, until brussel sprouts are soft.
Nutrition
Calories:
210
kcal
|
Carbohydrates:
19
g
|
Protein:
13
g
|
Fat:
9
g
|
Saturated Fat:
5
g
|
Cholesterol:
28
mg
|
Sodium:
522
mg
|
Potassium:
502
mg
|
Fiber:
2
g
|
Sugar:
5
g
|
Vitamin A:
915
IU
|
Vitamin C:
64.3
mg
|
Calcium:
266
mg
|
Iron:
2.2
mg