Cajun Beer Can Chicken roasts sitting up on top of a beer can to produce the juiciest, most flavorful meat. This recipe takes minimal prep time before popping in the oven. The whole family is going to love this one! We've also included instructions for the grill and smoker.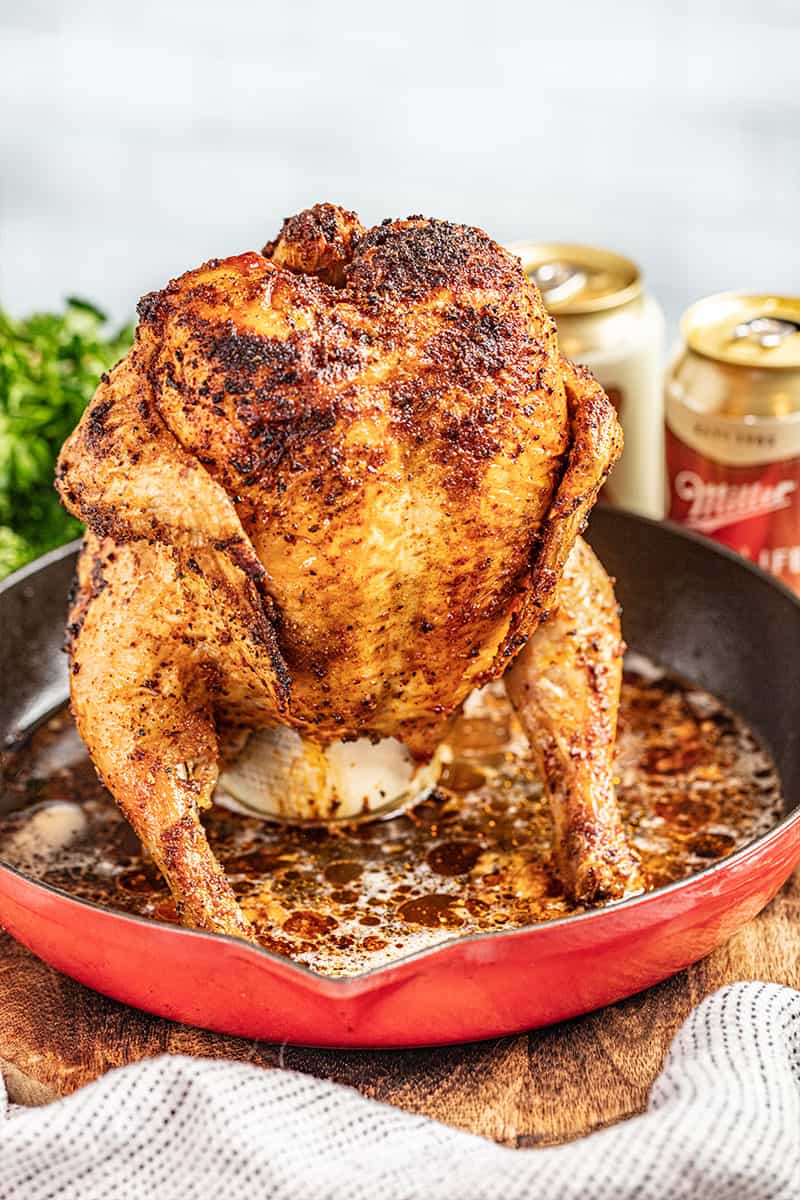 If you ever thought roasted chicken was boring, we are going to challenge that idea today! Beer can chicken is almost comical looking. Add on some oversized sunglasses, and you've got Monica Gellar circa season 5 of Friends. Don't be fooled by its silly appearance, this method of roasting chicken actually produces the juiciest and most tender meat. The best part? It only takes 10 minutes to prepare, and then your oven does the rest of the work!
Basting:
We know that basting is traditionally done when roasting poultry. However, every time you open the oven door the oven's temperature goes down by as much as 50 degrees. Depending on your oven and how consistent it is at maintaining temperatures, it could take quite a while for it to recover. We do not recommend basting your chicken for this reason.
What type of beer should I use for Cajun Beer Can Chicken?
People tend to have pretty strong feelings about which beer to use. The truth is, you can use any beer that you like! Stick to something you know and love, or be adventurous and try something new! A lager, like Budweiser, is perhaps the most commonly used, and a safe choice. Others prefer to use more bold flavors like an IPA or fruit-forward sour beers. Another option is to go for a darker, roasted flavor with a stout.
Spice Level:
As written, this recipe calls for 1/2 teaspoon of cayenne pepper. It gives a nice flavor, but is not spicy. If you prefer a spicy kick, you can increase the cayenne.
Resting Time:
It is vital that you allow your bird to rest for the full 15 minutes after removing from the oven. This will ensure a juicy bird.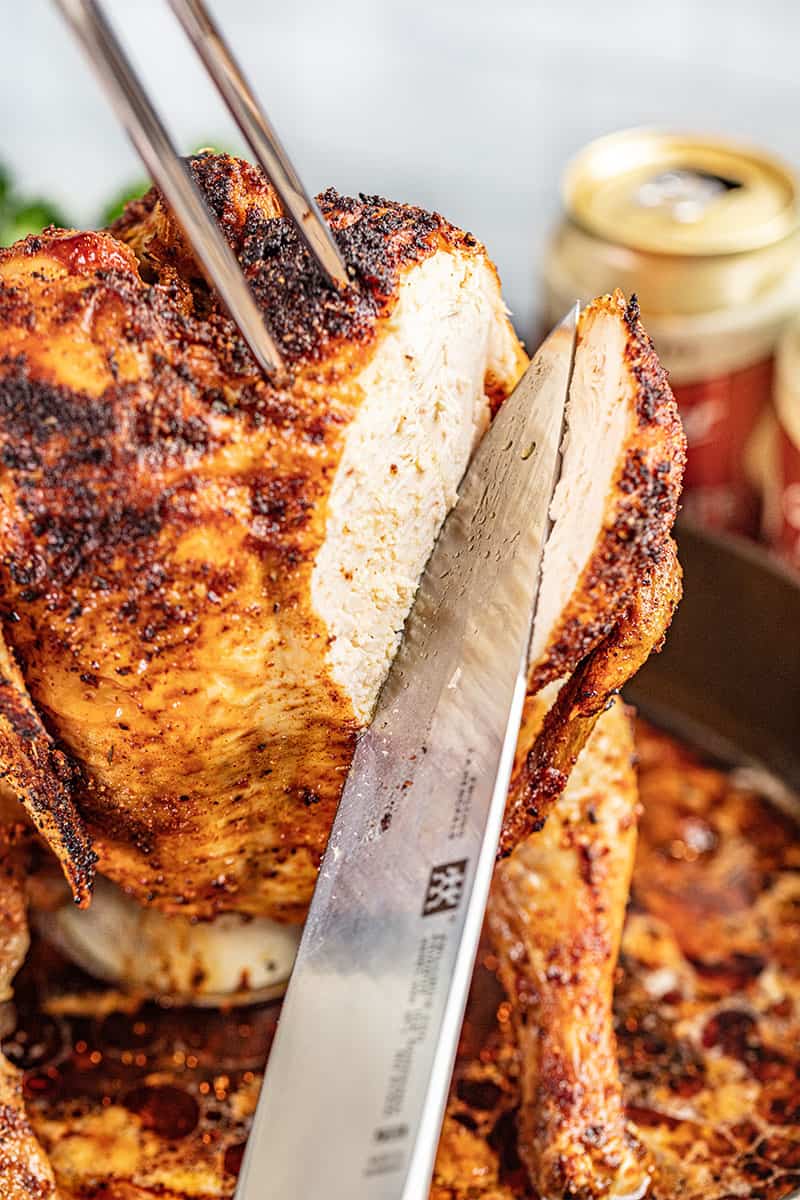 Grilling Instructions:
Create indirect heat on your gas or charcoal grill so that the flames are not directly beneath your pan. You want the grill to maintain a heat of 375 to 400 degrees Fahrenheit. The rest of the instructions for the recipe remain the same, the only difference is what tool to cook it with.
Smoker Instructions:
Preheat your smoker to 275 degrees Fahrenheit. Follow all other instructions for preparing the chicken. Smoke at 275 degrees until the chicken reaches an internal temperature of 165 degrees Fahrenheit which will take approximately 2 1/2 to 3 hours, depending on the size of your chicken.
Storage and Reheating Instructions:
Store any leftovers in an airtight container in the fridge for up to 5 days. Reheat in an oven preheated to 325 degrees F. Wrap your chicken in foil and reheat until warmed through.
If you like this recipe, you may be interested in these other delicious chicken recipes: