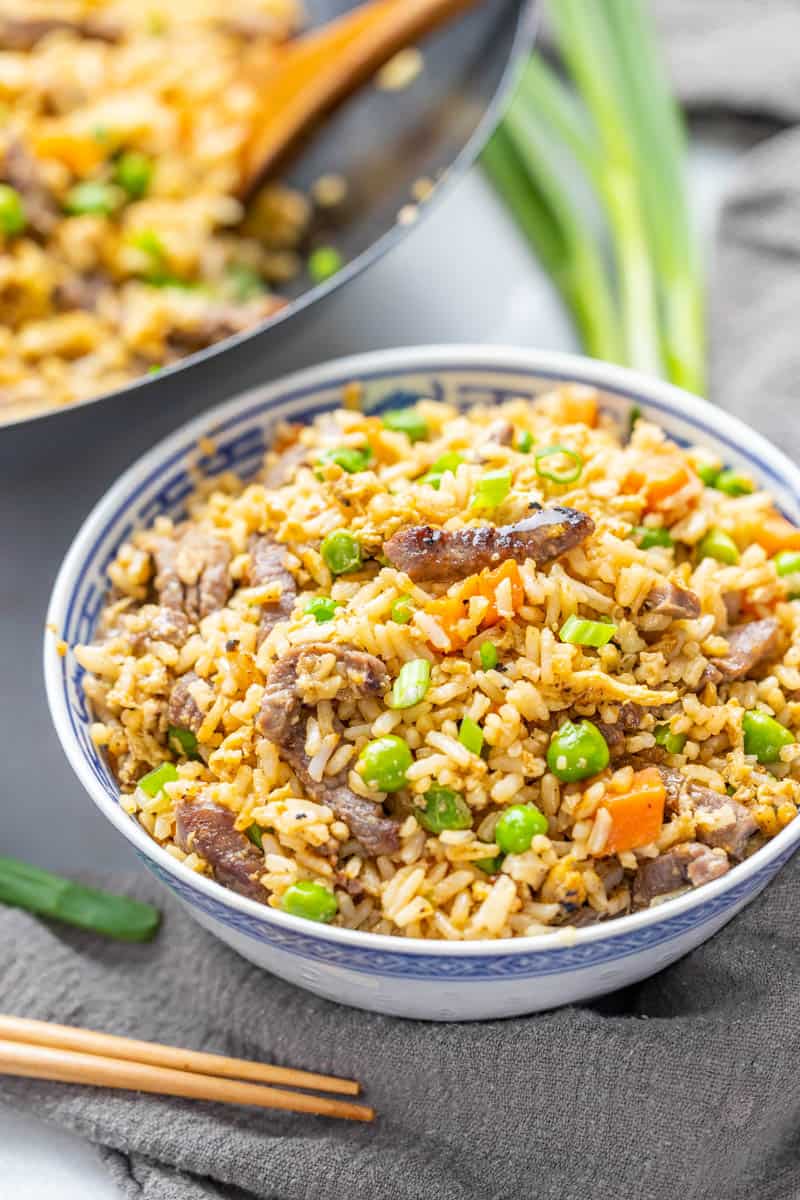 Craving takeout, but want to stay in? Beef Fried Rice is the perfect solution! Skip the restaurant and make this savory, satisfying dish in the comfort of your own home. With tender beef, crispy veggies, and fluffy rice all tossed together in a delicious savory sauce, you're going to love it!
Beef Fried Rice is a classic Asian-inspired dish that is often a go-to choice for takeout lovers. While ordering from a restaurant can be convenient, making this dish at home is just as easy and allows you to control the ingredients and flavors to your liking. Plus, with this recipe, you can enjoy the same savory, satisfying flavors of your favorite restaurant dish without having to leave the house. So why not give it a try and impress your family and friends with your own homemade version of this popular takeout classic?
Takeout beef fried rice is not an authentic Chinese recipe, but rather a typical American version of Chinese-American takeout restaurants. The Stay At Home Chef uses ingredients that are easily accessible for most people in the United States and Canada so that anyone can easily celebrate world cuisines even if their opportunities for travel or access to regional ingredients are limited.
The Best Rice for Fried Rice
To achieve the best results, we recommend using long-grain rice like jasmine or basmati rice when making fried rice. While it's traditional to use day-old rice, you can also use freshly cooked rice as long as you let it cool and dry out for a bit before adding it to the skillet. The reason for this is that freshly cooked rice can be too moist and sticky, which can result in clumpy, mushy fried rice. But don't worry, by using cold, cooked rice that has been dried out, you can achieve those perfect, separated rice grains that make fried rice so satisfying. So, whether you opt for day-old rice or freshly cooked rice, be sure to let it cool and dry out before stir-frying to get the most delicious, restaurant-quality fried rice.
Protein Options
While this recipe calls for beef steak, you can easily substitute other meats such as chicken, pork, or shrimp to make it your own. Or, if you're looking for a meat-free version, simply omit the meat and add more veggies!
Frequently Asked Questions
Can I use other vegetables besides peas and carrots?
Absolutely! Feel free to add in other veggies such as bell peppers, broccoli, or bean sprouts to make it your own.
Do I need a wok to make fried rice?
While a wok is traditional for making fried rice, you can also use a large skillet or sauté pan.
Can I substitute something else in place of the beef?
Yes, you can easily substitute other meats such as chicken, pork, or shrimp to make it your own. Or, if you're looking for a meat-free version, simply omit the meat and add more veggies!
How can I prevent my fried rice from becoming mushy?
Be sure to use cold, cooked rice and don't overcrowd the pan when stir-frying. This will help the rice to cook evenly and stay fluffy. Also, be careful not to overcook the vegetables, as they can release moisture and make the rice mushy.
Do I have to marinate the meat?
We love the added flavor marinating brings to the meat, but you can always skip it and simply cook with a seasoning blend of 1/2 teaspoon of salt, pepper, and ginger. 
How can I reduce the sodium in this recipe?
Soy sauce is a staple ingredient in this recipe. If you are looking to reduce your sodium intake, you can always use low sodium soy sauce.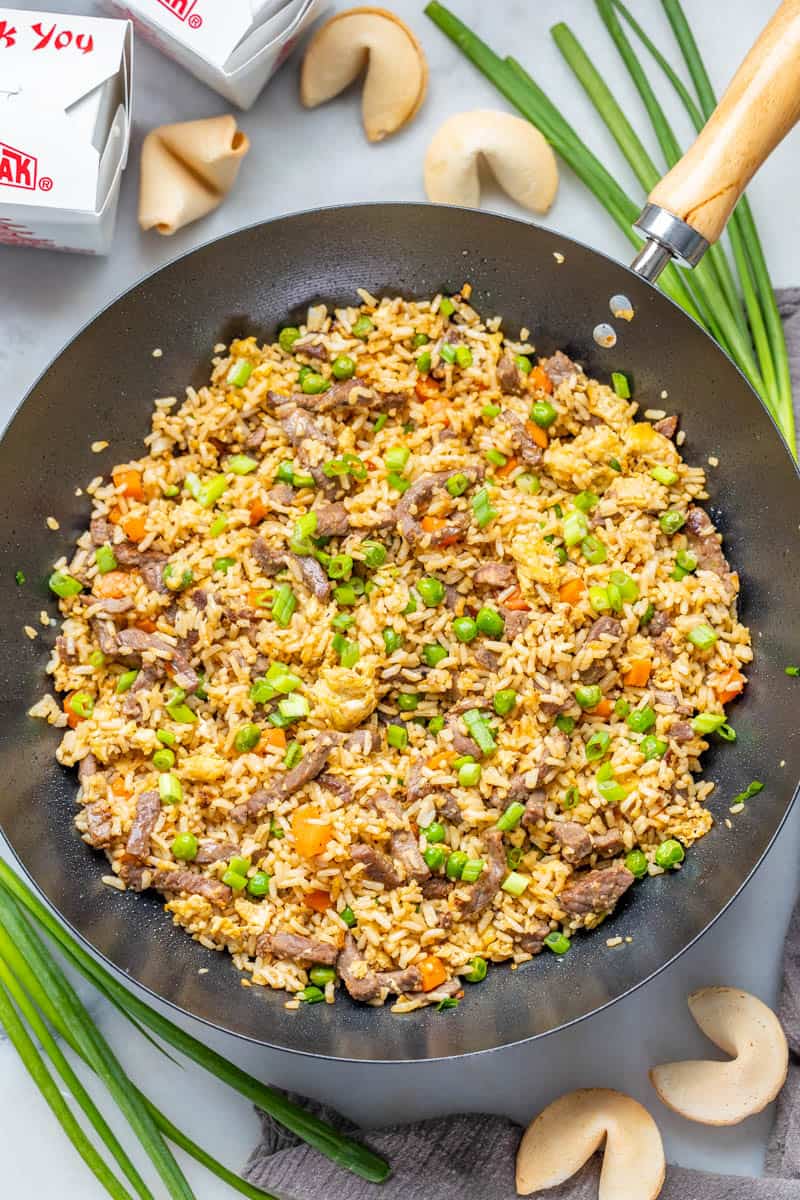 Storage & reheating Instructions
Store any leftovers in an airtight container in the refrigerator for up to 3 days. Reheat in the microwave or on the stovetop until warmed through, adding a splash of water or broth to prevent the rice from drying out.
More Takeout Favorites
If you like this recipe, you may be interested in these other delicious takeout recipes: