The Baja Turkey Club is a Red Robin Copycat recipe filled with sliced turkey, green chiles, melted pepper jack cheese, and smoked bacon served on toasted bread with fresh tomato and a chile aioli. Yum!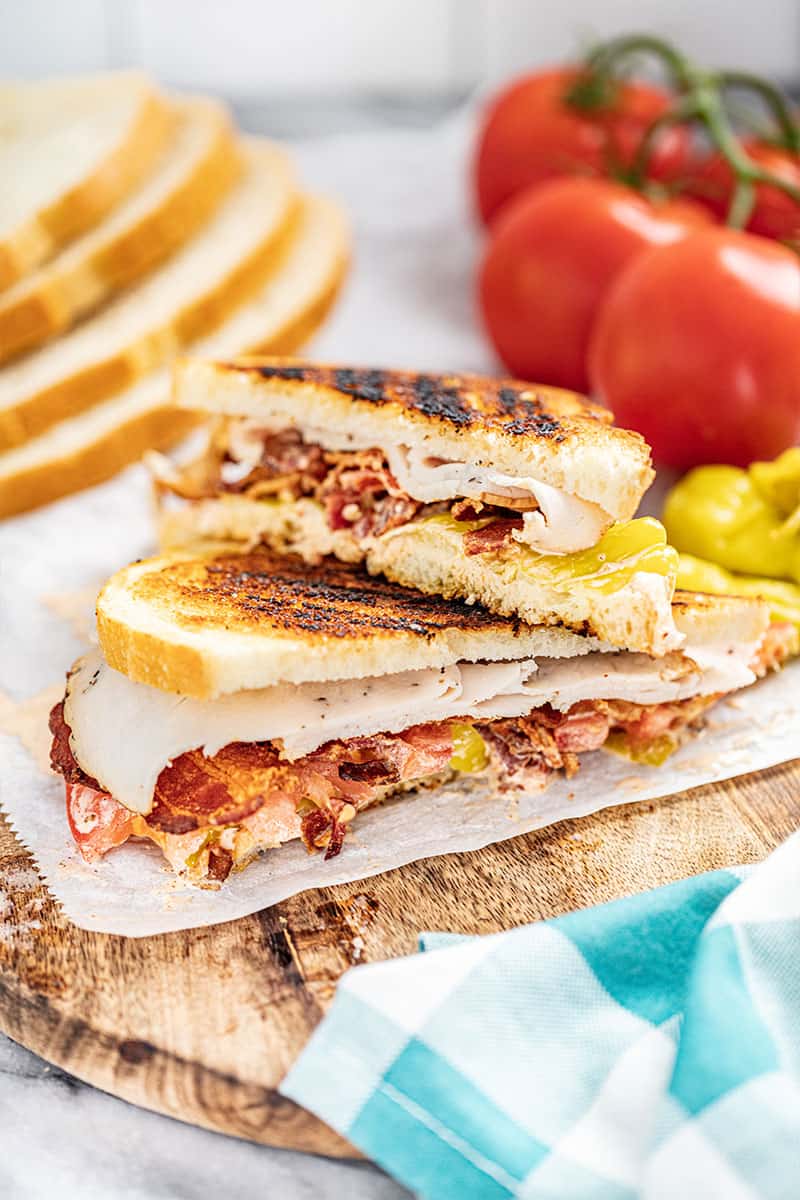 Did anyone else hang out at Red Robin often in high school? It must have been the cool place to be with how often we were there! Their Baja Turkey Club was an absolute favorite, and as an adult that has not changed one bit! Since it is now no longer on the menu, we figured out what they put into that delicious sandwich so we could have it anytime. We present to you one of the most delicious sandwiches you will ever come across. 
We make a lot of grilled cheese sandwiches, and the key to making a good grilled cheese is patience. Never let the heat get higher than medium and just let it toast nice and slowly. This will allow the cheese time to melt without burning your bread. If the bread is toasted and the cheese isn't ready, turn the heat to low and carefully and patiently wait it out. There's nothing worse than a half melted grilled cheese.
Cheese Options:

We love the added kick that pepper jack cheese gives. If you don't love pepper jack, this would be really amazing with a sharp cheddar or provolone cheese.

Can I make a Baja Turkey Club vegetarian?

Sliced turkey and bacon are considered essential on a traditional club sandwich, but you have to make this work for you! If you don't eat meat, you can always omit it. Doing so will make it more of a super fancy grilled cheese. If you want a bit more texture and crunch to your sandwich, there are plenty of plant based deli meat and bacon choices out there as well to substitute with.

How can I speed up making multiple sandwiches at once?

If you want to eat dinner as a family, it can be difficult to have someone grilling sandwiches one at a time over the course of the evening. If you are making more than 1 or 2 sandwiches, we recommend assembling all of your sandwiches at once and baking them on a baking sheet in an oven preheated to 425 degrees Fahrenheit for 10 minutes, or until cheese is melted and bread toasted, flipping halfway through.
If you like this recipe, you may be interested in these other delicious sandwich recipes: