This Old Fashioned Apple Cobbler has a warm, spiced apple filling and is topped off with the perfect sweet biscuit crust. People absolutely love this from scratch recipe and you will too!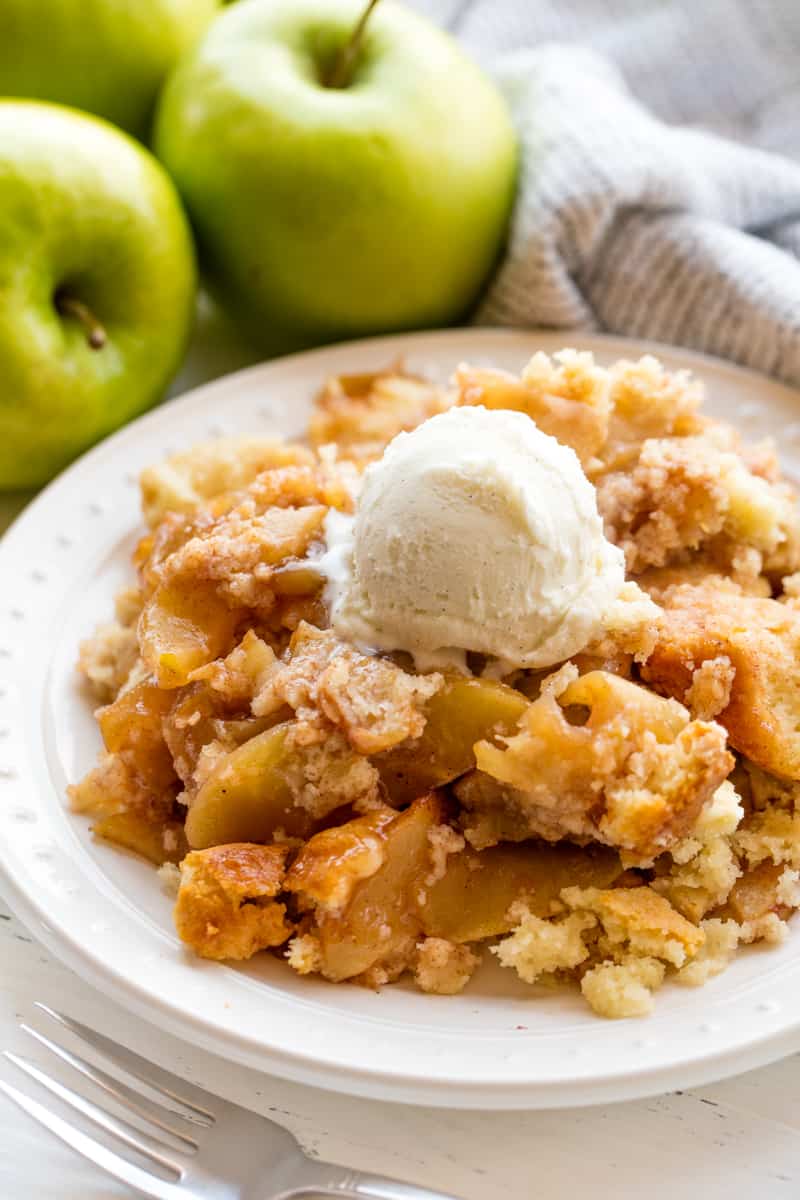 There are certain foods that we have to eat uninterrupted, so that we don't miss a single moment and enjoy every last bite. Apple cobbler is definitely one of those foods. We don't know if it is the warm apples or the sweet biscuits that we love so much, but we just can't get enough of it. We've tried many different recipes, but keep coming back to this tried and true, from scratch recipe. It is pure comfort food, especially on a cold, stormy day, and we know you will agree.
Does Old Fashioned Apple Cobbler have a bottom crust?
This is actually a hotly debated topic in some crowds, but by definition, no, cobblers do not have a bottom crust. Cobblers have a fruit bottom and are generally topped with a sweet biscuit dough, but can also have a more cake like consistency as well. Some people still swear by having a bottom crust on their cobbler, but it is not a traditional preparation.
What's the difference between a cobbler and a crisp?
A cobbler is topped with a batter while a crisp is topped with a crumbly mixture usually consisting of flour, cereal (like oatmeal), butter, sugar, and sometimes nuts.
Dutch Oven Instructions:
Instead of placing everything into a 9×13 pan, you can use a 12-inch dutch oven. To create a 350 degree oven environment, place 14 coals on top, and 7 coals on bottom. The cooking time will remain approximately 1 hour.
Apple Options:
There are hundreds of varieties of apples so it can be hard to know which to purchase. There are a number of commonly sold apples that are great for baking. Green apples like Granny Smith provide a nice tart flavor and are great for baking. Other yellow and red varieties that are good for baking include Golden Delicious, Honey Crisp, Braeburn, Jonathan, Fuji, and Pink Lady. Check the apple for freshness, it should be nice and hard. If the apple is squishy, is bruised, or discolored, you will want to discard them.

Storage and Reheating Instructions:
Store any leftovers in an airtight container in the refrigerator for up to 5 days. You can always eat it straight from the fridge, but if you want it warm, you can reheat individual servings in the microwave in 30 second increments until warmed through.
If you like this recipe, you may be interested in these other delicious cobbler recipes:
Watch the video below where Rachel will walk you through every step of this recipe. Sometimes it helps to have a visual, and we've always got you covered with our cooking show. You can find the complete collection of recipes on YouTube, Facebook Watch, or our Facebook Page, or right here on our website with their corresponding recipes.