Air fryer pork chops are crispy on the outside and juicy on the inside every single time. This recipe is easy to make, quick to clean, and converts pork chop haters into pork chop lovers.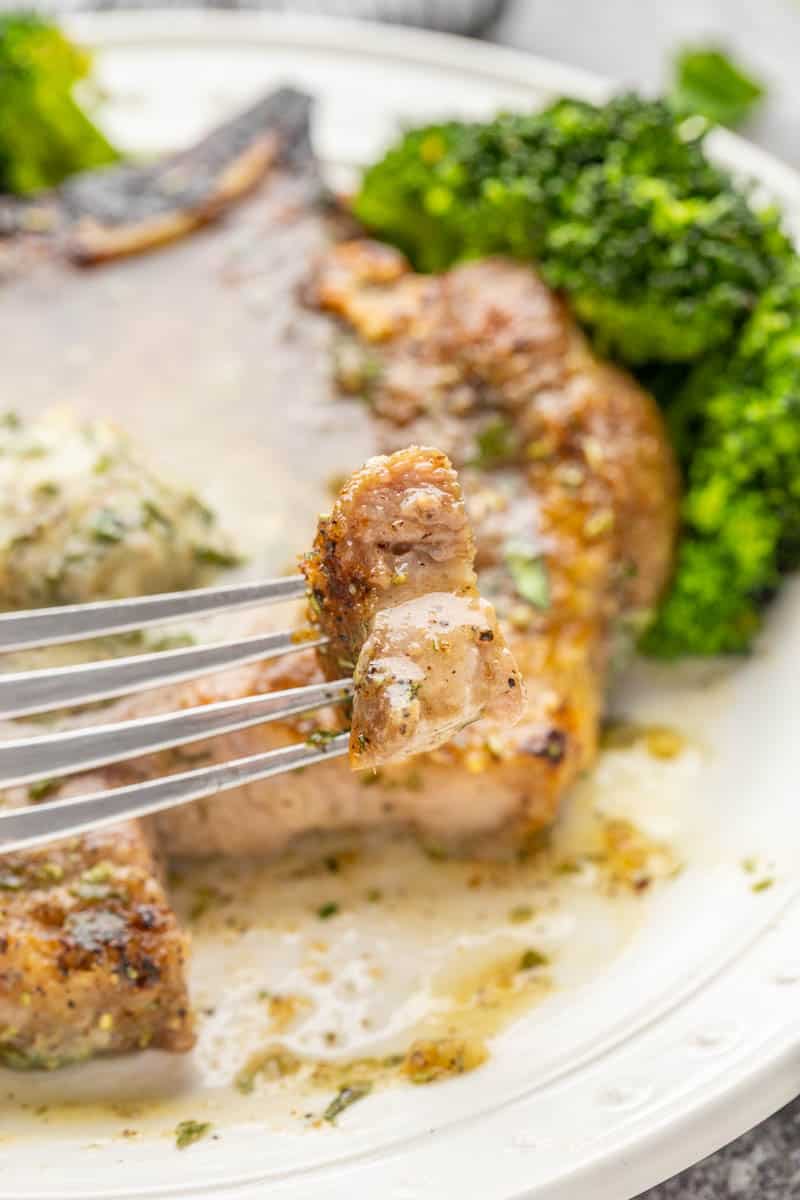 We know, this may sound like a stretch. How many of us have even ever had a juicy pork chop to begin with, let alone made in air fryer? The problem? Nine times out of ten they are simply overcooked and dry. Luckily we discovered years ago just how amazing pork chops can be, and yes, you can most certainly make a delicious and juicy pork chop in the air fryer. We love bringing out the air fryer for dinner because the food cooks fast and it is so much easier to clean up. Your biggest obstacle with this recipe will be deciding what to make on the side! Trust us, you absolutely need to give this recipe a try.
Air Fryer Tip
Make sure to not overcrowd the air fryer basket. You need a bit of airflow around all of your chops to ensure a slightly crisp exterior. Bonus: it will also make your filets cook faster!
Compound Butter
It's true, you do not have to use compound butter on top of your chop. Really though – allergies and intolerances aside – why wouldn't you?! It is so delicious, that it is a must have in our house!
Why Should I Cook Pork Chops in an Air Fryer?
Cooking pork chops in an air fryer is generally considered healthier than deep-frying or pan-frying them. Because air fryers use less oil, the finished product is lower in fat and calories.
Pork Chop Options
We prefer these chops bone-in and thick, but you can always use whatever pork chops you have on hand. Please keep in mind that thinner pork chops will cook faster, and bone-in will cook slower.
Safe Pork Chop Internal Temperature
Pork needs to be cooked to a minimum internal temperature of 145 degrees Fahrenheit. Cooking times for pork chops will vary slightly based on how thick your chops are cut. Use a meat thermometer to ensure accuracy.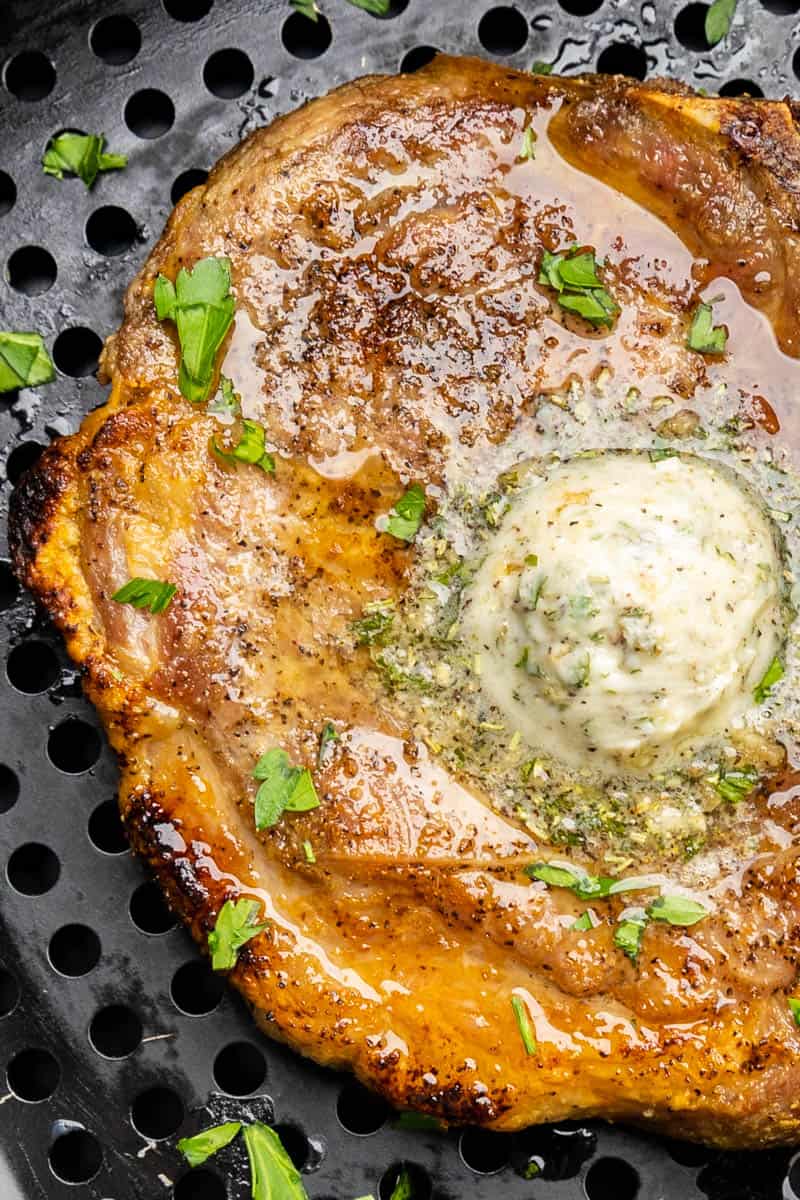 Storage and Reheating Instructions
Pork Chops are best eaten fresh. Store any leftovers in an airtight container in the fridge for up to three days.
To reheat leftover pork chops, you have several options. Here are a few ways to reheat pork chops:
Oven: Preheat your oven to 350°F. Place the pork chops on a baking sheet and cover them with aluminum foil. Bake until the pork chops are heated through, about 10 minutes.
Microwave: Place the pork chops in a microwave-safe dish and cover them with a damp paper towel. Microwave the pork chops until they are heated through, about 1-2 minutes.
Air fryer: Preheat the air fryer to 350°F. Place the pork chops in the air fryer and cook until they are heated through, about 3-5 minutes.
Regardless of the method you choose, be sure to check the internal temperature of the pork chops to ensure that they are fully cooked and safe to eat. The USDA recommends an internal temperature of at least 145°F for pork.
If you like this recipe, you may be interested in these other delicious pork chop recipes: