Acorn squash is a treat straight from the garden! This veggie has a delicious buttery orange interior and is so easy to prepare. All it takes are a few small steps and some time in the oven and voila! You're going to love it!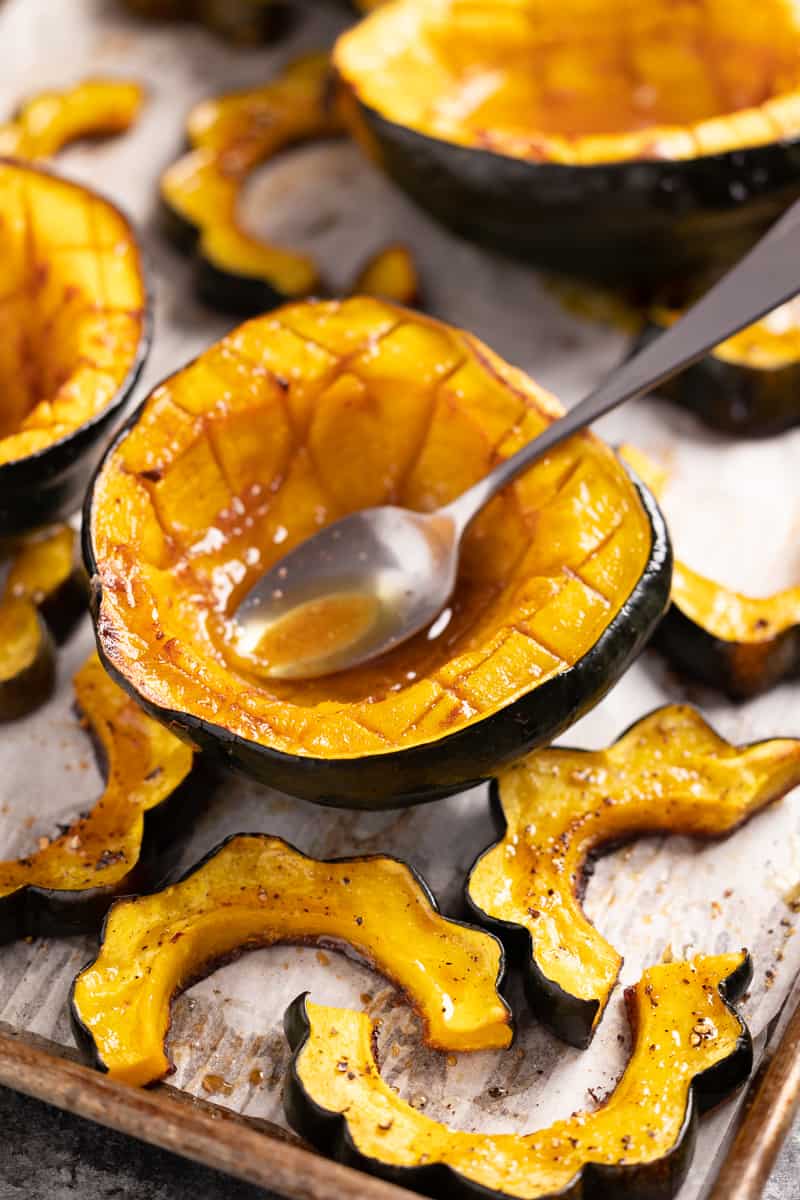 We say this from experience: getting those recommended fruits and veggies isn't always easy. But, what if we told you that there's a yummy way to prepare a nutritious vegetable? Presenting: baked acorn squash. It's one of our absolute favorite veggies during fall and winter. As soon as temperatures start to drop we look for them everywhere. Like other types of squash — we're looking at you butternut and spaghetti — they are oh-so-easy to prepare. All you'll need are a few key ingredients and your oven, and you're good to go. You can choose to make them sweet or savory…roasted acorn squash truly is a blank canvas. If you're sick of serving up the same old sides and ready for some truly delicious acorn squash, this recipe is about to become your new go-to.
Do I Peel Acorn Squash Before Cooking?
This is one of the most common questions when it comes to learning how to cook acorn squash. You'll be happy to know that no, you don't have to peel it! If you don't want to eat it, once you've roasted the vegetable, the skin peels off really easily.
How To Cut Acorn Squash:
Another big part of learning how to cook acorn squash is determining how to prepare and cut it. Start by washing the vegetable well with water. Make sure to get into all the nooks and crannies, especially if you got yours from a local producer. No one wants to find dirt in their teeth after enjoying this yummy side! Then, carefully cut off the top of the squash (where the stem is). Lay the squash down on the surface you just created and cut it down in the center to reveal the seeds on the inside. Scoop them out as you do a pumpkin — you can even cook the seeds by following this recipe.
Butter Substitutes:
You may be trying to stay away from butter, or perhaps you're vegan. If so, you can also use a different fat like olive oil or avocado oil instead.
Flavor Options:
As you'll see on the recipe card below, we've got flavor options for both sweet and savory squash! We also think that these add-ons would be delicious:
Savory: Red pepper flakes, rosemary, thyme, oregano, basil, or smoked paprika
Sweet: Honey, nutmeg, allspice, maple syrup, or pecans
Pick and choose your favorites, or create a combination of a few!
Serving Suggestions:
Roasted acorn squash is light enough to be served as a side. Here are some ideas to make a meal out of them:
Air Fryer Instructions:
Prepare your acorn squash according to the instructions below and cook in an air fryer set to 375 degrees Fahrenheit for 25-30 minutes.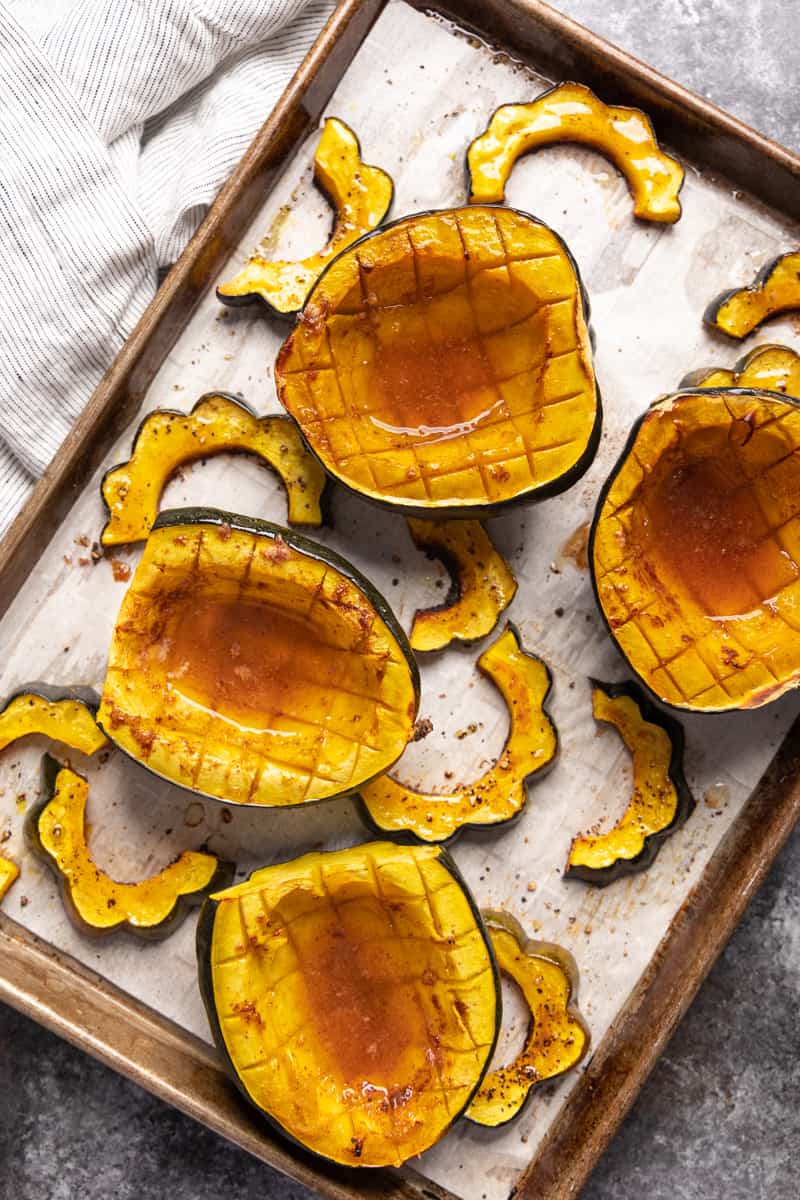 Storage and Reheating Instructions:
You should store any leftover baked acorn squash in the fridge. If you don't have an airtight container big enough to fit them, you can simply wrap them tightly in plastic wrap! To reheat, place them in the microwave and heat at 30-second increments until warmed through. You can also warm them up in the oven. Wrap your roasted acorn squash in aluminum foil and heat at 400 degrees F for 5 minutes, check on the temp, and heat for 1-2 minutes more if necessary.
If you like this recipe, you may be interested in these other delicious squash recipes: