Tikel Gomen is a healthy one-pot vegetarian dish with cabbage, potatoes, onion, and turmeric. It is packed with flavor, easy to make, and good for you too!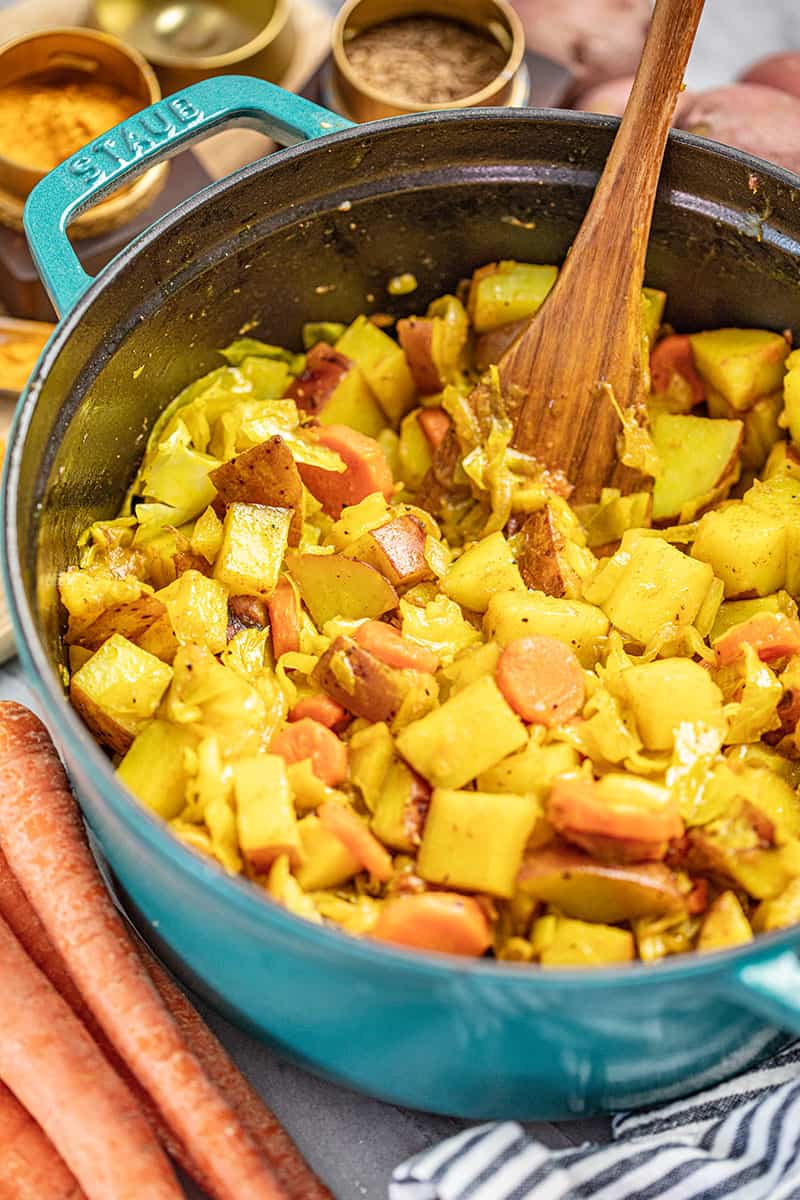 A little less well known, Ethiopian cuisine is actually extremely healthy and flavorful. Tikel Gomen is a one-pot cabbage dish and is packed with nutrients and flavor that will make it an instant favorite. This dish also happens to be naturally vegetarian, vegan, and gluten-free, so it satisfies a lot of dietary considerations and is still simply delicious. This can be eaten as a stand alone dish, or served with rice and a popular Ethiopian staple: Injera flatbread. Dive in to a little culture and make a meal of it!
This dish is made entirely in one pot. Be sure to use a large pot with a lid. Enameled cast iron pots work great for this, as well as standard stainless steel everyday cookware. To start this dish, you will heat your olive oil in a large stock pot and then add the onion and carrots to saute for five minutes. You will add your spices and let them toast for a minute or two before adding the cabbage and potatoes. Lastly, stir that together, cover and reduce the heat so it can simmer on low for about 30 minutes, or until the potatoes are tender. Prepare to enjoy a cultural, culinary treasure!
Can I reduce the amount of olive oil?

You can get away with reducing the olive oil to about 2 tablespoons, but it adds flavor as well as moisture to this dish. For best results, use the full amount.

Can I use fresh minced ginger?

Yes. Increase the amount to 1 tablespoon if you use fresh minced ginger in place of the dried ground ginger.

Can I use sweet potatoes instead of red potatoes?

You can. Because sweet potatoes break down at a different rate than regular potatoes, the texture will be a little different. If you wanted to be authentic to this Ethiopian cuisine, technically, you would use yams and not sweet potatoes. In the United States, the two are treated as synonymous, but they are actually very different items that aren't related. It is extremely difficult to find true yams outside of Africa and the Carribean.

Pro tip:

Turmeric stains really easily! So be careful where you set your lids and spoons and be careful not to splash. Fun fact, Turmeric is what is used to give mustard its bright yellow color!

If you are looking for other healthy recipes, here are some that are packed with flavor and nutrition that you will love: