Tuna Salad is a simple, comfort food favorite. This recipe has been lightened up, for a healthy tuna salad that not only tastes great, but it's also good for you too!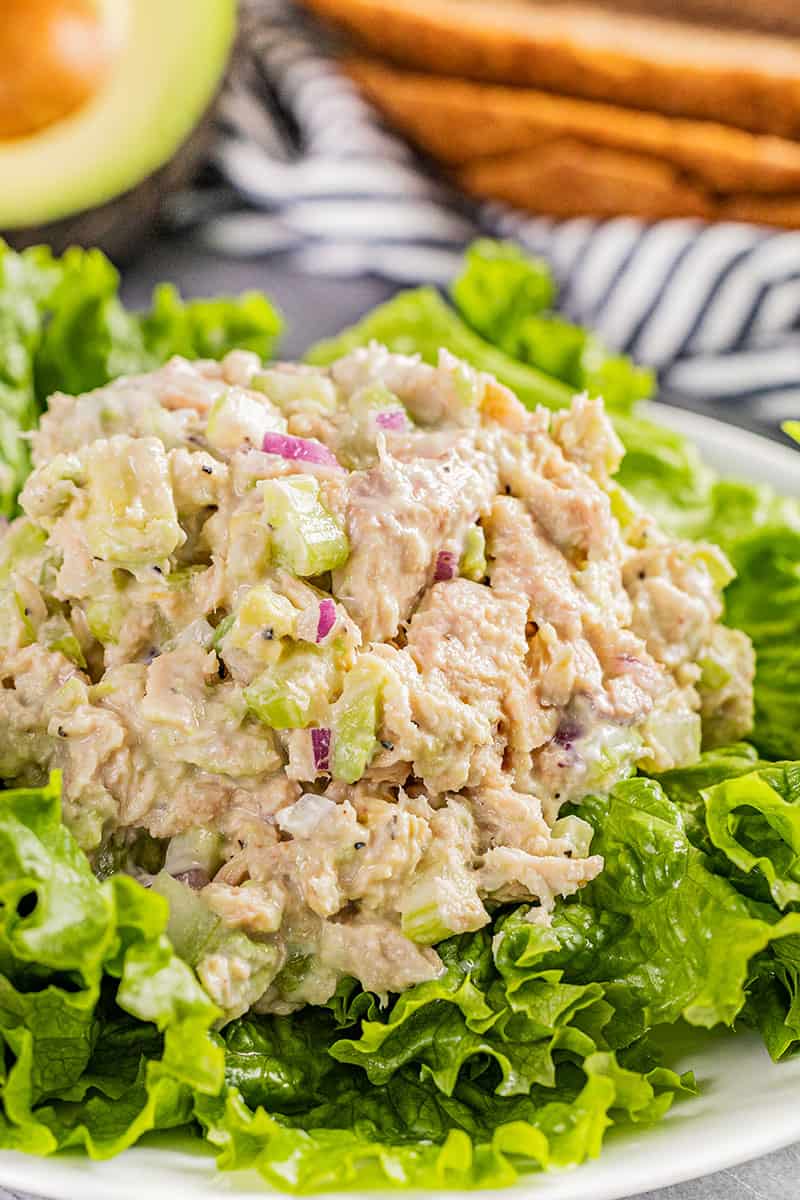 Tuna salad is one of our absolute favorite healthy lunches. Seriously, we could just dig in with a spoon any time of day, no bread or toast necessary. In this healthy, lightened up version, we've stayed very traditional for a flavorful mix that's a lot better for you than the mayo-loaded classic version. We know how much the world has loved Tuna Stuffed Avocado, which is full of spicy goodness, and we're sure you will all love this more classic flavor profile as well.
What kind of canned tuna should I use?
Canned tuna is a convenient and nutritious pantry staple that can be used in a variety of dishes. There are many different types of canned tuna available, and each type has its own unique flavor and texture. Here are some of the most common types of canned tuna you can generally find on grocery store shelves, and how they differ from each other:
Solid white tuna: Solid white tuna is made from the largest and most mature skipjack tuna. It has a firm and flaky texture, and a mild and slightly sweet flavor. It is a versatile type of canned tuna that can be used in salads, sandwiches, and other dishes.
Solid light tuna: Solid light tuna is made from smaller and younger skipjack tuna. It has a lighter and more delicate flavor and texture than solid white tuna. It is a good choice for dishes that require a more subtle tuna flavor, such as tuna salad or tuna melt.
Chunk light tuna: Chunk light tuna is made from smaller and younger skipjack tuna that is packed in oil or water. It has a chunkier and more varied texture than solid light tuna, and a slightly stronger flavor. It is a good choice for dishes that require larger pieces of tuna, such as tuna casserole or tuna salad.
Albacore tuna: Albacore tuna is made from a different species of tuna than skipjack tuna. It is larger and more flavorful than skipjack tuna, and has a firmer and meatier texture. It is a good choice for dishes that require a stronger tuna flavor, such as tuna salad or tuna patties.
The type of canned tuna that you choose will depend on your personal preferences and your budget. Don't be afraid to experiment and find which one you like best.
Serving Suggestions
Tuna salad is a versatile and delicious dish that can be enjoyed in many different ways. Whether you are looking for a quick and easy lunch option or a tasty addition to a dinner party spread, tuna salad is a great choice. Here are some ideas for how to serve tuna salad:
On a sandwich: Tuna salad is a classic sandwich filling, and pairs well with a variety of breads, from soft and fluffy white bread to toasted rye or whole grain. Try adding some lettuce, tomato, and avocado for a satisfying and flavorful sandwich.
As a wrap: Instead of using bread, try wrapping your tuna salad in a tortilla or a lettuce leaf for a lighter and healthier option. You can also add some shredded carrots, bell peppers, and cucumber for crunch and added nutrition.
On a salad: Tuna salad makes a tasty and protein-packed topping for a green salad. Try mixing it with some cherry tomatoes, sliced red onion, and sliced boiled eggs for a hearty and satisfying salad.
As a dip: Tuna salad can also be served as a dip, along with some crackers or sliced veggies for dipping. For a more sophisticated dip, try mixing the tuna salad with some cream cheese and serving it with crackers or crudités.
No matter which one you choose, this tuna salad is sure to hit the mark!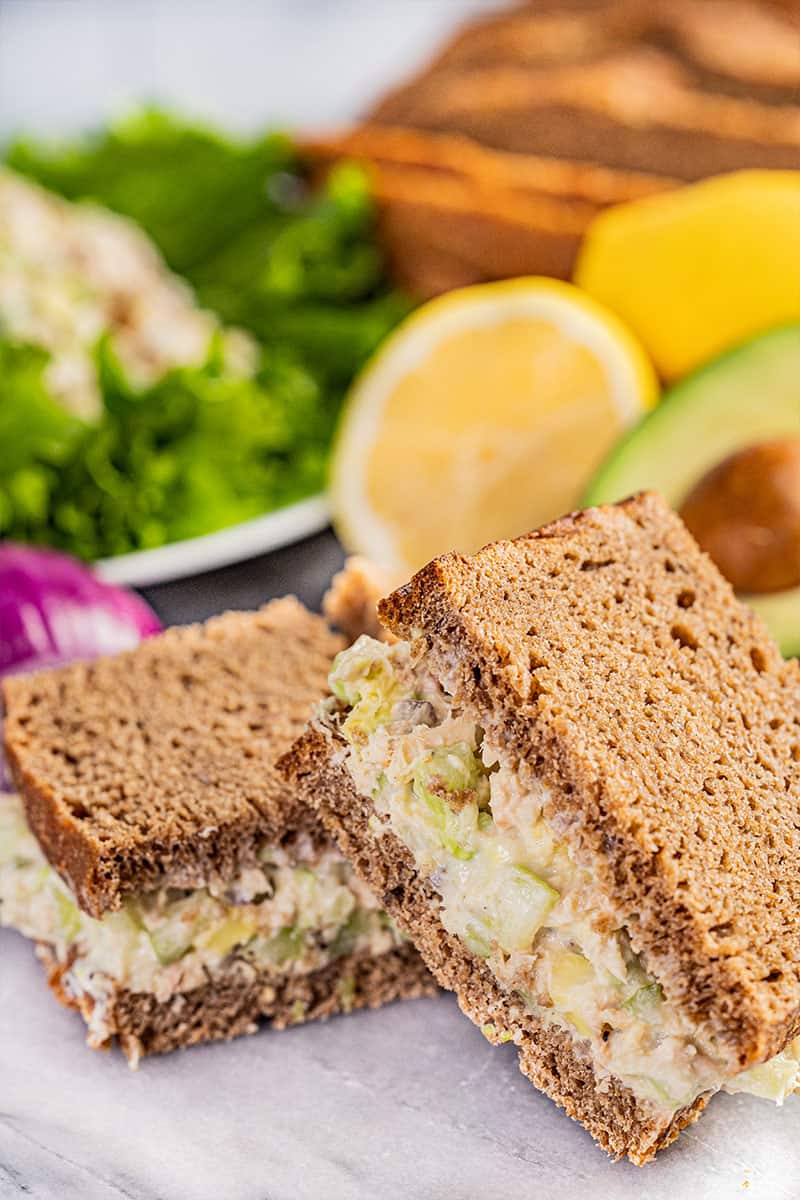 Storage and Reheating Instructions
After making the tuna salad, transfer it to an airtight container and store it in the refrigerator for 3 to 5 days. To extend its shelf life, you can also freeze the tuna salad for up to two months. To freeze the tuna salad, place it in an airtight container or a freezer-safe bag, and label it with the date and contents. When you are ready to eat the frozen tuna salad, thaw it in the refrigerator overnight, then stir it well to distribute the ingredients evenly. Be sure to use the tuna salad within a few days of thawing, as the quality and flavor may start to decline after that.
If you like this recipe, you may be interested in these other delicious health-conscious recipes:
Healthy Tuna Salad Recipe