The Best Swedish Meatballs and Gravy are made with a combination of ground pork and beef and spiced to perfection for a flavorful meatball and with a rich and flavorful gravy to go with it!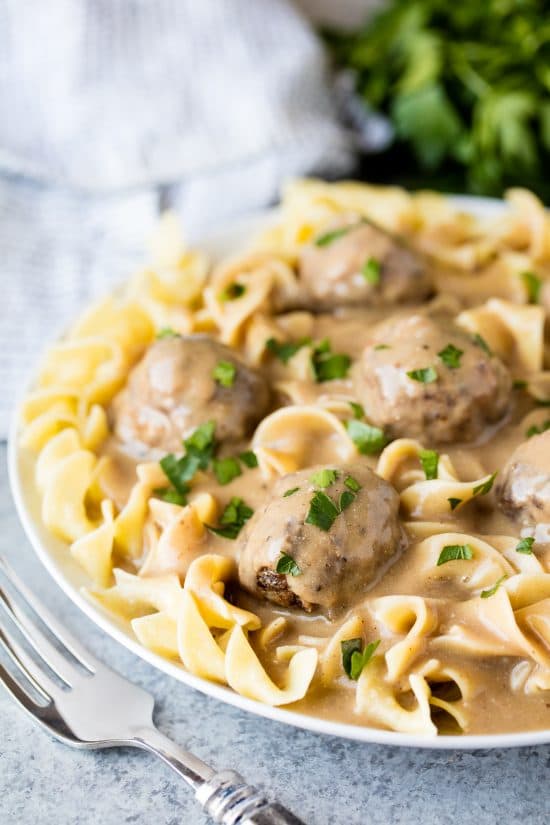 This recipe took quite a number of rounds of testing, but I'm happy to say I've finally perfected the Swedish Meatball. Seriously guys, this'll put anything you might find at Ikea to shame. I even recently took a trip to Sweden and sought out a restaurant that specializes in Swedish meatballs. And guess what? I prefer mine. And I'm not just saying that either.
What makes this recipe so good? It's full of flavor. I've taken traditional flavors and kicked it all up a notch. I hate bland food, and I've eaten a lot of bland versions of Swedish meatballs. This recipe is anything but bland. You get a flavorful meatball combined with a rich and flavorful sauce and it's just magic.
To add even more flavor in this recipe, you can always use a country style pork sausage instead of just ground pork. Let me tell you, that can really add a lot to this recipe. Just make sure you stay away from Italian style ground pork sausage. It just isn't the right flavor profile.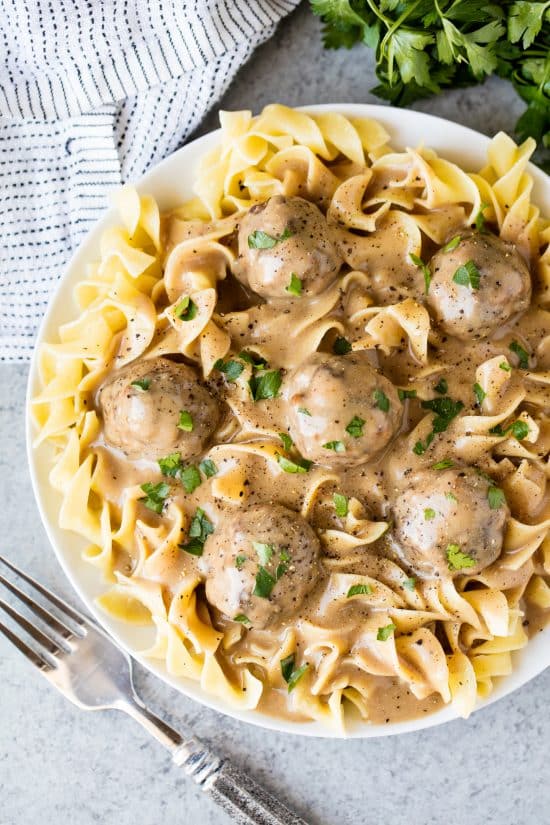 The meatballs are baked in this recipe for convenience. Not only does baking the meatballs free you up to work on other things, it also keeps things separate for kids who will eat meatballs, but won't eat sauce. Yup, that's my kids. You can always cook your meatballs in a skillet, but I really am a huge fan of baking simply for the convenience.
I prefer to serve my Swedish Meatballs over egg noodles. Another more traditional option is to serve them with mashed potatoes. You can also serve them over rice if you want.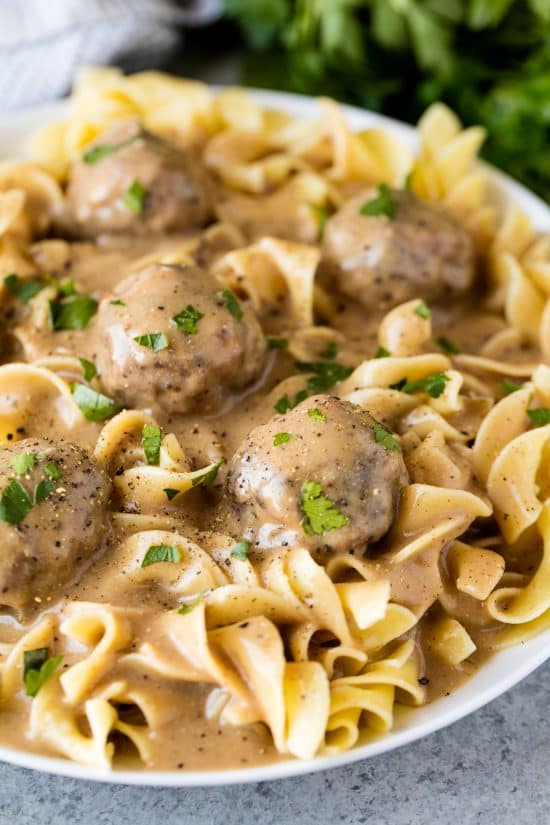 Step number 4 in this recipe involves making a roux. The flour in the recipe acts as a thickening agent. If you just added flour to a liquid you'd end up with a clumpy mess. By combining the flour with a fat source (melted butter), you will be able to distribute the thickening agent throughout the sauce without leaving clumps behind. This same principle can be applied to any sauce or soup that needs to be thickened. A roux is equal parts flour to fat. Cornstarch is a stronger thickening agent that I use (with butter) in things like puddings and cream pies.
Watch the video below where I walk you through every step of this recipe. I have over 270 videos on my website to help you up your game in the kitchen. Sometimes having a visual reference makes all the difference. Here at The Stay At Home Chef we believe that every family can easily serve restaurant quality recipes at home. Feel free to stay a while and check out our library of amazing recipe. Perhaps you'll be interested in The Best Homemade Dinner Rolls or The Most Amazing Chocolate Cake or one of the other recipes that you can search of in our recipe index.