Mashed potatoes are a staple in most households, especially during festive occasions. But every now and then, it's refreshing to introduce a novel twist to the familiar. Enter smoked gouda – a cheese renowned for its rich, smoky undertones. Incorporating smoked gouda into mashed potatoes not only adds depth of flavor but also makes the dish an instant standout. Whether you opt for a subtle hint of cheese or decide to go all out, this delightful variation promises a memorable dining experience. After all, why settle for the mundane when you can elevate the ordinary?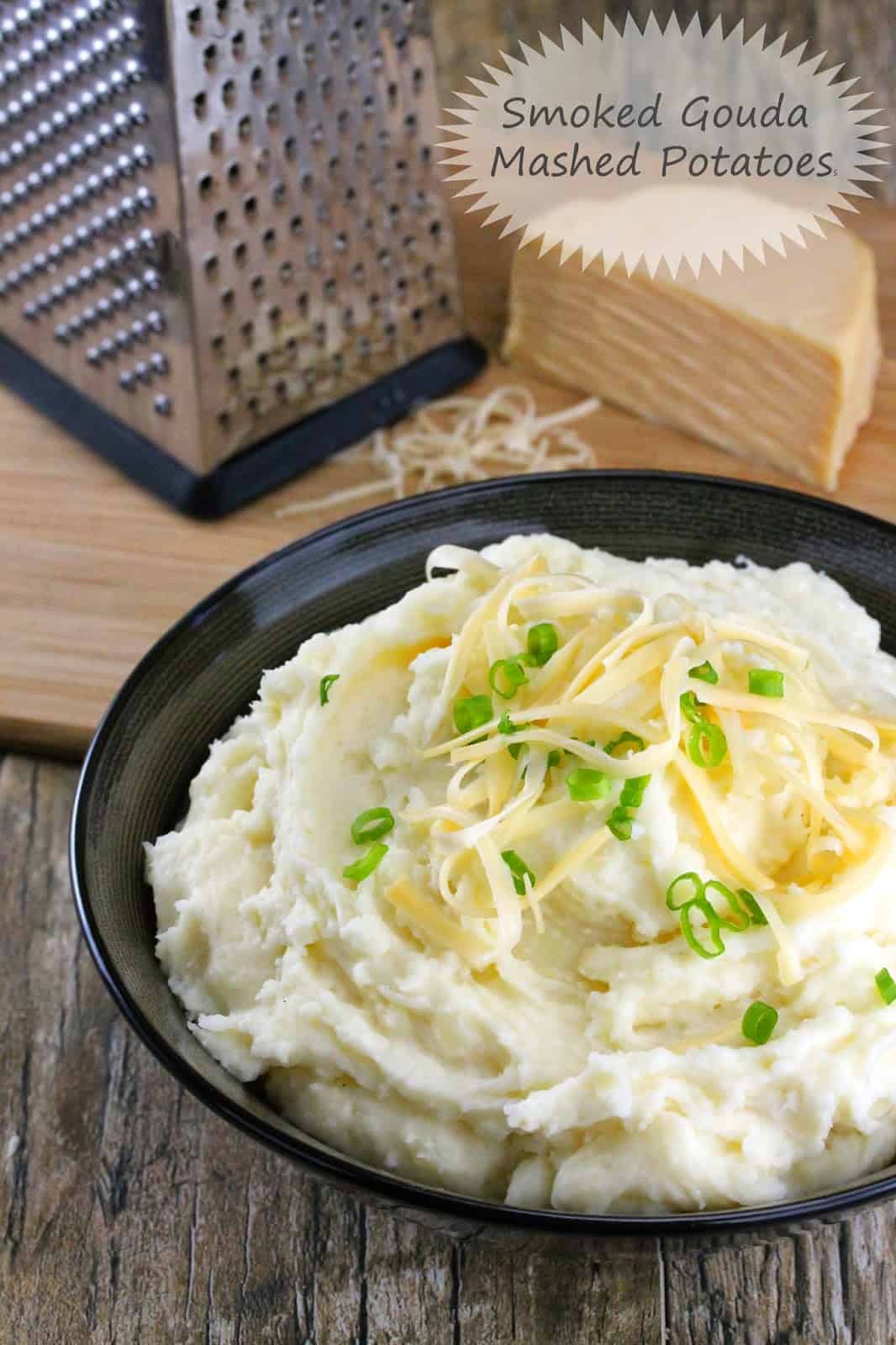 Classic meets contemporary with our smoked gouda mashed potatoes. Rediscover your favorite comfort food. From your regular dinner table to festive feasts, the smoky allure of gouda mashed potatoes steals the show every time.
Ingredients and Substitutes
Russet Potatoes: Known for their starchy texture, making them ideal for mashing.
Substitute: Yukon Gold potatoes can be used for a more buttery flavor and texture.
Chicken Broth: Enhances the potatoes with a deeper flavor compared to just using water.
Substitute: Vegetable broth offers a vegetarian alternative. Alternatively, water with a pinch of salt can be used, though the end result may lack the depth of flavor broth provides.
Butter: Adds richness and creaminess to the mashed potatoes.
Substitute: For a dairy-free version, consider using a plant-based butter or even olive oil for a slightly different taste.
Cream Cheese: Provides an additional layer of creaminess and tanginess.
Substitute: Sour cream or Greek yogurt can be used for a tangy touch without the cream cheese.
Salt: Enhances the natural flavors of the ingredients.
Substitute: You can adjust the salt based on dietary needs or personal preference. Seasoning alternatives include garlic salt or herb-infused salts for added flavor.
White Pepper: Offers a milder pepper taste than black pepper and doesn't disrupt the color of the dish.
Substitute: Black pepper can be used if white pepper is unavailable, though it may leave dark specks in the mash.
Smoked Gouda Cheese: Introduces a rich, smoky undertone that elevates the mashed potatoes.
Substitute: Smoked mozzarella or cheddar can be swapped in depending on preference. Both cheeses will give the dish a different but equally delightful smoky flavor.
Troubleshooting
Potatoes too dry? Add a splash of milk or broth to get the right consistency.
Lumps in your mash? Ensure potatoes are cooked thoroughly and consider passing them through a potato ricer.
Mash tasting bland? Adjust seasoning, or consider adding more cheese or butter for flavor.
Frequently Asked Questions
What's the ideal type of potato for mashed potatoes?
Russet potatoes are commonly used because of their starchy texture which yields fluffy and creamy mashed potatoes.
Is smoked gouda the only cheese I can use?
While smoked gouda gives a distinct flavor, feel free to experiment with other cheeses like cheddar or smoked mozzarella.
What's the difference between using a potato masher, hand mixer, and potato ricer for this recipe?
Each tool offers a unique texture and consistency to your mashed potatoes. Using a potato masher will yield a more rustic, slightly chunky mash, which many people love for its homey feel.

If you prefer a creamier, smoother texture, a hand mixer is your go-to. It aerates the potatoes while mashing, leading to a fluffy result.

On the other hand, a potato ricer is designed to produce ultra-smooth and lump-free mashed potatoes by pressing cooked potatoes through small holes, akin to oversized garlic presses. The outcome is a delicate, fine texture, perfect for those who seek an almost silky consistency in their mash. The choice of tool ultimately depends on your desired outcome and personal preference.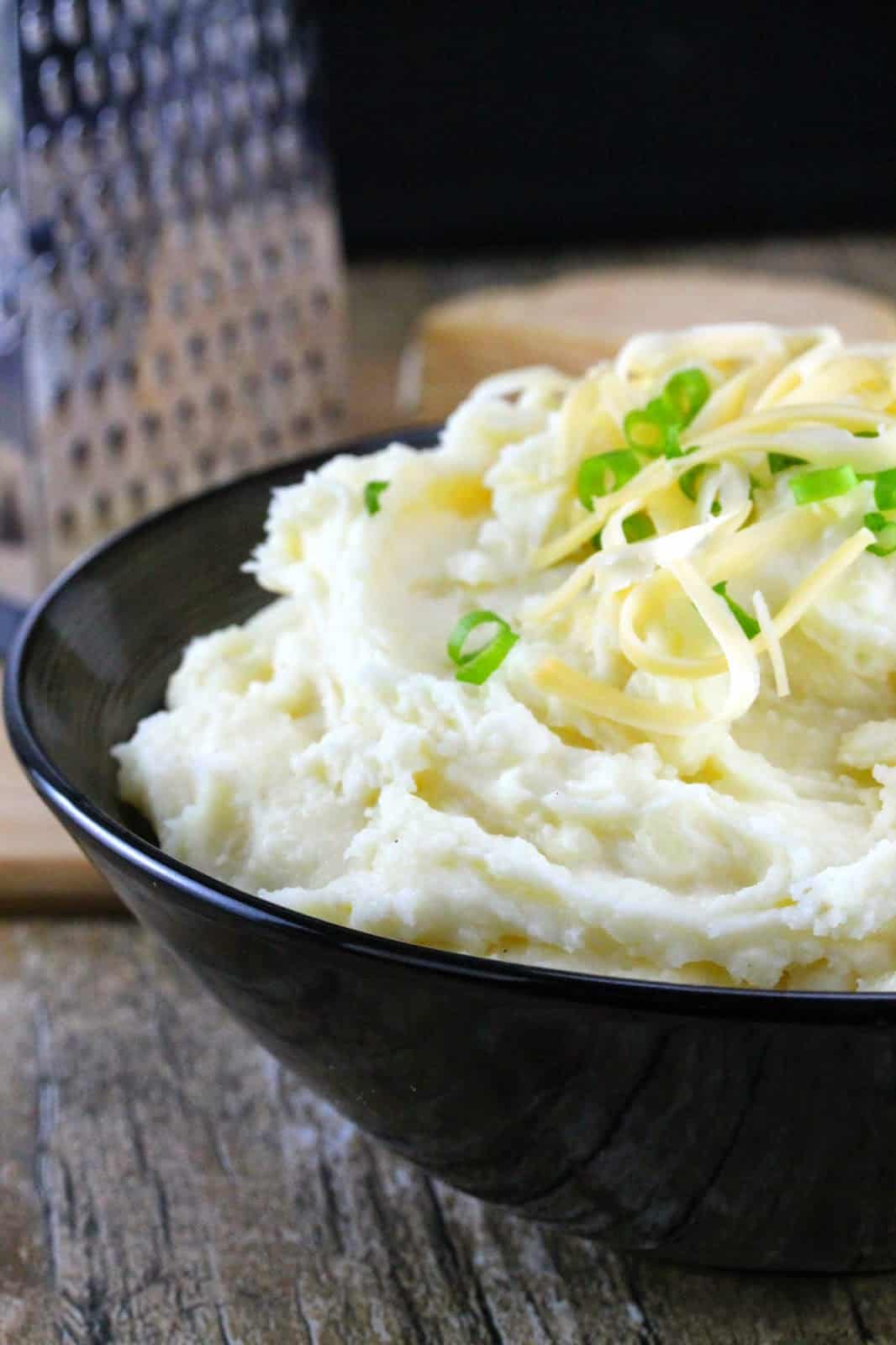 Which tool should I use to mash potatoes?
Potato Masher: Ideal for a rustic, slightly chunky mash. This tool gives a homey feel to your mashed potatoes with some bits intact.
Hand Mixer: Opt for this if you love a creamier, smoother texture. It aerates the potatoes, resulting in a fluffy consistency.
Potato Ricer: Perfect for those wanting ultra-smooth, lump-free mashed potatoes. It presses the potatoes through small holes, yielding a delicate, fine texture.
Stand Mixer: Great for making larger batches. It can produce a very smooth mash, but be cautious not to overmix, which can lead to a gluey texture.
Food Processor: While it can achieve an incredibly smooth consistency, it's crucial to pulse in short bursts to avoid over-processing and creating a gummy texture.
Storage and Reheating Instructions
Store any leftovers in an airtight container in the refrigerator for up to 3 days. When ready to enjoy again, reheat in the microwave or on the stovetop, adding a bit of milk or broth if needed.
For longer storage, freeze in individual portions.
To reheat, thaw in the refrigerator overnight and warm up using your preferred method.
More Mashed Potato Recipes