Smooth, thick, and oh-so velvety – creamy pumpkin soup is absolutely delicious and so easy to make! All you need are a few ingredients and minimal time to make this ultimate fall soup!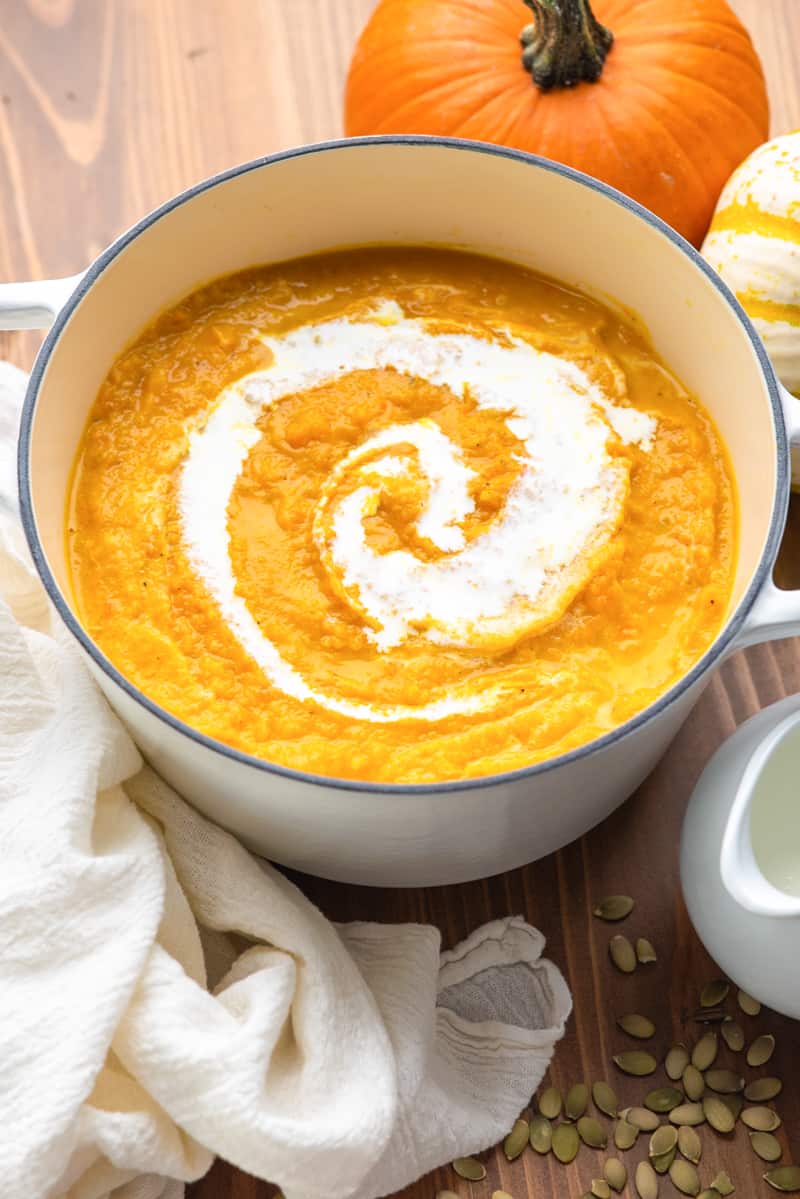 Soup season is the best season! Soup is one surefire way to warm up on a cold and rainy day — or for when you want to serve up an easy meal that you know everyone will love. Like most things, soup made from scratch is the best. Most of the time all you'll need are a handful of vegetables, spices and seasonings, and a bit of water or broth. It's that easy! This dish is naturally meat-free and gluten-free, and it is absolutely delicious. This recipe for creamy pumpkin soup will get everyone in the mood for fall. Pumpkin-flavored-everything for the win!
What Kind Of Pumpkin Should I Use?
The base of this roasted pumpkin soup is, well, roasted pumpkin! Roasting vegetables brings out so much of their flavor, and pumpkin is no different. We like to use a pie pumpkin, otherwise known as a sweet pumpkin. This type of pumpkin boasts a rich and sweet flavor and is very similar to butternut squash. It's different than your typical jack-o-lantern, so make sure to take a close look at the variety before you buy!
Is It Better To Steam or Roast Pumpkin?
It depends on what you want to use it for! If you want to create a homemade pumpkin purée, we recommend steaming, but for pumpkin soup, the best route is always to roast. Roasting helps hold onto the natural flavors, color, and texture of the pumpkin!
Can I Thin Out Creamy Pumpkin Soup?
We love this soup thick and chowder like! If that's not how you enjoy soup, you can always add more broth until you've reached the desired consistency.
Do I Have to Roast a Whole Pumpkin?
We absolutely prefer the flavor of roasted pumpkin in this soup. However, sometimes we just don't have time for that! You can substitute a 15 ounce can of pumpkin puree for the roasted pumpkin in this recipe.
Freezer Instructions:
Keeping a batch of creamy pumpkin soup is perfect for those hectic fall days — we know how busy the back-to-school season can get, and it's nice to have something yummy on hand. Simply make the roasted pumpkin soup as instructed but hold off on adding the cream as it has a tendency to take on a funny texture when defrosting. Allow the soup to cool completely, then place it in an airtight, freezer-safe container and freeze for up to 3 months. Allow it to thaw in the fridge overnight and reheat over medium-low heat on your stovetop. Don't forget to add the cream as it heats!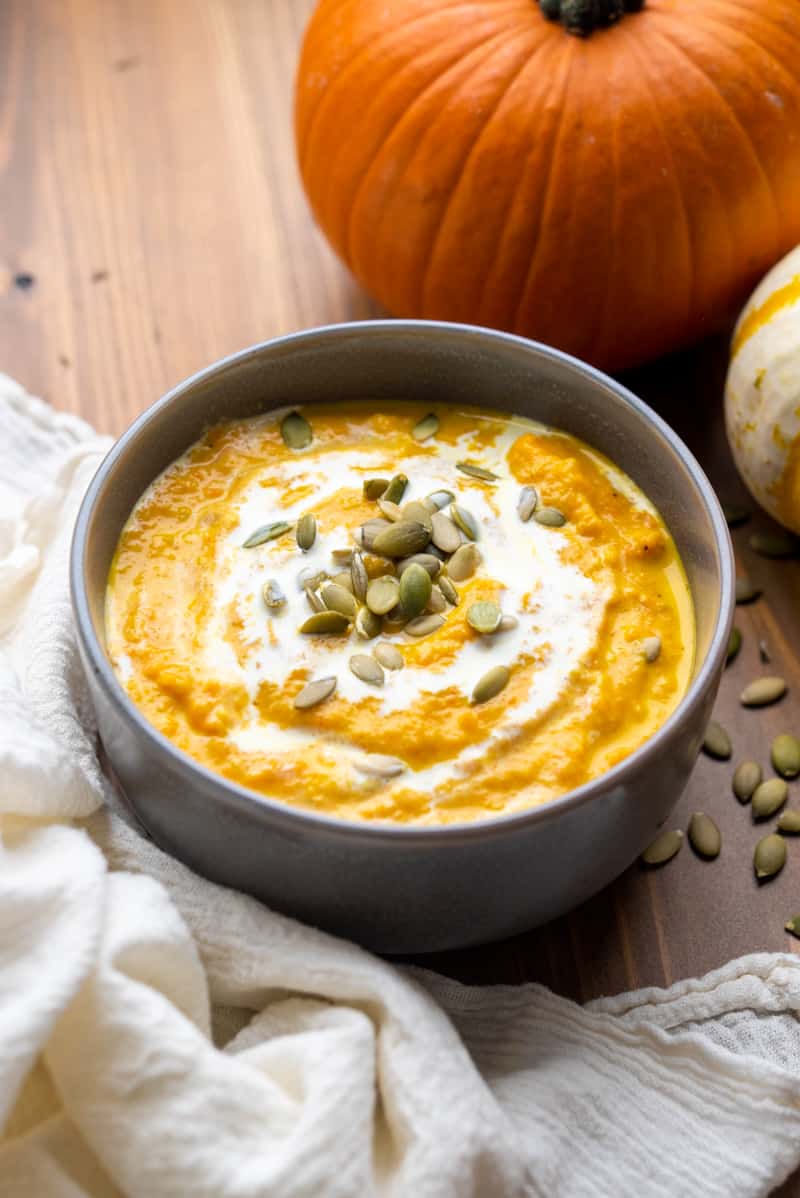 Storage and Reheating Instructions:
Store any leftover pumpkin soup in an airtight container in the fridge for up to 4 days. You can reheat single servings in the microwave in 30-second increments until warmed through, or in a saucepan on your stovetop over medium-low heat until warmed through, about 10-15 minutes.
If you like this recipe, you may be interested in these other delicious soup recipes: