Perfect Eggs Benedict is easier to achieve than you might think. You only need 15 minutes to serve up an amazing Eggs Benedict breakfast with Canadian bacon and a quick, blender hollandaise sauce. You're going to love it!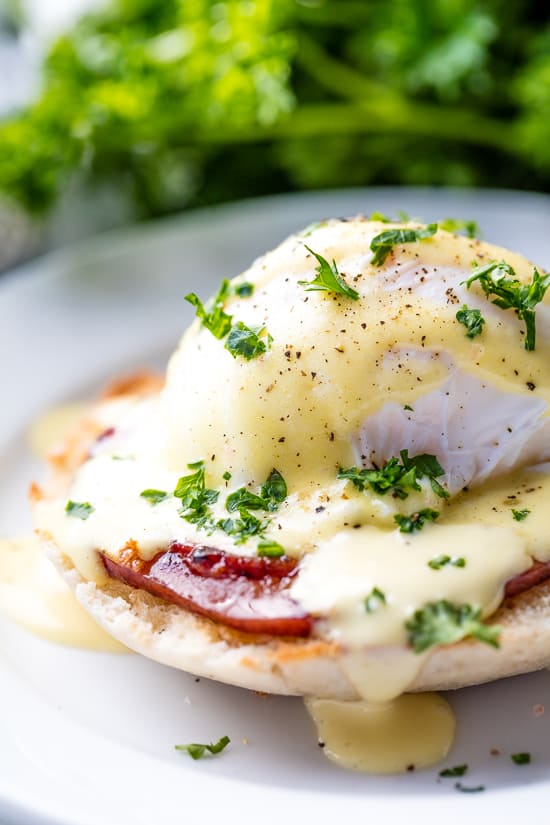 Eggs Benedict is one of our favorite breakfasts of all times. I think a lot of people worry about how complicated it is to make it at home. Have no fear, The Stay At Home Chef is here, and we've made Eggs Benedict as simple as possible. These days, we can have four servings ready to go in just fifteen minutes. It's that easy! Once you do it a few times, you may be even faster! Once you've tried homemade Eggs Benedict, you'll be making this every weekend!
What is Eggs Benedict?
A traditional eggs Benedict consists of a halved English muffin topped with Canadian bacon, ham or bacon, a poached egg, and hollandaise sauce.
Who is the Benedict in Eggs Benedict?
Eggs Benedict is named after Lemuel Benedict, a retired Wall Street broker. A 1943 interview in the New Yorker reported that Mr. Benedict went into the Waldorf Hotel looking for a cure for a hangover. He ordered "buttered toast, poached eggs, crisp bacon, and a hooker of hollandaise."
Hollandaise Sauce:
Eggs Benedict is topped off with a sauce called hollandaise. Hollandaise sauce is an emulsion of egg yolks, melted butter, and lemon juice, and is one of our very favorite things.
The traditional method for making hollandaise sauce is to whisk together egg yolks, water, and a little lemon juice until thick and pale. The bowl is then placed over steaming water to temper and cook the eggs. Once they begin to cook, butter is whisked in.
While that's delicious and all, we used a more simple method for this recipe — blender hollandaise sauce. It's as simple as adding egg yolks, spices, and lemon juice into a blender. Blend on high for a few seconds, and pour some hot, freshly melted butter into the running blender in a slow steady stream. The heat from the butter will temper and cook the eggs and you have a fresh hollandaise sauce in under 2 minutes. It doesn't get any easier than this!
Meat Options:
You can use Canadian bacon, a slice of ham, or cooked crisp bacon in this recipe, depending upon your own personal preference. The recipe calls for the use of Canadian bacon as is. Ham can also be fried up the same way. If using bacon you will need to cook the bacon until crisp, which will double the amount of time it takes to make this recipe.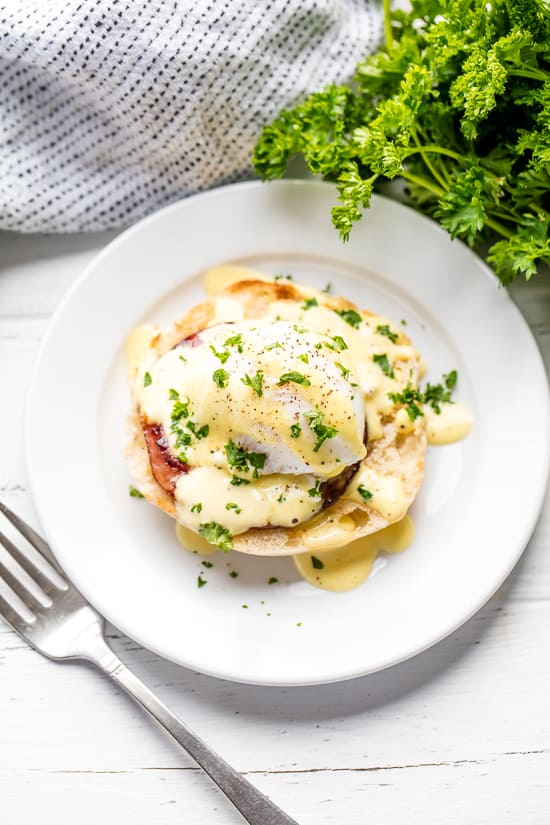 Storage and Reheating Instructions:
Unfortunately, Eggs Benedict is one of those meals that we simply can't recommend making ahead of time or reheating if you have leftovers. The best thing about Eggs Benedict is that you can make exactly as many poached eggs as necessary, so you shouldn't have to worry about leftovers.
If you have leftover hollandaise sauce, you can store it in an airtight container in the refrigerator for up to 4 days. Reheat in a saucepan on the stovetop over medium-low heat until warmed through. You'll want to put this sauce on just about everything.
If you like this recipe, you may be interested in these other delicious breakfast recipes:
Watch the video below where I walk you through every step of this recipe. Sometimes it helps to have a visual and I have you covered in my very own cooking show. You can find the entire collection of video recipes on YouTube, or right here on my website with their associated recipes.