Perfect Eggs Benedict are easier to achieve than you might think. You only need 15 minutes to serve up an amazing Eggs Benedict breakfast with Canadian bacon and a quick blender hollandaise sauce.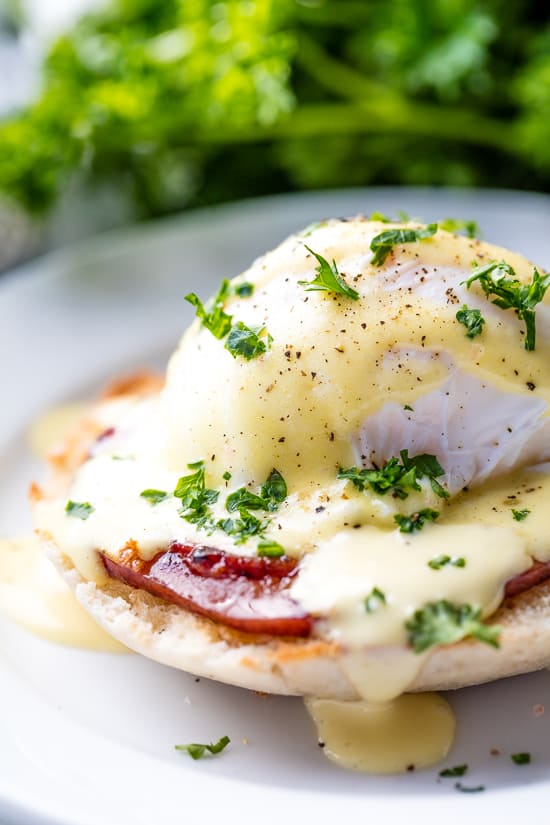 Eggs Benedict is one of my favorite breakfasts of all times. I think a lot of people worry about how complicated it is to make it at home. Have no fear! I've made making Eggs Benedict as simple as possible. I can have 4 servings ready to go in 15 minutes. It's that easy! Once you do it a few times, you may even be faster!

MY OTHER RECIPES
What is in an Eggs Benedict?
A traditional eggs Benedict consists of a halved English muffin topped with Canadian bacon, ham, or bacon, a poached egg, and hollandaise sauce.
Who is the Benedict in Eggs Benedict? Why do they call it Eggs Benedict?
Eggs Benedict is named after Lemuel Benedict, a retired Wall Street broker. A 1943 interview in the New Yorker reported that Mr. Benedict went into the Waldorf Hotel looking for a cure for a hangover. He ordered "buttered toast, poached eggs, crisp bacon, and a hooker of hollandaise."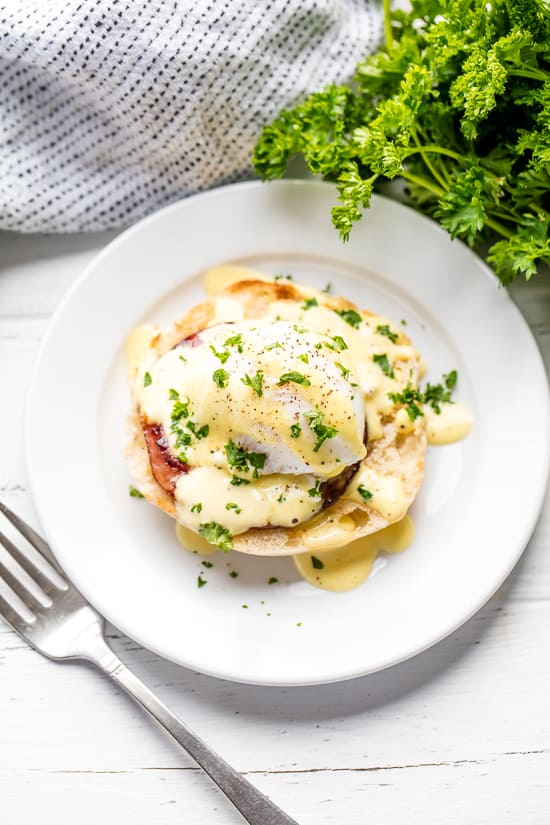 What is the name of the sauce on an Eggs Benedict?
Eggs Benedict is topped off with a sauce called hollandaise. Hollandaise sauce is an emulsion of egg yolks, melted butter, and lemon juice.
How do you make hollandaise sauce for Eggs Benedict?
The traditional method for making hollandaise sauce is to whisk together egg yolks, water, and a little lemon juice until thick and pale. Then the bowl is placed over steaming water to temper and cook the eggs. Once they begin to cook, butter is whisked in.
A more simple method is to make a blender hollandaise sauce by adding egg yolks, spices, and lemon juice to a blender. Blend on high for a few seconds. Pour some hot, freshly melted butter into the running blender in a slow steady stream. The heat from the butter will temper and cook the eggs and you have a fresh hollandaise sauce in under 2 minutes.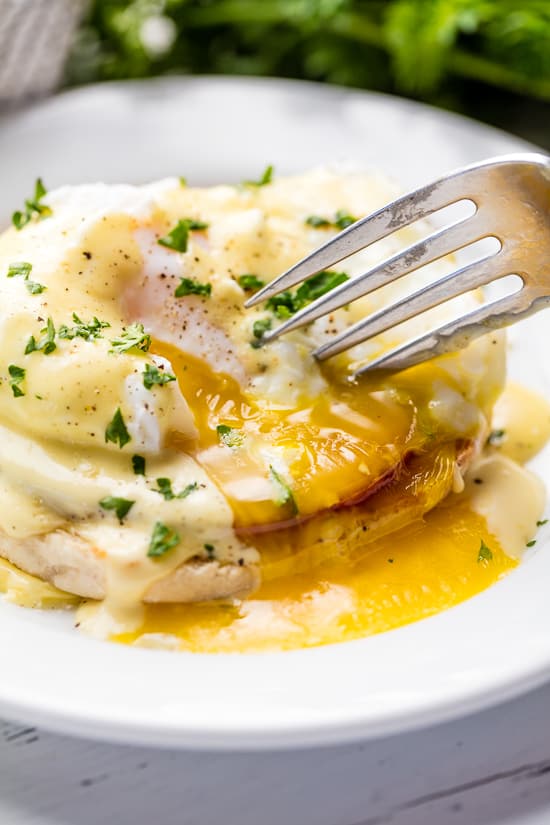 PRO TIP: You can use Canadian bacon, a slice of ham, or cooked crisp bacon in this recipe, depending upon your own personal preference. The recipe calls for the use of Canadian bacon as is. Ham can also be fried up the same way. If using bacon you will need to cook the bacon until crisp, which will double the amount of time it takes to make this recipe.
Watch the video below where I walk you through every step of this recipe. Sometimes it helps to have a visual and I have you covered in my very own cooking show. You can find the entire collection of video recipes on YouTube, or right here on my website with their associated recipes.
Perfect Eggs Benedict
Perfect Eggs Benedict are easier to achieve than you might think. You only need 15 minutes to serve up an amazing Eggs Benedict breakfast with Canadian bacon and a quick blender hollandaise sauce.
Author:
Rachel Farnsworth
Ingredients
Hollandaise Sauce
3 egg yolks
¼ teaspoon dijon mustard
1 tablespoon lemon juice
½ cup butter
Eggs Benedict
4 slices Canadian bacon
1 tablespoon butter
2 English muffins
4 large eggs
1 tablespoon white vinegar
salt and pepper, to taste
chopped parsley for garnish
Instructions
In a blender, combine egg yolks, mustard, and lemon juice. Puree until smooth. Place butter in a separate microwave safe container and microwave until melted. With the blender running, slowly pour hot butter in a steady stream. Sauce will thicken. Set aside in a warm place.
Heat a small skillet over medium high heat. Melt butter. Brown Canadian bacon in butter on each side and set aside.
Bring a large pot of salted water to a boil. Meanwhile, toast muffins
Stir vinegar into boiling water. Crack eggs into separate small bowls. Stir boiling water in a clockwise motion until a whirlpool forms. Gently slide egg from bowl into the boiling water, one at a time. Cover the pot and turn off the heat. Let poach 4 to 5 minutes. Use a slotted spoon to remove the poached eggs from the water.
Assembly
Place ½ of a toasted English muffin onto a plate. Top with toasted Canadian bacon. Slide poached egg on top and drizzle with hollandaise sauce. Season with salt and pepper to taste and garnish with chopped parsley.

Get New Recipes Sent To Your Inbox 😃
Join my newsletter and get new mouth watering recipes sent directly to you weekly!