Pecan pralines are a classic holiday dessert made with toasted pecans – and a handful of pantry staples. They are easy to make and wonderfully addicting. A cross between a cookie and a piece of candy, pralines make for an excellent gift!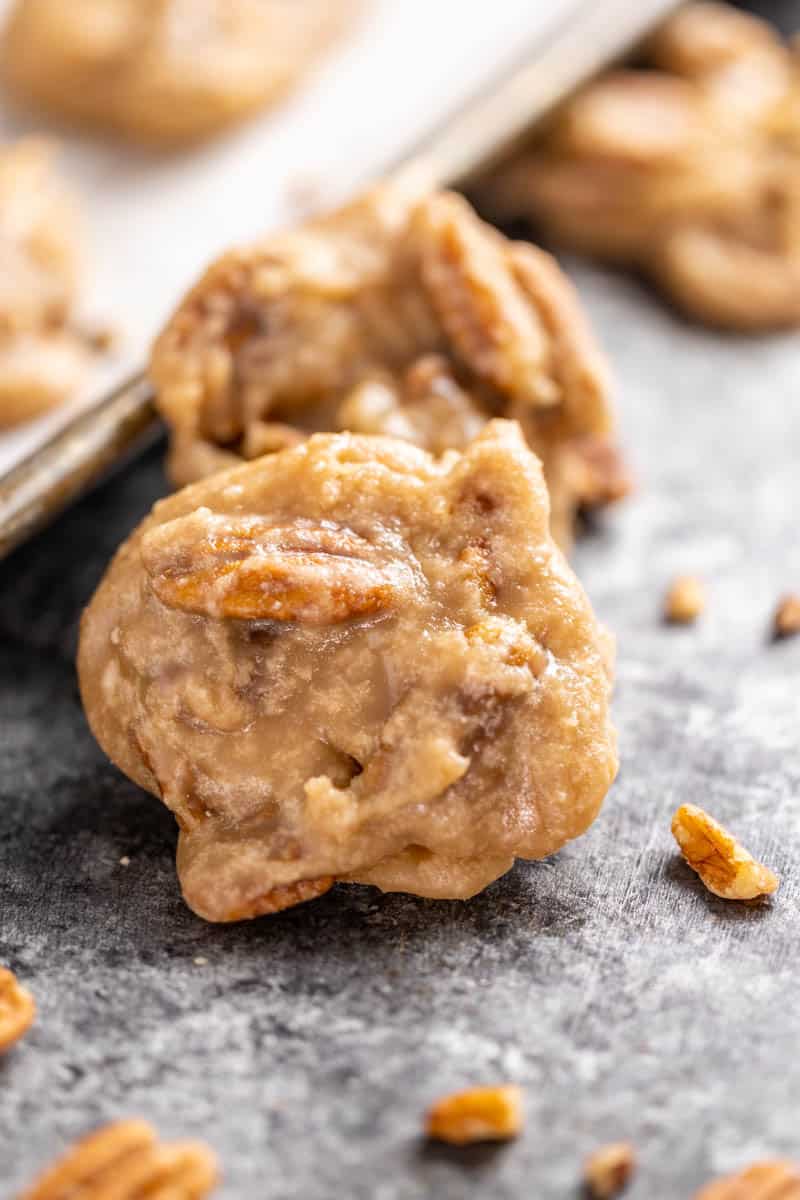 Homemade cookies, candy, and holiday treats are just a few of our favorite things, especially when our inspiration is classic family recipes from childhood. Sometimes we update these family recipes to make sure they are absolutely perfect, but we did not dare to touch this pecan pralines recipe. Why? Well, it was already absolutely perfect in every way! If you're anything like us, you have fond memories of pecan pralines during the holiday season, which is probably why we love gifting big boxes of them to our friends and family – not to mention it makes us very popular at holiday parties. Once you make these it will feel impossible to wait to try them. So, go ahead and have your dessert before the meal. We won't tell.
What Are Pecan Pralines Made Of?
Pecan praline is a Southern confection traditionally made with sugar, corn syrup, milk, butter, and pecans. Our pecan pralines recipe calls for basically the same ingredients, but you don't need to worry about adding corn syrup. We know not everyone is a fan. We do like to include a splash of vanilla for added warmth and flavor. It's what makes our recipe a little bit unique!
What Is The Difference Between Candied Pecans And Pralines?
Candied pecans are pecans that have been coated in egg whites, spices, and sugar and baked until they become crispy. Pecan pralines are more similar to drop candy — the nuts serve as the base for the praline coating. While both treats feature pecans, the two are actually quite different.
How Long Does Praline Take To Harden?
Once you've cooked your pecan pralines, you'll have to be a little bit patient as they harden. It shouldn't take longer than 30 minutes! Resist the urge to place them in the fridge to quicken the hardening process — if you do, they might get as hard as a rock. Let them set at room temperature for the best results.
Candy Thermometer:
You will want a candy thermometer in order to make pecan pralines. Proper temperatures are critical when making this dessert, so we like to use a stainless steel candy thermometer.
Don't have a candy thermometer? Our grandparents didn't either! You can determine if your caramel is ready the old-fashioned way. Fill a drinking glass or bowl with cold water. Add in just a drop of the caramel from the pan on the stove. For the soft-ball stage, the caramel should form a small round ball in the cold water. When it is removed from the water, the caramel should flatten. Candy making is a science — it's essential to do it right!
Troubleshooting: Why Didn't My Pralines Harden?
The temperature is so key to this recipe! If the praline mixture doesn't reach the correct temperature, your homemade treats won't harden properly.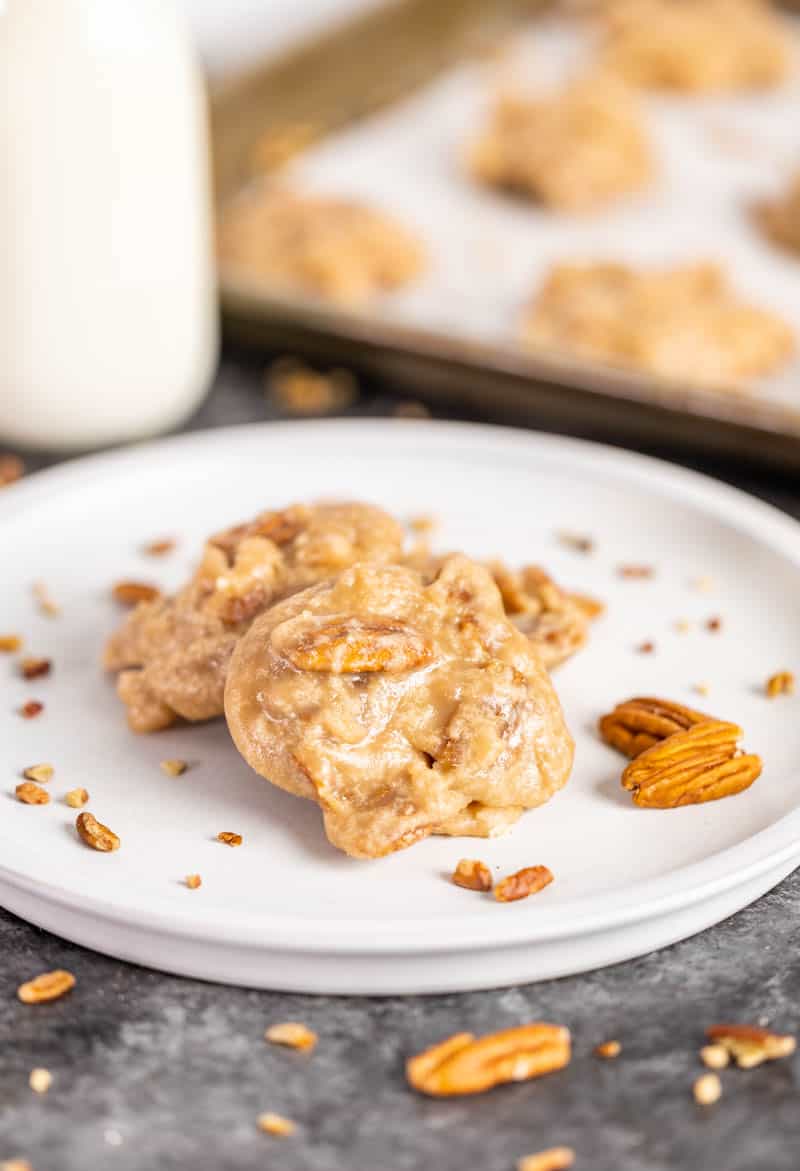 Storage Instructions:
We recommend that you store pecan pralines in an airtight container at room temperature. When stored properly they will last for up to 3 weeks. If you do want to give them as gifts, here are a few ideas on how to wrap them:
In a decorative cardboard box
In a glass jar
In a reusable airtight container
Feel free to get creative with the presentation, but be sure to tell your gift recipients that they are best stored at room temp in an airtight container!
If you like this recipe, you may be interested in these other deliciously festive dessert recipes: