This Peanut Butter Fudge is so silky and smooth it melts in your mouth. It's easy to make and only requires four ingredients to produce a fool proof easy peanut butter fudge that is absolute perfection!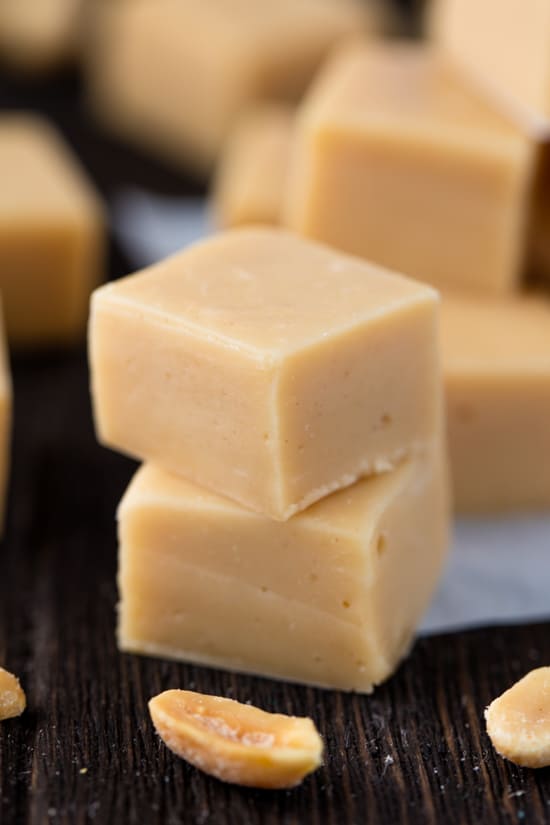 Nothing compares to homemade fudge. We hoard it like gold around here, not daring to share too much, because it is just that good. However, we're not monsters, we knew we had to at least share our favorite fudge variation recipe with you. The perfect peanut fudge must absolutely be silky and smooth. There's nothing worse than a grainy peanut butter fudge. This recipe is absolutely fool-proof and is made in the microwave for a perfectly smooth peanut butter fudge every single time.
White Chocolate Tip:
It is vital to use a high quality white chocolate for the best peanut butter fudge. Some of our favorite high-quality brands are Callebaut, Bakers Premium, Merckens, and Lindt.
If you're looking for a low-sugar alternative, ChocZero white chocolate chips are a great option.
How do you make microwave fudge?
All of the ingredients can be combined directly in a microwave safe bowl. Microwave on high in 30 second increments, stirring in between. Microwaving for longer periods of time, or for too long will result in burnt chocolate that becomes grainy and difficult to work with. The ingredients will continue to melt outside of the microwave as you stir them so it is best to simply stir until melted once only small lumps remain.
Can I add peanuts for a crunchy peanut butter fudge?
Yes! You can absolutely stir peanuts into this peanut butter fudge recipe to create a crunchy bite. Add 1/2 cup of roughly chopped peanuts into the fudge mixture just before pouring into your pan to refrigerate.
Sweetened Condensed Milk:
It's absolutely vital to use sweetened condensed milk to create perfectly smooth fudge. It works every single time and provides the perfect level of sweetness.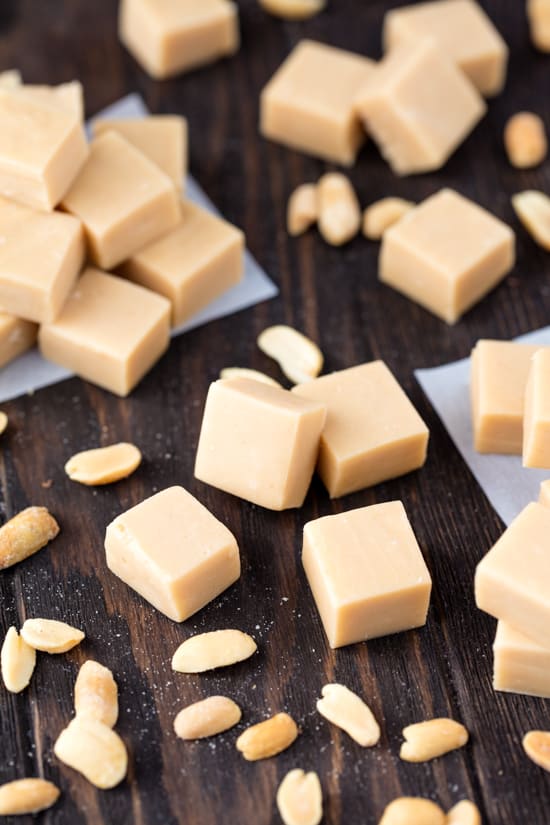 Storage Instructions:
Fudge should be stored in an airtight container. I like to use a plastic storage container or a resealable plastic bag, but you can also wrap it in aluminum foil. Fudge can be stored at room temperature, but will last longer when stored in the fridge. It will stay good in the fridge for about 3 weeks.
Watch the video below where Rachel will walk you through every step of this recipe. Sometimes it helps to have a visual, and we've always got you covered with our cooking show. You can find the complete collection of recipes on YouTube, Facebook Watch, or our Facebook Page, or right here on our website with their corresponding recipes.