Orange Glazed Chicken Thighs are moist with the most delicious, crispy skin, topped with an orange glaze sauce. Add some coconut rice on the side to make this an amazing meal!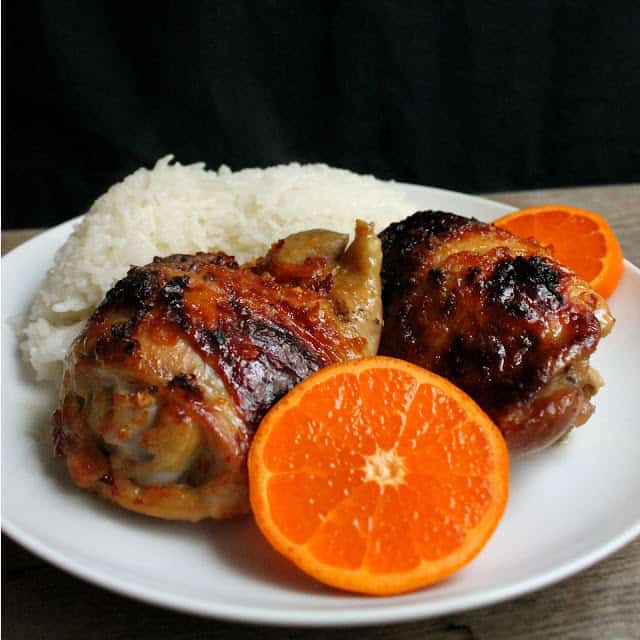 We might be having a love affair with chicken thighs. Oh my heavens, we just can't get enough! The other night we realized there was nothing planned for dinner. As a food blogger, how in the world does that happen? Well, it happens more often than you might think. That's when inspiration kicked in. We browsed through the pantry and half-empty fridge searching for ideas. Luckily we found chicken thighs. 
Toss in some oranges, coconut milk, and rice, and we knew we'd have a dinner on our hands. It turned out awesome. We were worried that the skin might get slimy instead of crispy, but heavens, it turned out amazing. It was a nice combination of sticky and crisp. Oh baby! We served it up with a little coconut rice which gave a nice, sweet accent to the spicy zest of the chicken.
How do you make coconut rice to serve on the side?

Coconut rice is super easy to make. Take 1 1/2 cups of rice, add in 1 can of coconut milk (which is 2 cups), and 1 cup water. Cover and bring to a boil, reduce heat to a simmer and continue cooking until all the liquid has been absorbed (about 15 minutes).

Can I use boneless skinless chicken thighs for orange glazed chicken thighs?

While technically you could use boneless skinless chicken thighs, it would not be as juicy or flavorful and you would miss out on that delicious crispy skin. We recommend you stick to the original recipe and use bone in and skin on chicken thighs.

Reheating and Storage Instructions:

Reheat any leftover chicken thighs in the oven for optimum flavor and juiciness. Preheat oven to 350 degrees Fahrenheit and place chicken thigh(s) into a baking dish sprayed with oil. Cook until warmed through.
If you like this recipe, you may be interested in these other delicious chicken recipes: